Post by jamesp on Feb 26, 2019 3:08:14 GMT -5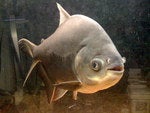 If you have a USB microscope it would be cool to see the silica crystals under high magnification. That may also help tell you if they are from diatoms or not. Other possibility is silica replacement of the coral polyps when live can still be very sharp.
There could be something else preset that cold be buffering acids such as maybe phosphate buffers or something else. The gas build up would just be something to keep in mind since water pH varies from place to place and even the rocks can alter pH or the lichens that grow on a lot of them.
The tannic water that cuts thru the limestone bedrock dissolves river channels 10 to 20 feet deep in the limestone leaving behind exposed shoals of silicifications James.
Most of the source of the tannic acid for say the Suwannee River is the massive Okeefenokee Swamp serving as a steamy rotting organic acid machine.
The tannic acid is strong enough to make the water quite drinkable since only a few types of bacteria and protozoans can survive in it.
Guessing the chemical reactions are more involved than just the effect of the tannic acid on the clay, soil and limestone.
The silicifications in this coral are without a doubt the linear 'pipeline' structures along the walls and centers of the polyp structures.
Partial silicifications are more the norm than the exception. Yes, they are sharp (and inflict pain) like live polyps.
And these partial silicifications vary in quantity from shoal to shoal exposure as moving down the river.
This particular shoal is made of almost 100% poorly silicified corals, the shoal above and below this one has some of the most solid silicifications.
Basically sections of sandy river banks yield poor silicifications and sections of the river with clay banks yield solid and more colorful silicifications.
Perhaps the clay held moisture longer for the dissolved silica to form and replace.