Post by rockdewd on Jul 17, 2008 10:53:02 GMT -5
I have been noodling with the idea of expanding my mega tumbler capacity for some time now. The motor on my Lortone QT66 seized the other day so I had 12 lbs of tumbling not happening. I looked for a suitable replacement motor but found that the motor was going to cost me $50+ so that prompted me to action on my expansion plan.
To start here is a picture of my 36 lb capacity mega tumbler:
Now here is my expansion: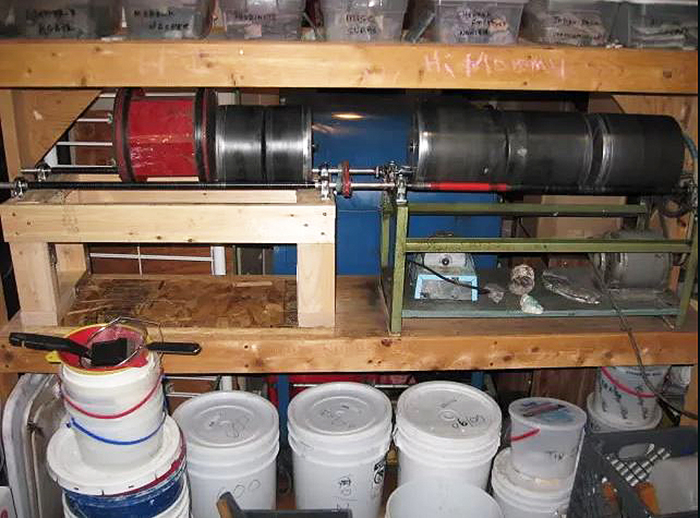 I found 5/8" pillow block bearings on eBay for $7.95. At Home Depot they had 36" 5/8" steel rods for $7.99. I chose to do the frame in wood because I don't have a welder but I glued, screwed, and add corner braces so it is solid with nary a wobble. I measured my existing tumbler a made the frame the same size but allowing for different heights between the new and old pillow block bearings. I later discovered that my existing tumbler had 32" rods and my new rods where 36". The extra 4" worked out to give me more room to add the pulleys and belt for turning both rollers.
Here is a close up of the couplings I came up with and the pulleys keeping both rollers in sync. The only place I could find 5/8" couplings was Grainger and they wanted $12.95 each. I was trying to do this as cheap as I could. So I did some measuring and found that 1/2" copper pipe couplers meant to solder copper pipe together were exactly 5/8" ID. So I took a hack saw and made a cut down the lengthwise center. I took my jewelers files and filed the cut until it was about 3/32" wide. I then joined the new and old rollers together end to end with the copper coupling and with hose clamps tightened them up. I still may go to Graingers and buy their couplings because this works but the spinning hose clamps are worrisome about getting something caught in them. But then there are plenty of expose pulleys and fan belts in my shop to get caught on so I'm always mindful of that. The rollers don't turn fast enough to make the off center weighting of my couplings a concern.
I put the pulley's that turn the front roller in the center thinking this would spread out the torque on the rollers. I'm not an engineer so I don't know if my theory is correct.
I use black electrical tape to pad the rollers. That was the fun part of the project. With the rollers turning I went back and forth with a roll of tape. We'll see how well it holds up.
The whole thing is powered by the existing 1/3 hp motor. After running overnight it appears to be handling the load just fine. The motor is no more hotter than it was before.
While assembling I left the bolts for the new roller bearing loose. I then let it run for a couple minutes so the bearings would find their own alignment. I then added washers where I needed for height variations then tightened them down.
After I got the parts together the assembly took about 3 hours. I now have another 36-39 lbs of extra rotary tumbling capacity and one less motor running.