Post by herchenx on Jan 24, 2018 17:31:40 GMT -5
Hi all
I'm hardly rocking these days, still, but am planning to take my oldest daughter to Texas next week and we'll do some hounding around while we're there.
I'm growing peppers this winter. I started on Dec 21 with a 10"x20" tray and a 50-cell seed-starting tray. I put potting mix in each of the cells, but only the ones I was planting on that day, I've planted some seeds over the past ~35 days since, about once a week or so. I've actually planted over 50 varieties since I recycled some of the cells that I started as one type of pepper and transplanted.
Before I started planting, I tried salvaging some cuttings I had from last summer. I've had them in fresh water since I cut them, and was waiting for roots to form, they never did.
I've been watching Craigslist like a hawk, and have managed some pretty sweet free scores, one of which was these 2 aerogardens. I cleaned the pumps and they work fine, although one has a non-upgraded hood and the CFL in that one is too dim to be useful.
I put my pepper transplants into the brighter aerogarden and gave them nutrients. They never grew and it turned out that there were some white flies or gnats that were on at least one of them, that seemed to do in the last little bit of life they had.
So, here's the near-failed plants but you can see the seed tray and the table on the south end of our sunroom that is used for my starts.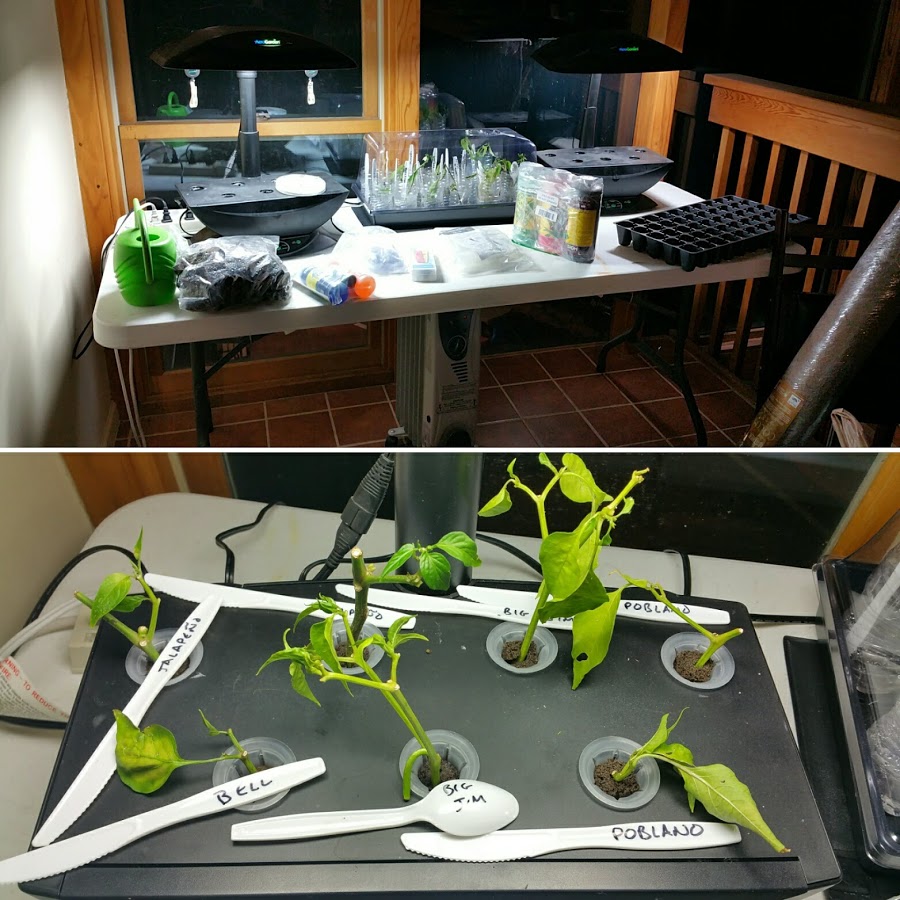 I tent plastic over it, with a small electric radiant heater under the table that keeps everything nice and warm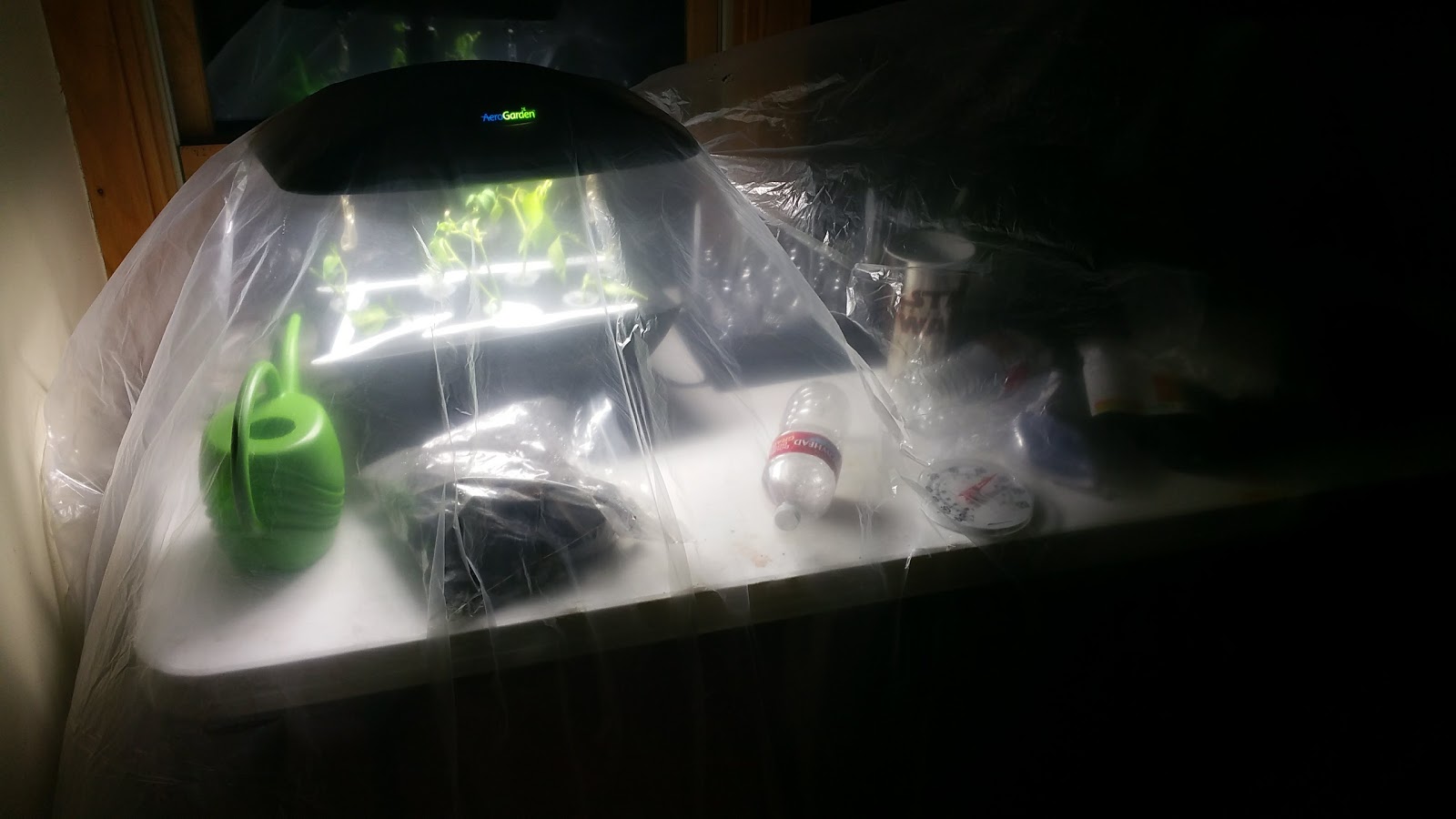 eventually I stacked a second table above the first so I could hang lights and block the light on the inside since my son's bedroom is just to the left of the wall.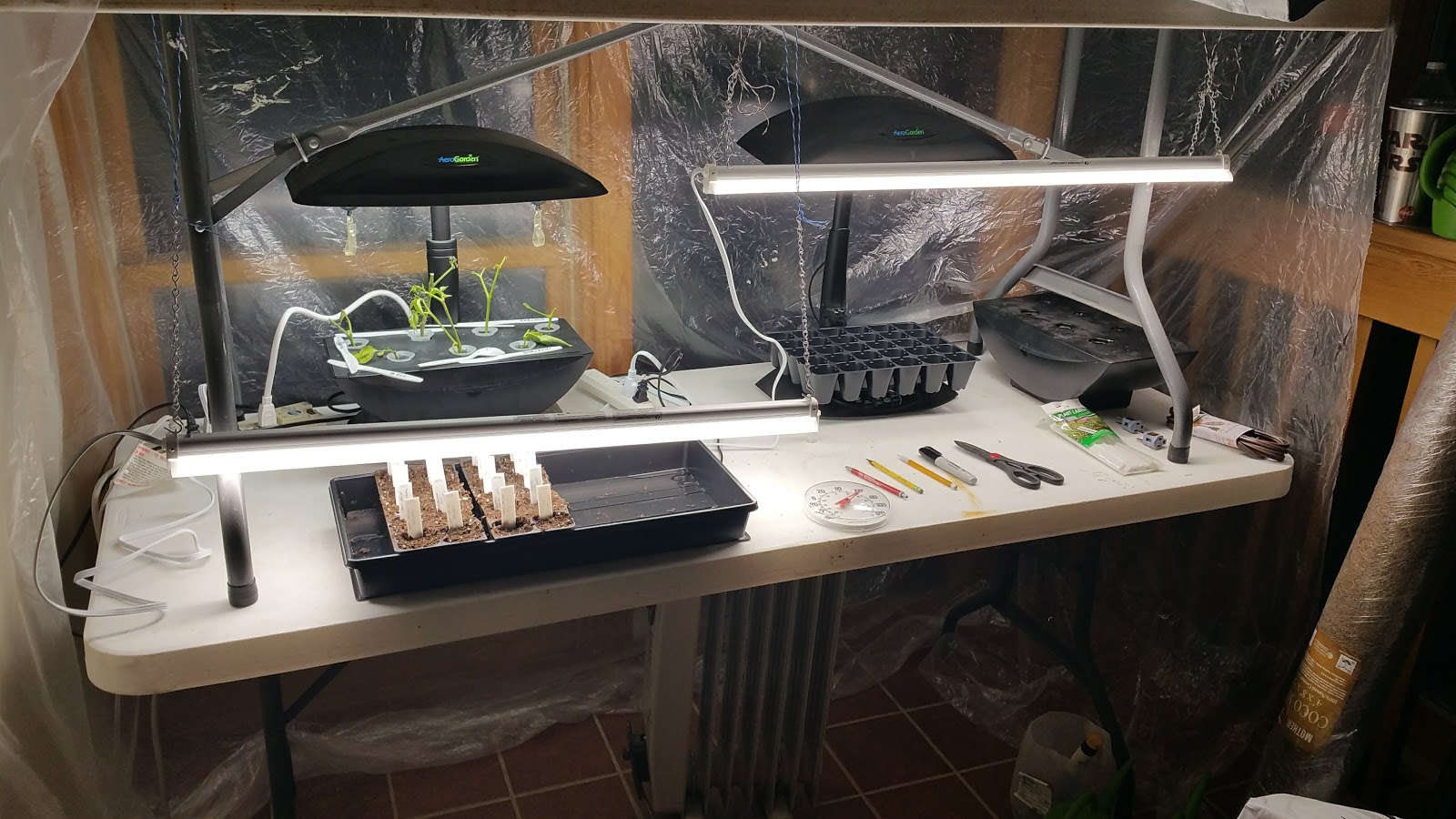 shortly after THAT, I got a crazy deal alert and was able to score 2 brand new aerogardens for a crazy-low price, so I picked them up to add to my indoor arsenal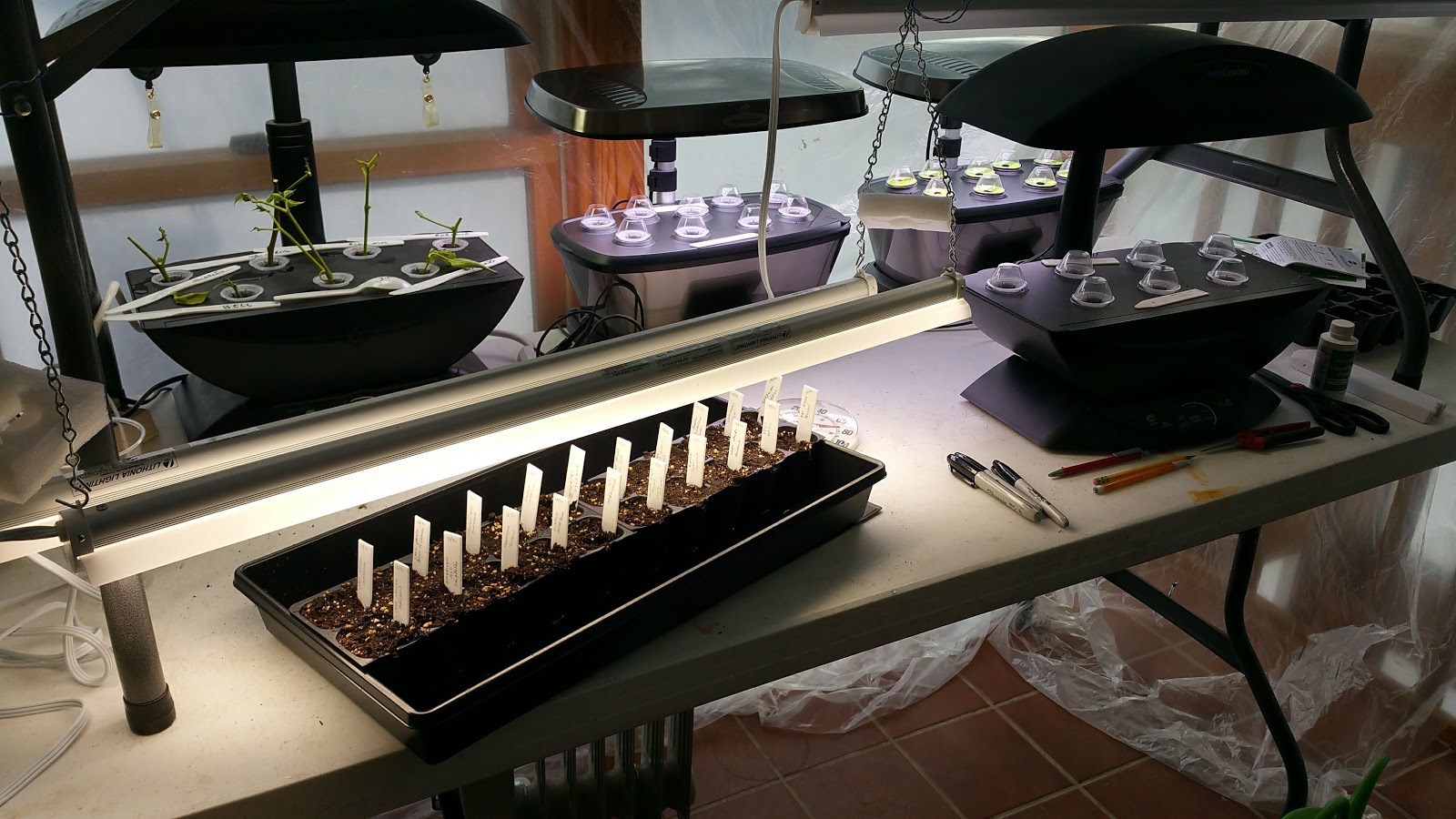 after 5 days in the seed tray, my first sprouts came up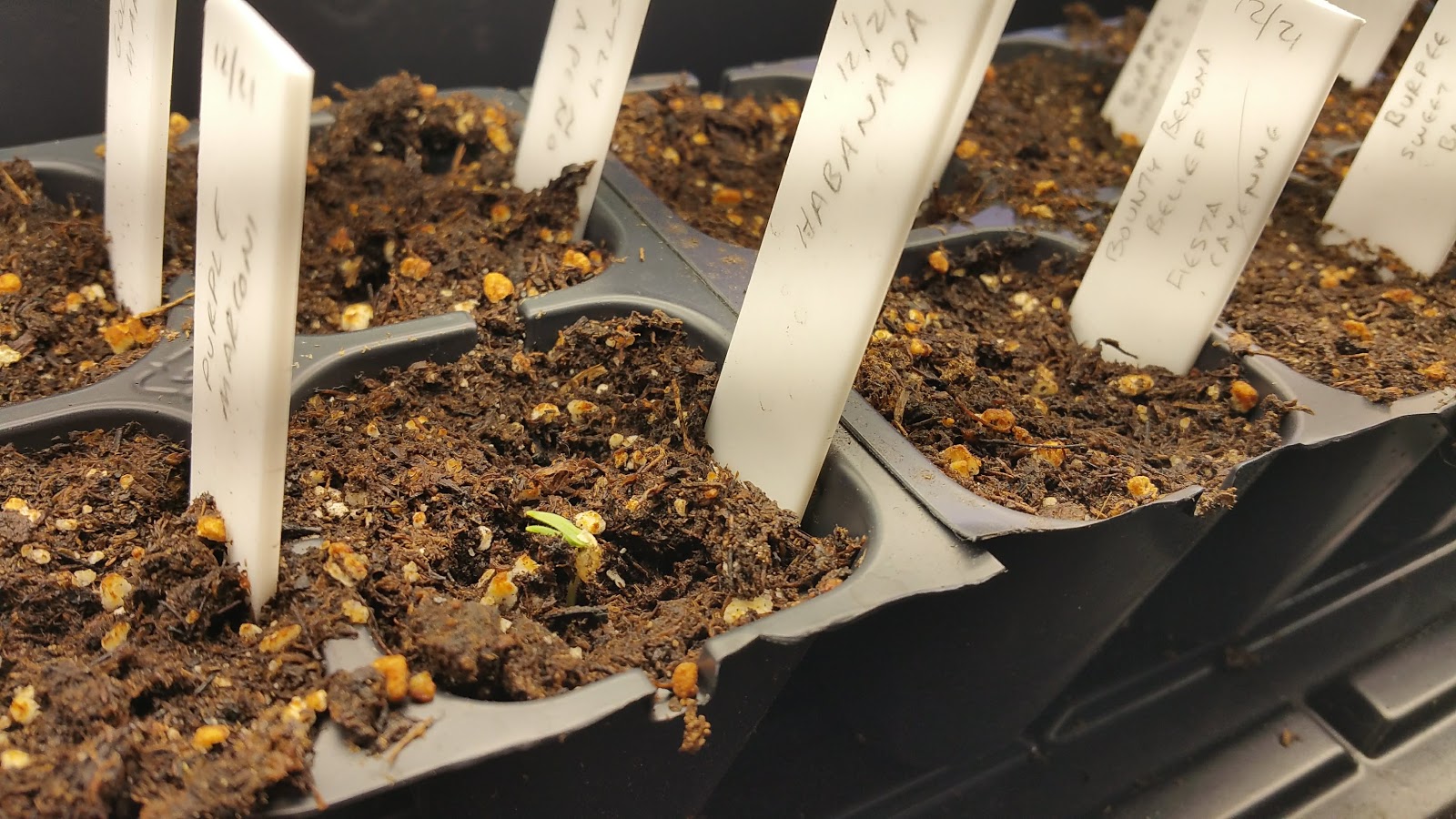 most of my peppers initially were mild. Since then, I've traded seeds and bought a few more and now have a dozen or so super-hots (reapers, scorpions, bhuts and crosses that all scare the **** out of me.
as sprouts come up, I transplant them into red cups. The inner cup has slits cut along the base, and I added water to the outer cup. This encourages roots to grow down as I only bottom water. I transplant as soon as they emerge, I don't wait because the roots in the seed trays get long and risk breaking if they exit the outside of the seed tray base. I've only lost one seedling, and in fairness that one looked very unhealthy when it emerged. I've succeeded in transplanting 84 others.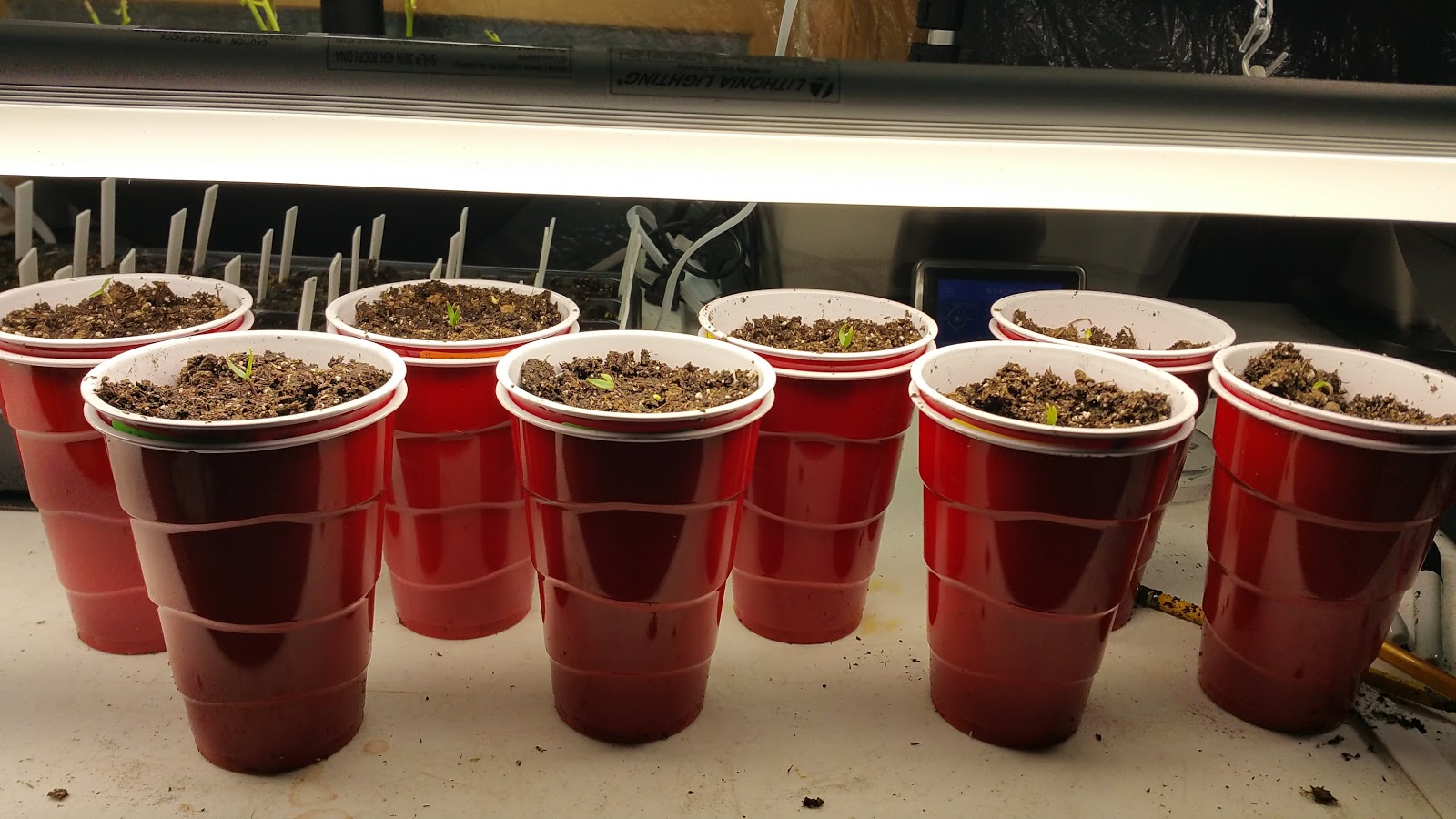 each day there are more seedlings, each day I transplanted more into more cups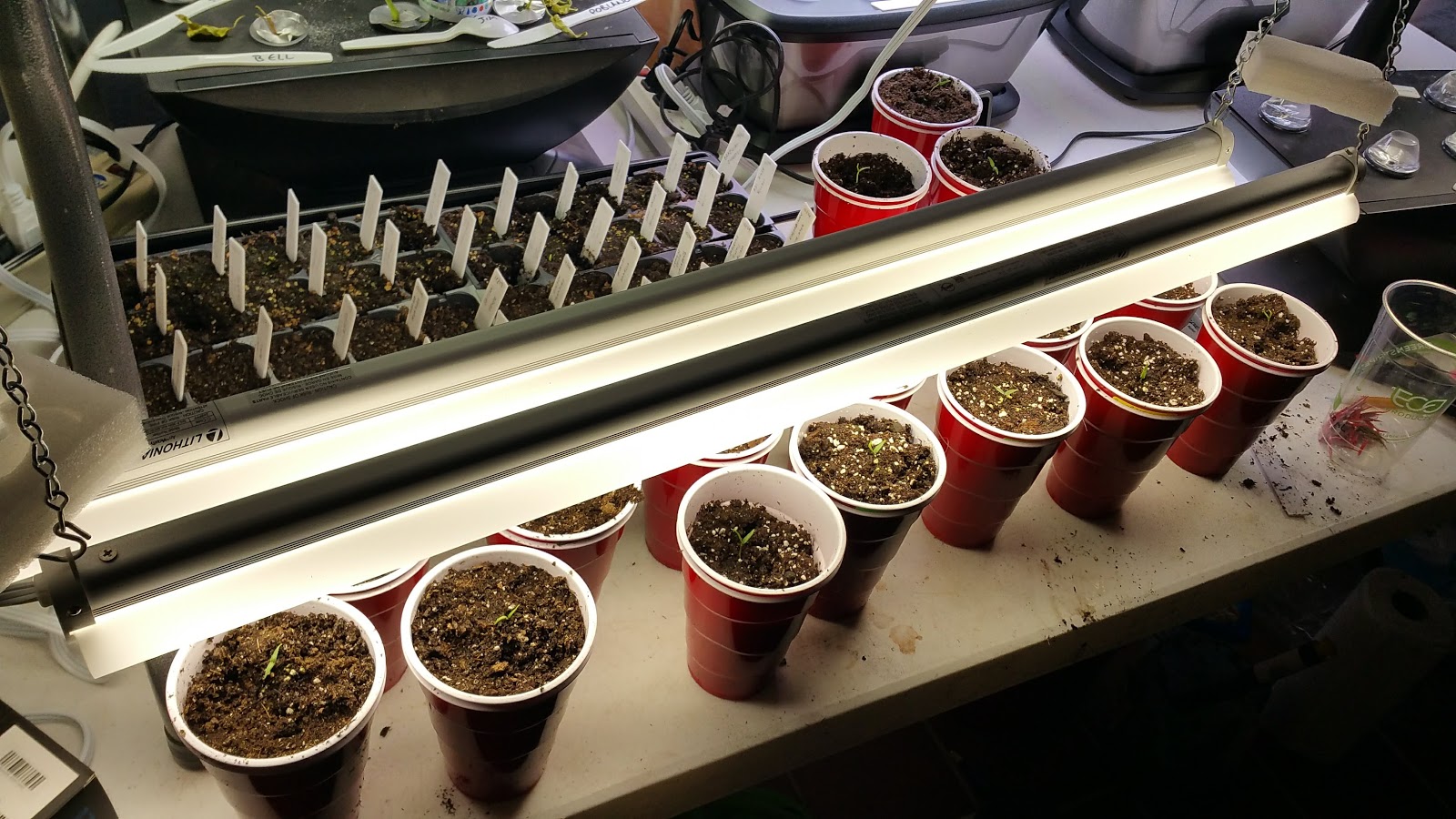 Eventually I rigged a grow tent using reflective insulation, PVC I had freecycled earlier last year, duct tape and cheap LED light fixtures from Home Depot. I'm not 100% sure these are great lights, although the plants didn't seem to suffer under them in the ~week I used them. The little fan is nice and is also a freebie from craigslist (you'll start to notice a theme)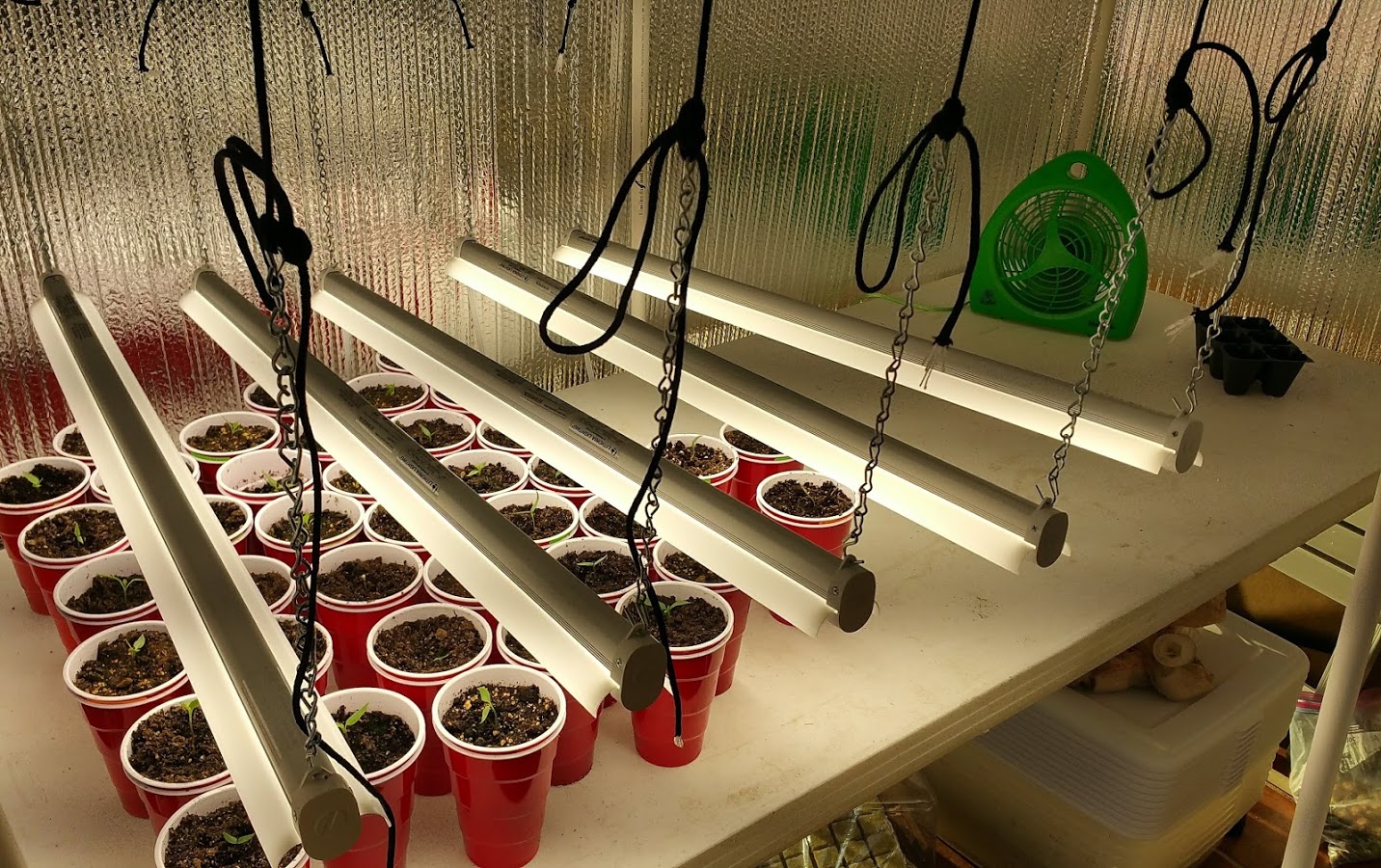 In hindsight, this was a dumb move. The reflective insulation cost me ~$50, and by the time I added a new roll of duct tape, pvc connectors and a power strip I was pushing $80. The lights topped it all out well over $150 - which seems OK for a grow tent, but the result was a rather rickety tent. For $80 now on eBay I can get a brand new steel frame 4'x4'x8' grow tent which would be better than this in every way other than having table-height to work on is nice.
Live and learn. I may still use this ghetto grow tent as plants get bigger and outgrow my upgraded grow tent, which WAS a 4'x4'x8' tent I got - wait for it - FREE on craigslist!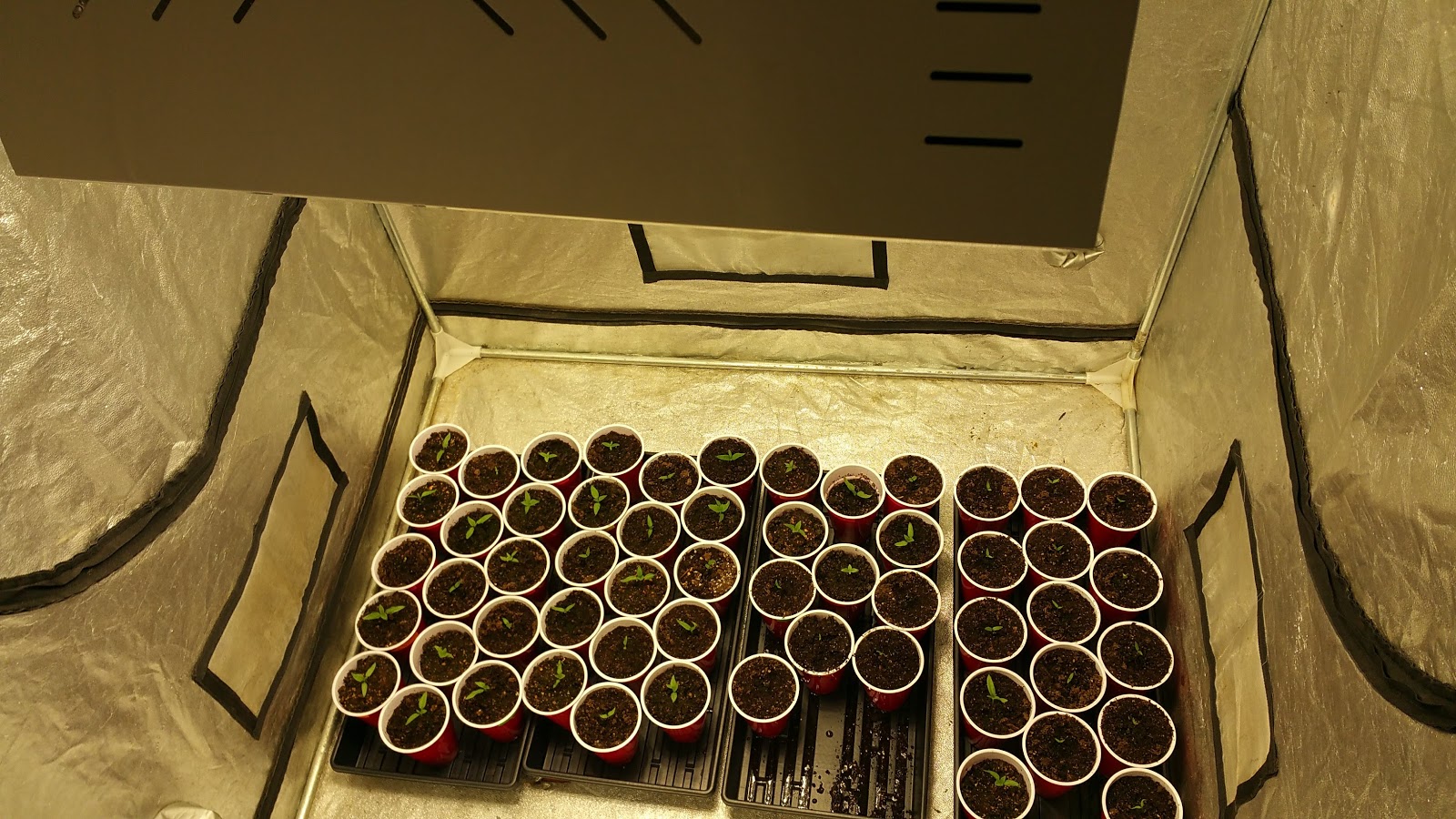 The stretch expense here was the light. I bought a Ceramic Metal Halide light, which if anyone is interested in I can go into the why's of in comments. It was an unbelievable deal for more light than I probably need.
About this time, I started finding people who wanted to swap seeds, and a couple online growing communities that are - in their own way, and to a far lesser degree - similar to this wonderful commnunity.
Since then, it's been just planting, transplanting, watering and letting everything sort of run itself. There is a little activity most days, no activity some days, and a lot of activity other days. I pulled the inner cups out of the outer cups so that I could leave for a week and just batch-soak all of them. Everything survived on a timer for the light and the fan, and is still in the process of drying out a bit from the initial soaking.
I find that I get a little truer color with my phone camera set to manual incandescent color temperature, this is the tent last night before transplanting the 5 most recent sprouts: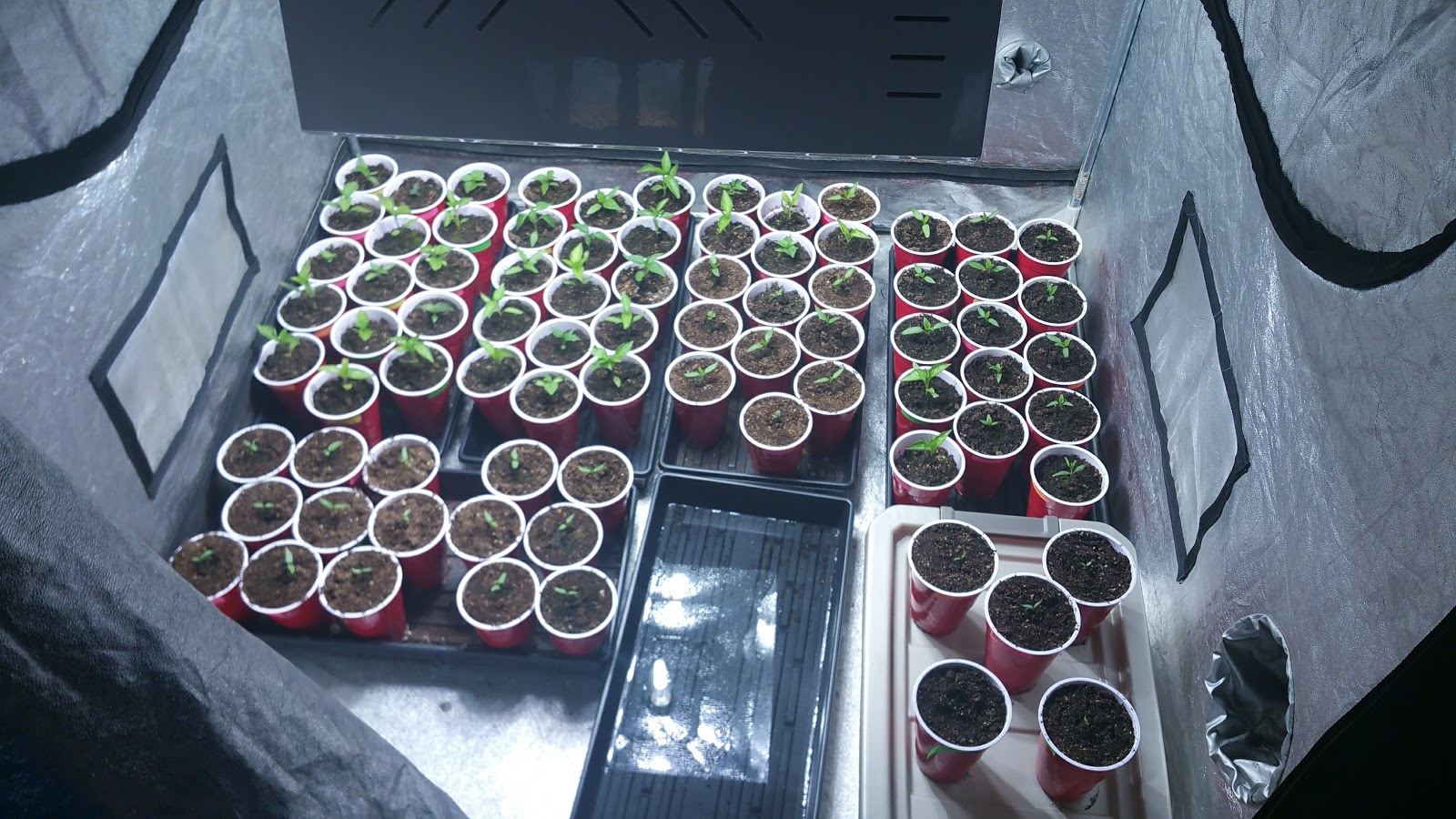 Lastly, I planted some herbs in those new aerogardens, they are all doing well and the little seed tray area smells awesome all the time.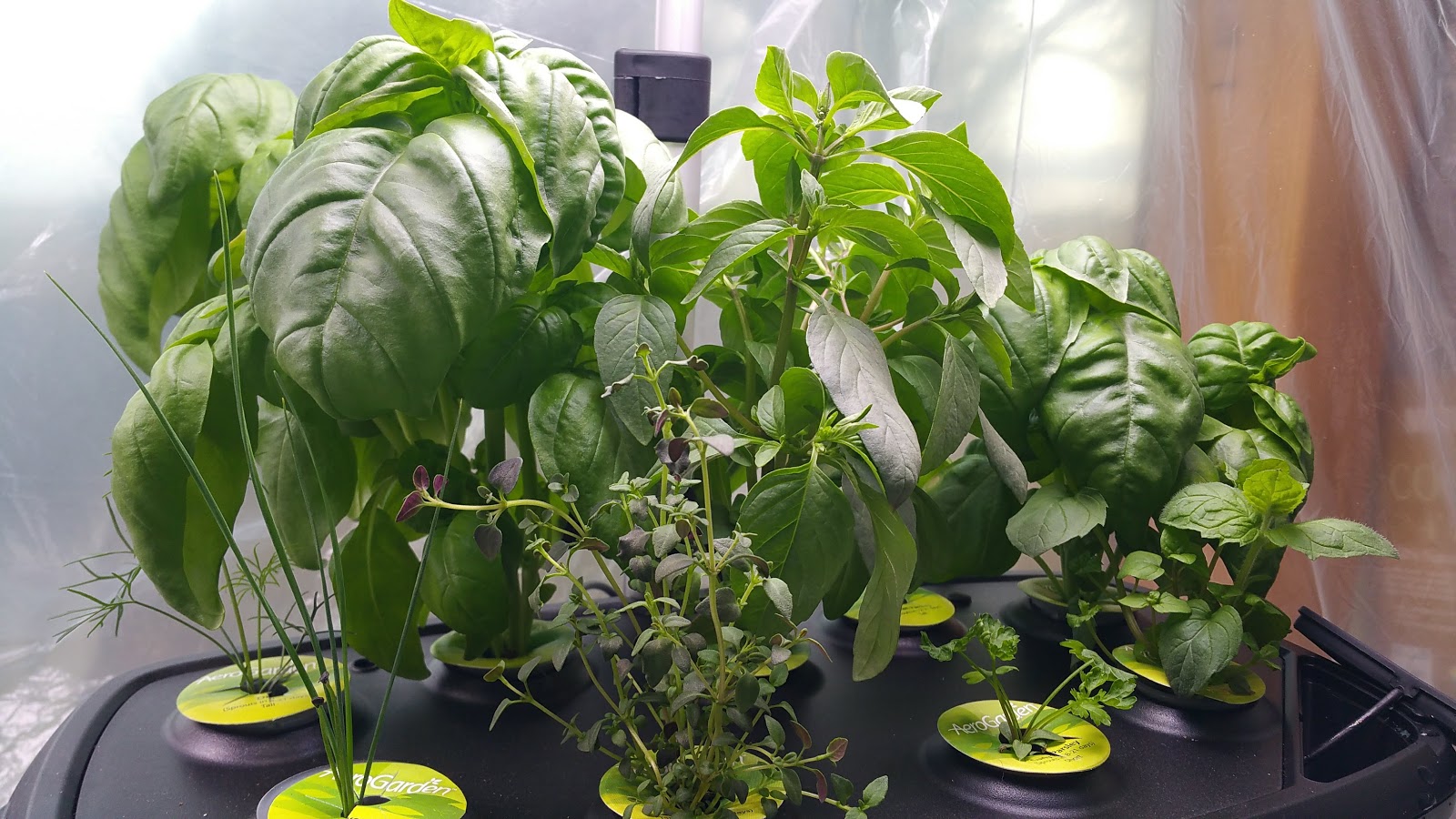 The cilantro has since improved, it was a little warm while I was out of town, it has perked up again since I took this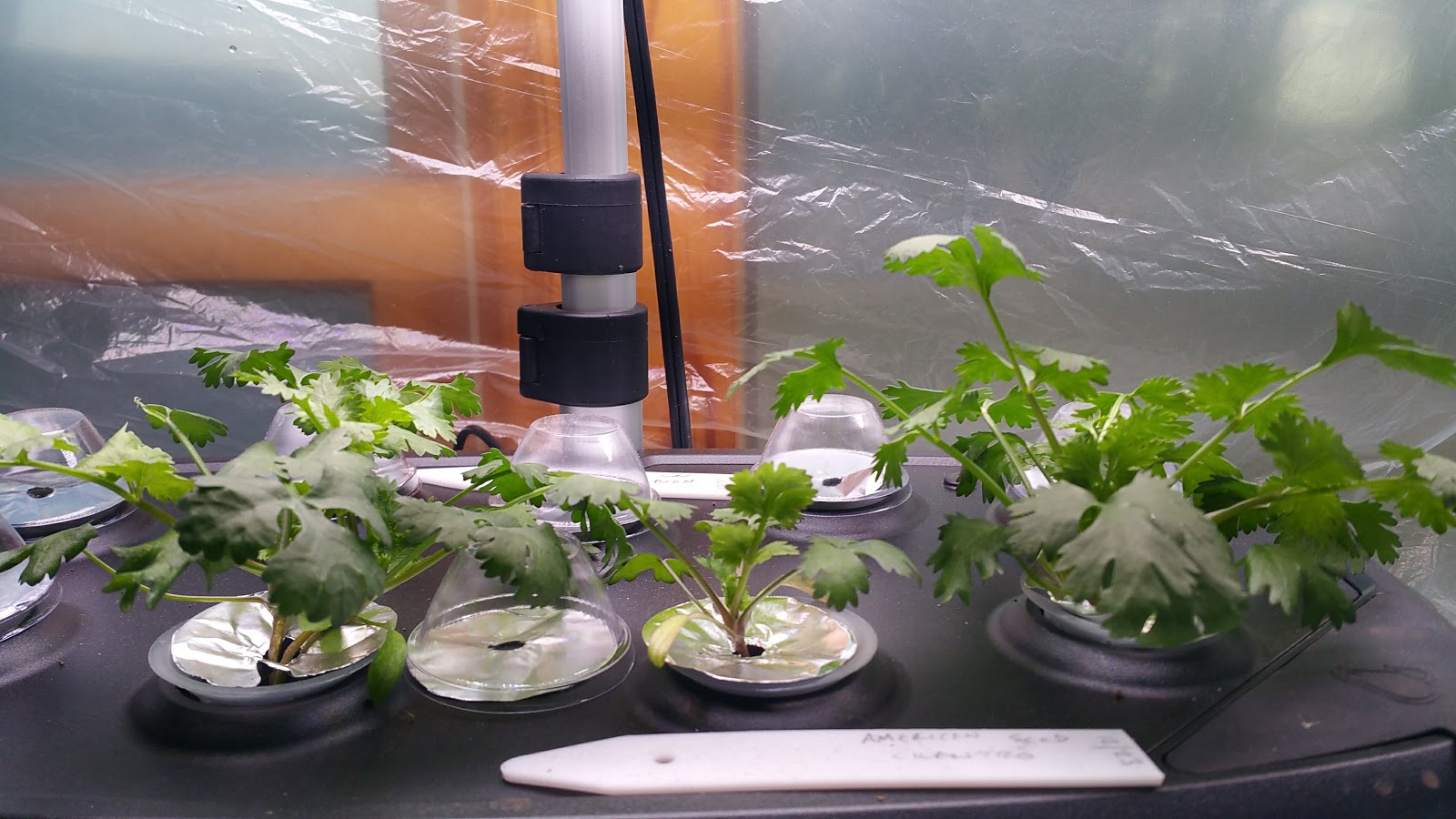 Thanks for letting me share my indoor garden adventure!