Post by callmerob on Oct 6, 2019 19:39:38 GMT -5
So before you get to Tonopah, NV, halfway between Vegas and Reno, you go through Goldfield. Very small town. Population 250. No gas, no groceries, nearest is Tonopah - 30 miles. Obey the speed limit. Traffic tickets replace the light bulbs in the few street lights.
Abandoned Goldfield Hotel is over 100 years old. Four stories, brick building, was once a nice hotel. Piano still in the lobby. Broken windows on the 4th floor, now home to pigeons.
I've been through Goldfield six times in six years. Never saw a living soul. Nobody outside. No kids playing in a yard or riding their bikes. Nobody walking around. Nobody.
Mining town, Goldfield, hence the name. The hills are riddled with holes. The mines played out early though. Probably right after they built that hotel. But I thought about finding a second-hand store, cold sodas, souvenirs, rock shop, something, anything. So I googled. Sure enough. There's a mining claim a couple of miles out of Goldfield called Gemfield. It is a famous deposit of jasper, only 4 miles of dirt road off the highway, open to the public, sign-in sheet, honor system, $1/lb. Or sign-in at Goldfield Art and Business Services, Hwy 95.
We're slow-rolling through town and there are three people (THREE!!!) on a weathered board sidewalk in front of Goldfield Art and Business Services. So we pull over and walk across the street - US95, but zero traffic - you don't have to look both ways. And there are cool rocks everywhere! Piles of them in the dirt, crates of them out front, bigger piles in the dirt lot next door.
And the woman says, "Hi, can I help you?".
And I said, "I'm interested in going to Gemfield for some jasper".
And she says, "Well you're in luck, 'cause I'm the owner and I can sign you in and you can even camp there if you want. Or you can buy some jasper here, but it's $2/lb 'cause I had to haul it to town".
Here, y'all. Meet Sharon. She owns the mining claim.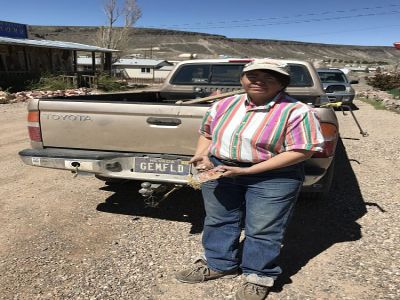 Jasper is a chalcedony (pronounced "cal-SED-ony" I think), related to quartz, agate, onyx, flint. Hard (7.5 Mohs), waxy look, takes a great polish, fractures like flint - you can knapp an arrowhead, fab a cab, pendant, earrings, whatever.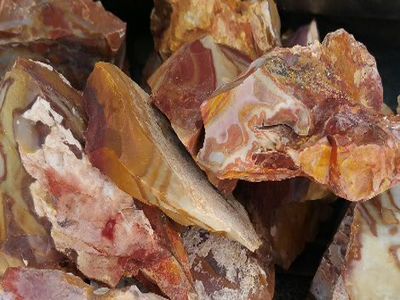 But I don't do jewelry. I like to find pretty rocks and grind them into polished spheres - baseball size. So I'm looking for larger rough rocks with no cracks. Sharon says, "I test for cracks by throwing a rock on the ground". And she picks up a soccer ball sized boulder of beautiful green&gray jasper, holds it up overhead, and slams it down in the dirt. It doesn't break. "That one's good."
"I'll take it".
"That's about 25 lbs, plus the other little one you've got, so how about $25?"
"Well that's a pretty good deal, Sharon. I was just hoping to find a little rock shop, and it looks like I've struck it big."
"Oh this is not a rock shop. You want a rock shop? I'll take you to a real rock shop. Follow me." And she gets in her Toyota and heads down the street. We u-turn on US95 - you don't have to look both ways - and follow her to the edge of town and down a dirt road to a tiny house made of beer bottles and mortar, with at least four other lean-to buildings attached to it, trailing on down the hill, and a board sidewalk the whole way. She bangs on the door for awhile, a guy comes out, and she says, "These people want to see your rocks." And he leads us downhill, down the board sidewalk, to the last lean-to building, and unlocks the padlock, and into his rock shop.
Plywood floor and dust and dirt and shelves and rocks everywhere. Raw rocks, rough rocks, cut rocks, polished rocks, local rocks, petrified wood from Madagascar, jasper from east Africa, fossils from Morocco, meteorites, Asian jade, geodes, black obsidian, rainbow obsidian, mahogany obsidian, snowflake obsidian, agate with real gold veins, and more than I can remember, His prices are $5-$10 for beautiful exotics from around the world, rough, big enough to grind spheres. I'm in heaven.
Here, y'all. Meet Bryan. He owns the rock shop.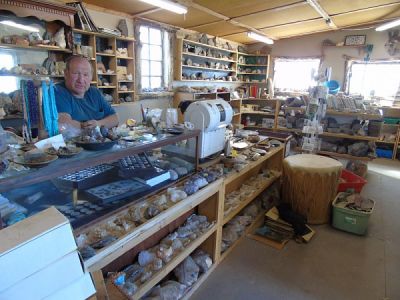 Our east coast jewelry friends and Bryan are deep in discussing tips and techniques for polishing difficult stones. Leather pad or felt pad. Diamond paste or silicon carbide or cerium oxide or aluminum oxide. How to get a good hot polish without burning the stone. Bryan knows his stuff. Bought a bunch of rocks from him that I'll probably never find again anywhere.
Then it was getting towards dinner time. Everybody was hungry and thirsty. So we all said our goodbyes and slow-rolled back through Goldfield and on up to Tonopah. Such cool people we met.
And I got to go to Gemfield to hunt jasper the next day too!

Edit: Corrected my misspelling of Bryan's name. Sorry.
And I should also correct my "No gas" remark. Google street view shows gas pumps near the Dinky Diner.