Post by Tommy on Apr 30, 2020 22:12:24 GMT -5
Welcome to the new and improved RTH Cabochon Challenge! Everyone is welcome to enter the contest, newcomers and veteran cabochon makers alike. The purpose of the contest continues to be just to have fun and challenge yourselves to step outside your comfort zones and learn and grow with us, while dazzling us with your beautiful rock creations. Each month's contest will be contained within a single challenge thread and will have a theme that serves as the primary criteria for voting for a winner. Voting period will consistently occur the first seven days of the following month and the winner will be given the opportunity to choose the theme for the contest two months after the contest they won (ie: April winner will choose June theme).
---
May 2020 RTH Cabochon Challenge
Contest Theme: Shape is freeform, asymmetrical (chosen by Admin). Create a shape that we would know did not come from a cabochon template.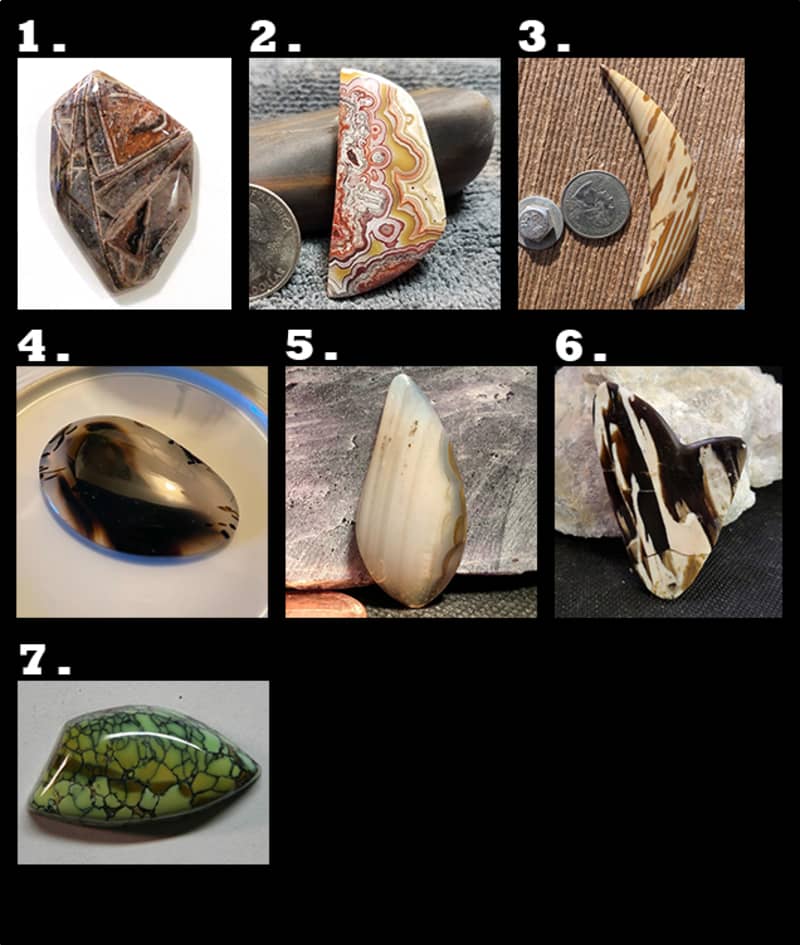 Contest period: May 1st thru May 31st 11:59pm PST
Voting period: June 1st thru June 7th (seven days)
Prize: Winner may choose between a SFRB of tumbling rough or a teeshirt or mug of their choice from the
RTH Store
.
---
Entry requirements:
Participants may enter one hand-shaped, made-for-jewelry cabochon, generally consisting of a domed top and flat backside. Cabochon must be made entirely by the member, within the contest month. Please let us know a little about the piece including how you shaped and polished it, and what challenges it presented for you. Please identify the material if you know what it is. If you don't know then just state that and or ask for help identifying it. Cabochon may have a hole drilled but nothing attached to it.
Photo requirements:
Please post at least three pictures whenever possible, no more than five, with one photo showing an object that gives us an obvious sense of size/scale. One photo should consist of a direct shot of the face of the finished cabochon and should be as bright and focused and zoomed in as possible because this photo will be cropped to around 200 pixel and will serve as your voting collage photo. One of the other two photos should be a side shot showing the piece laying flat, and the other the slab or preform the piece was created from. If you don't have any of the three required photos post what you have and let us know that's all we're getting.
No finished jewelry photos allowed so please do not post any photos of the stone after it has been set, wrapped, or had any kind of bail attached, until after the voting has concluded. Please do not post any "glamour" shots that have been clearly manipulated in a photo editor, faded backgrounds, enhanced colors, etc.
Voting Criteria:
When voting, please judge the stone as follows.
1) How well was the challenge of the contest theme met?
2) How well did the stone meet the contest requirements of a flat back, domed top cabochon?
3) How challenging was the material the member took on?
4) General appearance - keeping in mind that beauty is in the eye of the beholder and many materials are difficult to work with and an exceptional creation might not be flashy and bright.
In the interest of helping create fair and impartial voting, all original entry posts and commentary will be removed from view until after the voting period expires and the winner is announced. If a tie vote occurs a new voting poll will be launched for the period of one day and will include only the stones that were tied for the lead.
Community participation:
As always on the forum, polite and respectful dialog and encouragement is very welcome. Members are welcome to enter a stone before it is completed by posting a work-in-progress photo and if desired, asking for advice or direction from the community, as long as the piece can realistically be finished and posted by the contest close. Advice and direction should only be offered by the community if the person posting the WIP has asked for it. Upon completion the ORIGINAL entry post should be updated to make sure it has the three required photos, face, side, and preform.