Post by Hard Rock Cafe on Apr 12, 2009 7:45:48 GMT -5
Sorry to disappoint those who got the wrong idea from the title...
Well, it finally warmed up enough here to get my big barrel rolling.



It's made from a pvc pipe 10" in diameter and 2' long; it holds 50 lbs. of rock. Yes, it's heavy. The barrel itself weighs 15 lbs. (plus water and 2.5 lbs. of grit). I was worried that the 1/12 hp motor I'm using wouldn't be able to handle all that weight, but it's rolling just fine. It turns at about 17 rpm.
I got the pipe as a piece of scrap from the plumbers who lined our waste line. It had a bell end on it, which I cut off with a circular saw. Sorry, no pics of that.
Here is the construction, in pictures.
I cut out 4 circles of 1/2" plywood. Two of these fit inside the barrel, and two cap the ends. I cut a 4" hole in one end for a test plug, glued and screwed the inners to the outers, and waterproofed them with epoxy resin (following the directions here
www.hares.net/boat/waterproofing.htm
).
Then I cut some vinyl carpet runner to fit on the ends to help slow down the abrasion of the wood. Probably futile, but it couldn't hurt.
Next I cut 4 pieces of 1/2" pvc to act as lifters and plugged them with exterior Liquid Nails so that they wouldn't fill up with grit and rock.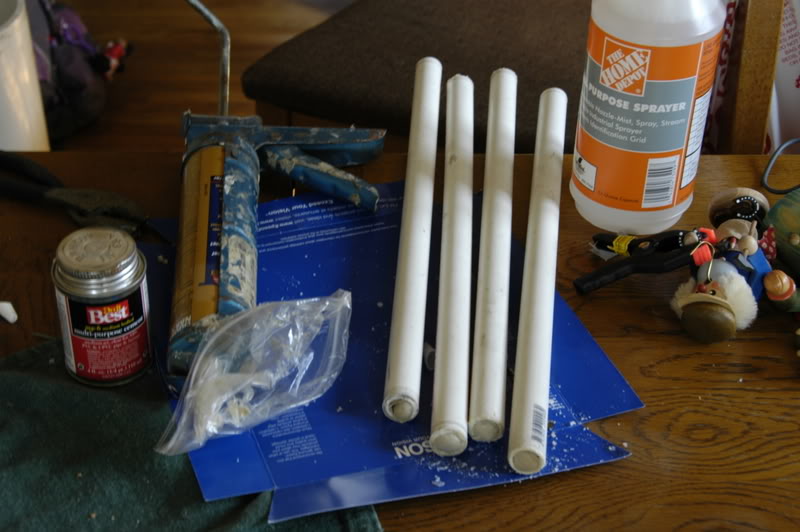 Then I glued the end with the opening to the barrel with a generous amount of Liquid Nails, cemented the pipes to the inside of the barrel, and then for good measure created a fillet of Liquid Nails to strengthen the pipe to pipe connection and prevent grit and rock from getting wedged under the pipes (not shown in this pic). I don't know how long these lifters will last. I don't have a lot of confidence in them staying attached to the barrel wall. Notice that I glued on the open end first so that I would have plenty of room to work when gluing the lifters.
Next I glued the bottom cap on with Liquid Nails and let everything cure. In hindsight, I probably should have clamped the ends to the pipe while curing, but I thought the weight of the barrel would be enough. The Liquid Nails released a lot of water while curing and took up to a week to fully set. This surprised me, but I think it is due to the lack of air circulation inside the barrel.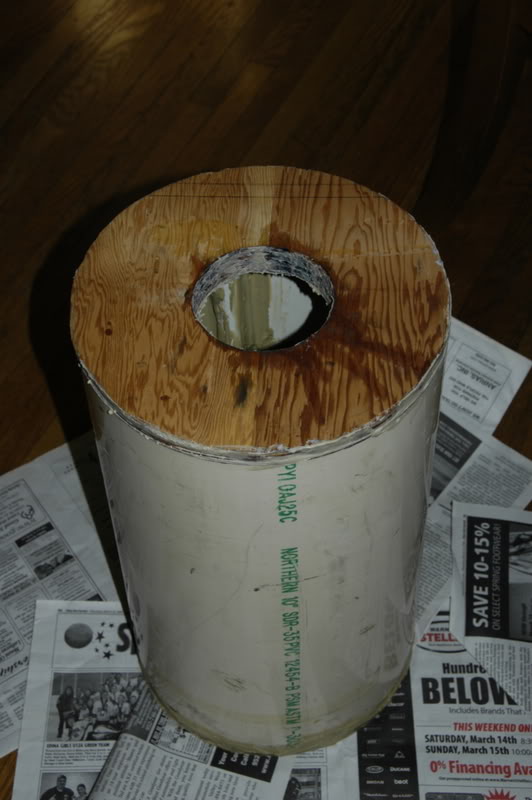 I've had it rolling overnight with just water and rocks and I have a couple of small leaks on the closed end. I expect these will fill with mud and seal themselves up.
I was a little concerned about the size after I put it all together. I have a lot of rock, but not enough for more than about 4 loads in this one. I'll probably end up cutting it down to 1' long so that I have two 25 lb. barrels. That should be enough to feed my 18 lb. vibe.
Thanks to all who participated in the Barrel Ideas thread.

All of your contributions helped me down the path of this barrel. I hope others can benefit, too.
Chuck
7/20/2017 ADMINISTRATIVE EDIT: Repaired broken PhotoBucket images - original code below

[IMG]http://i306.photobucket.com/albums/nn270/hardrockcafe_photos/barrel/_DSC8419.jpg[/IMG]
[IMG]http://i306.photobucket.com/albums/nn270/hardrockcafe_photos/barrel/_DSC8421.jpg[/IMG]
[IMG]http://i306.photobucket.com/albums/nn270/hardrockcafe_photos/barrel/_DSC8422.jpg[/IMG]
[IMG]http://i306.photobucket.com/albums/nn270/hardrockcafe_photos/barrel/_DSC8424.jpg[/IMG]
[IMG]http://i306.photobucket.com/albums/nn270/hardrockcafe_photos/barrel/_DSC8427.jpg[/IMG]