Post by zarguy on Sept 3, 2018 18:06:50 GMT -5
I finally got around to shooting pix of recent cabs & pendants.
Brenda agate & some jasper or something on the left, collected at the same location as the agate. As I collected it, I thought it was common opal, but after cabbing it I think it's a very hard jasper. Check out the concentric pattern in the light green.
melhill1659
, I was showing it to Chris at the top of the hill. I bet she has some at home too. I found it at both Brenda locations I went to during Quartzite last Jan.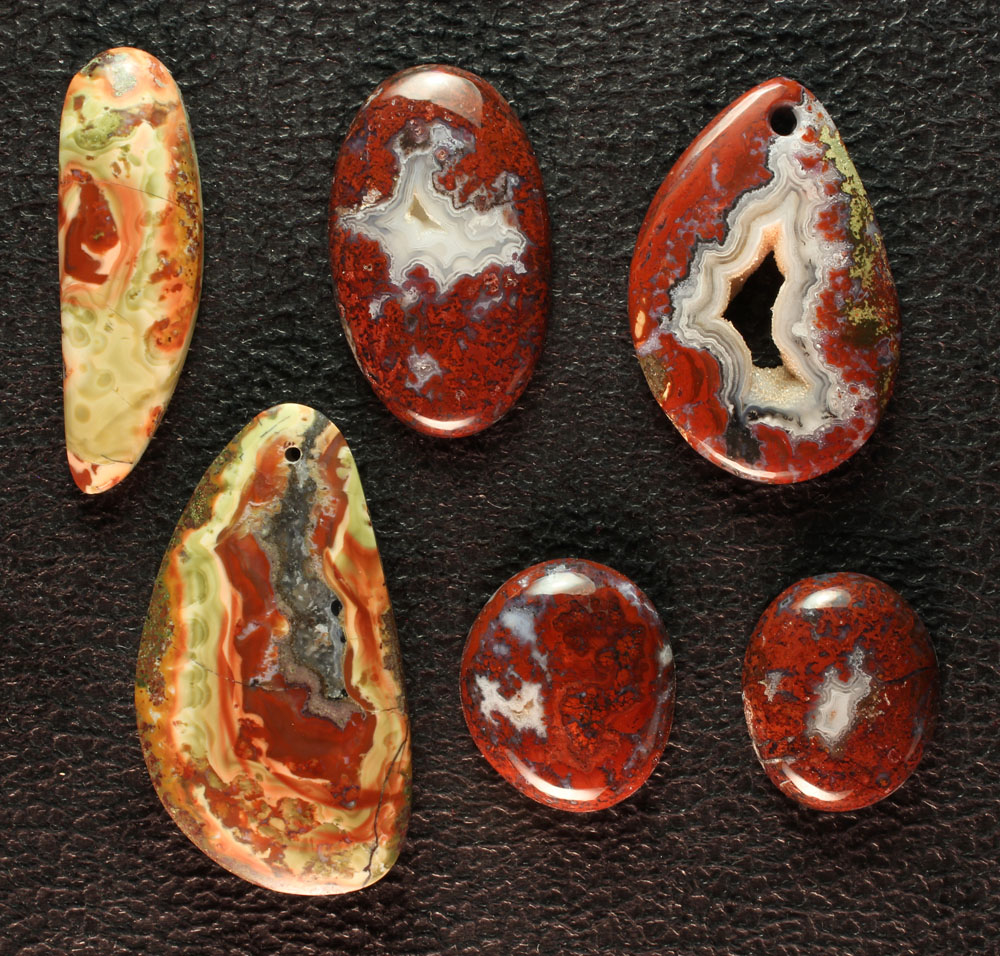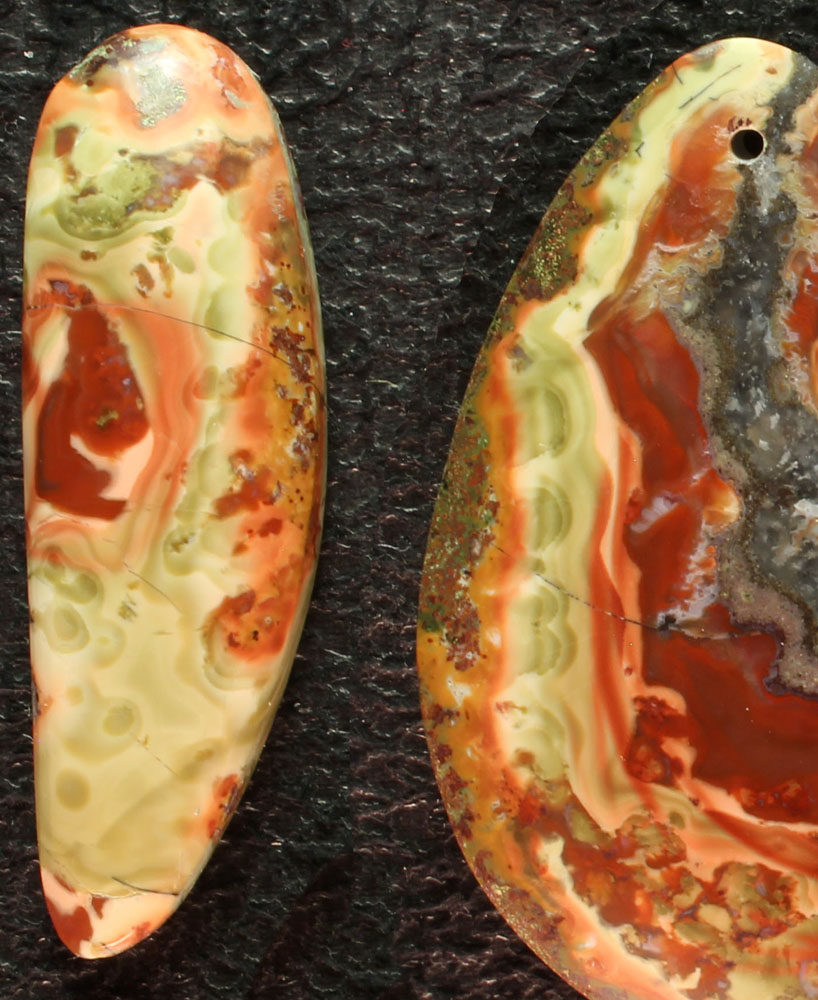 Holt Canyon jasper/agate. The 2 on the lower left are from sister slabs. Tallest is about 2".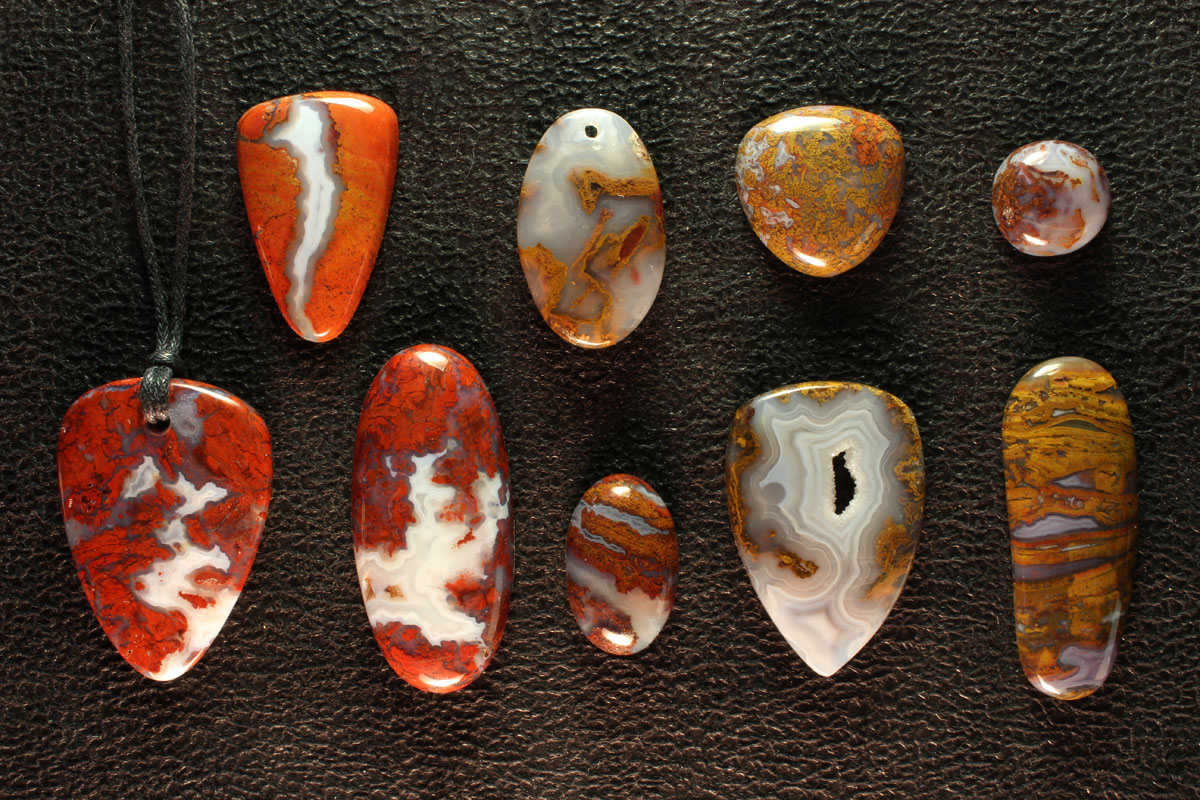 2 Kingman Turquoise and a self-collected Royston Turquoise. Tallest is about 2".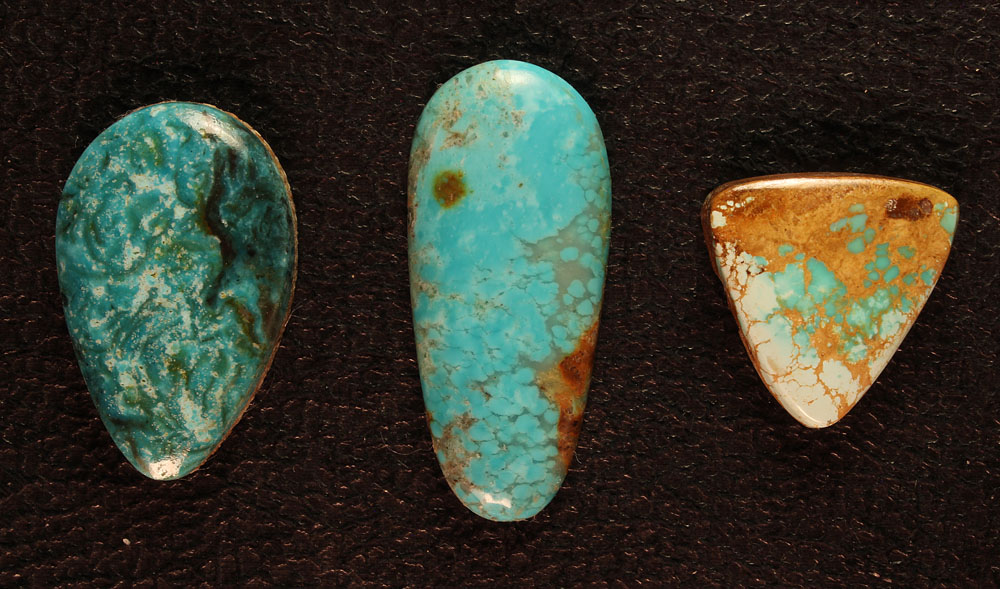 Botswana agate, Holt Canyon agate, Montana Moss agate cab that I cabbed at the age of 12. A free scrap from the driveway of Stan Jones's rock shop in Provo, UT.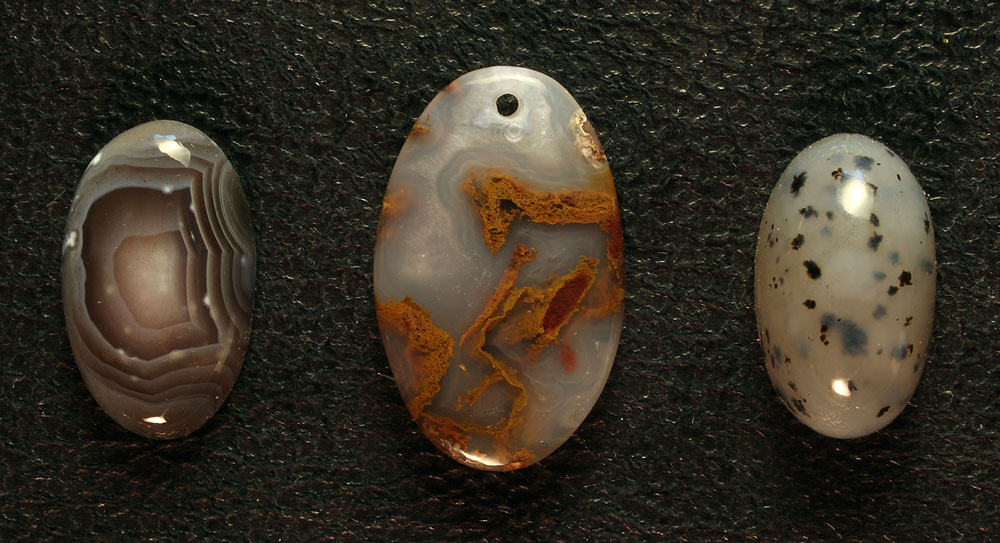 Cedar City Cosmo agate 2 sided, ready for a cord. This is one of the patterns I love to find, but do so rarely.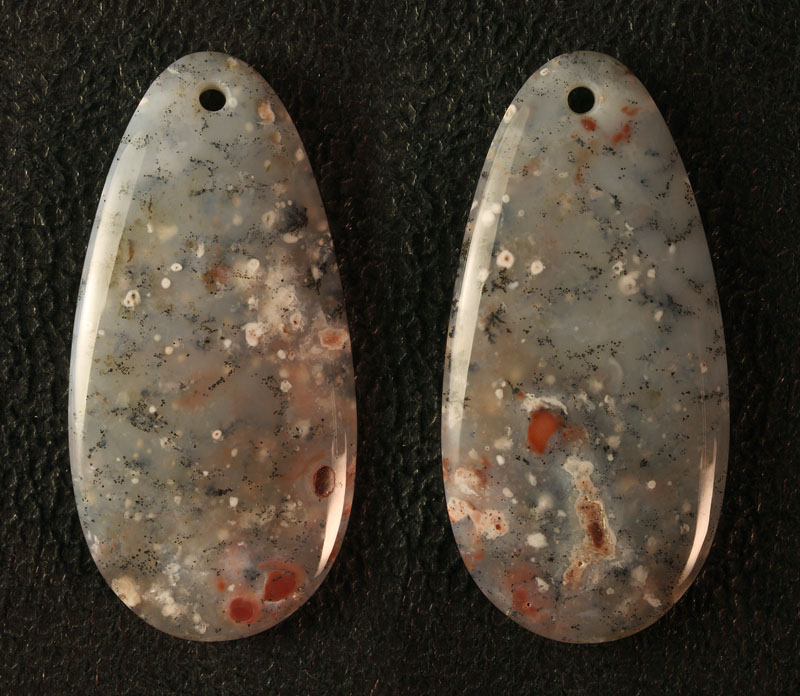 Grape agate from the San Rafael Swell near Green River, UT. The outer 2 are polished flat on the back & show concentric patterns.
The setting was lots of fun to design & make.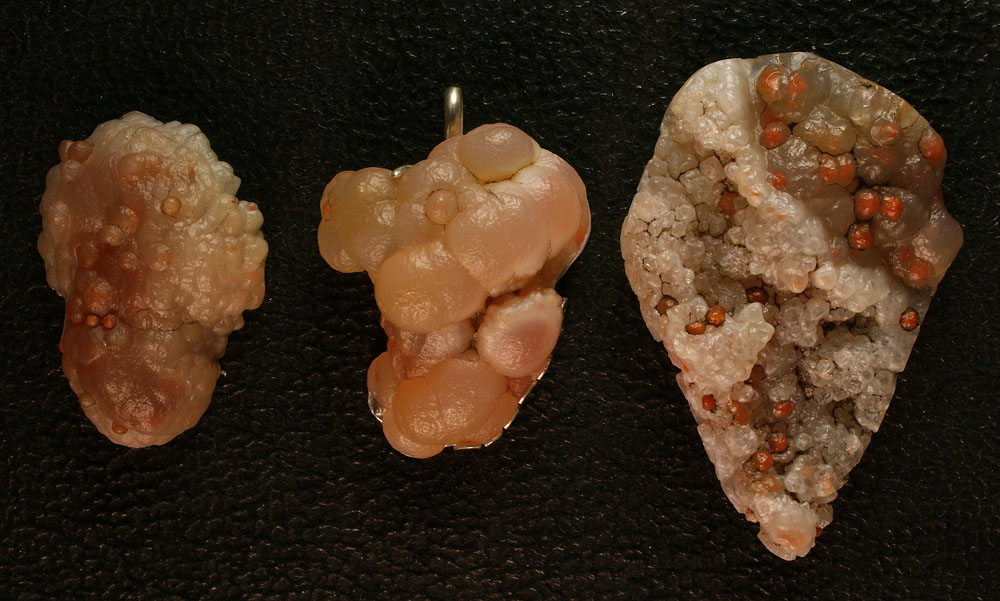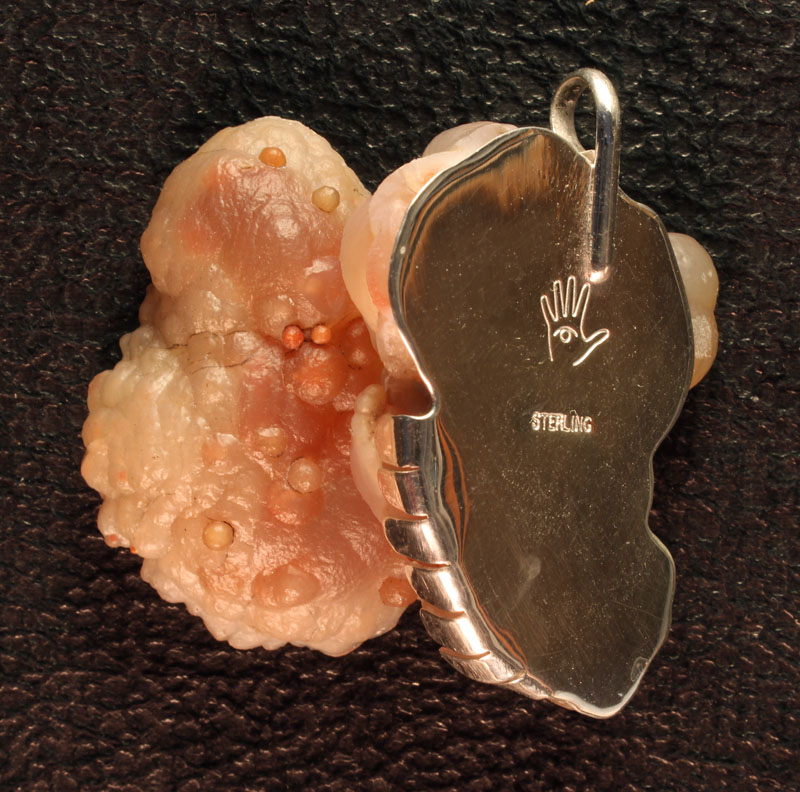 Egg-sized Grape agate nodule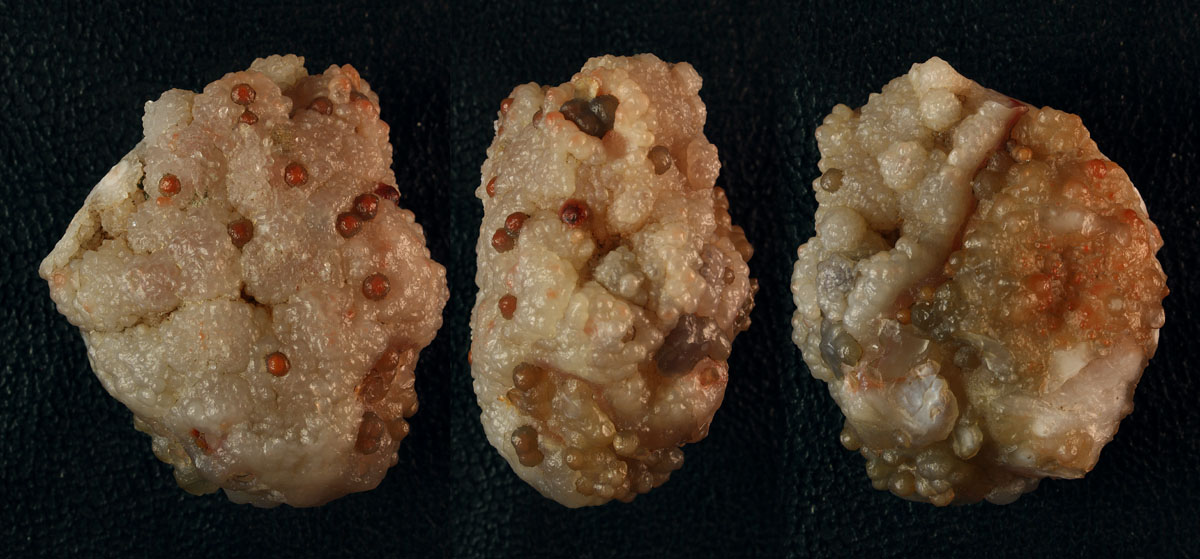 Green Moss agate of unknown origin. Slabbette bought for $1 rock club sale.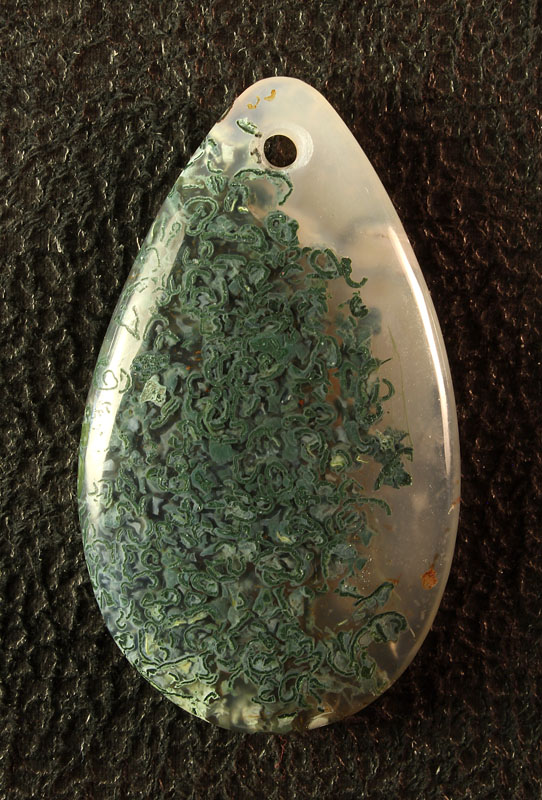 Botryoidal Hematite, Ocean Jasper, Morgan Hill Poppy Jasper with "facetted" sides & a bull-nose top edge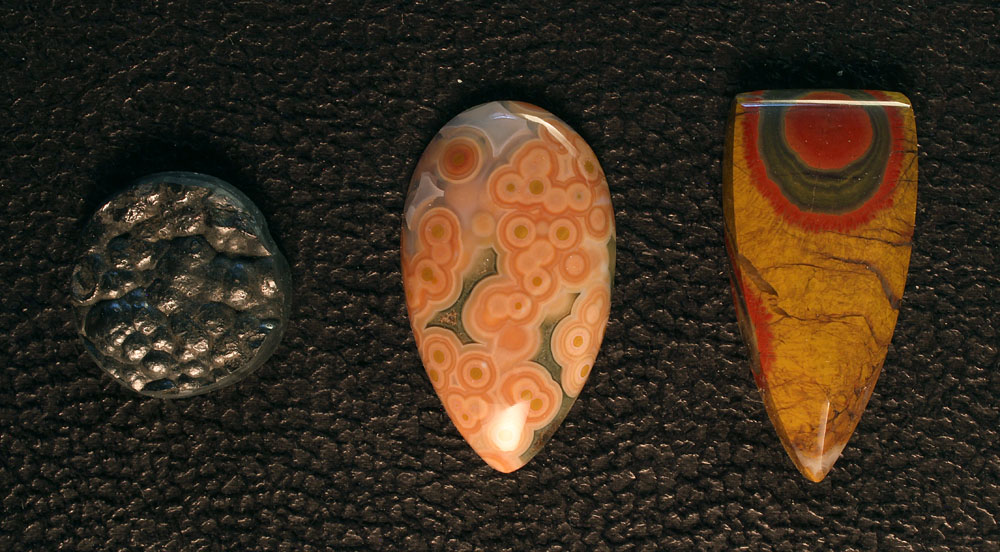 Indian Blanket jasper 2 sided pendant. I live 1 hour from the mine, but bought the slab for this pendant from a Facebook seller in Iowa!
The slabs had lots of fissures, but don't see this pattern very often, so I bought them anyway & used Hxtal.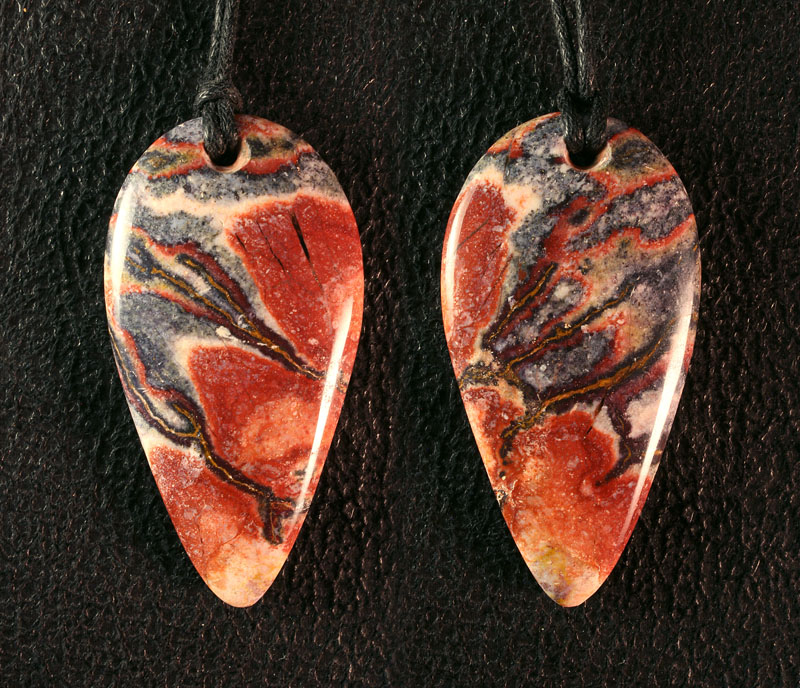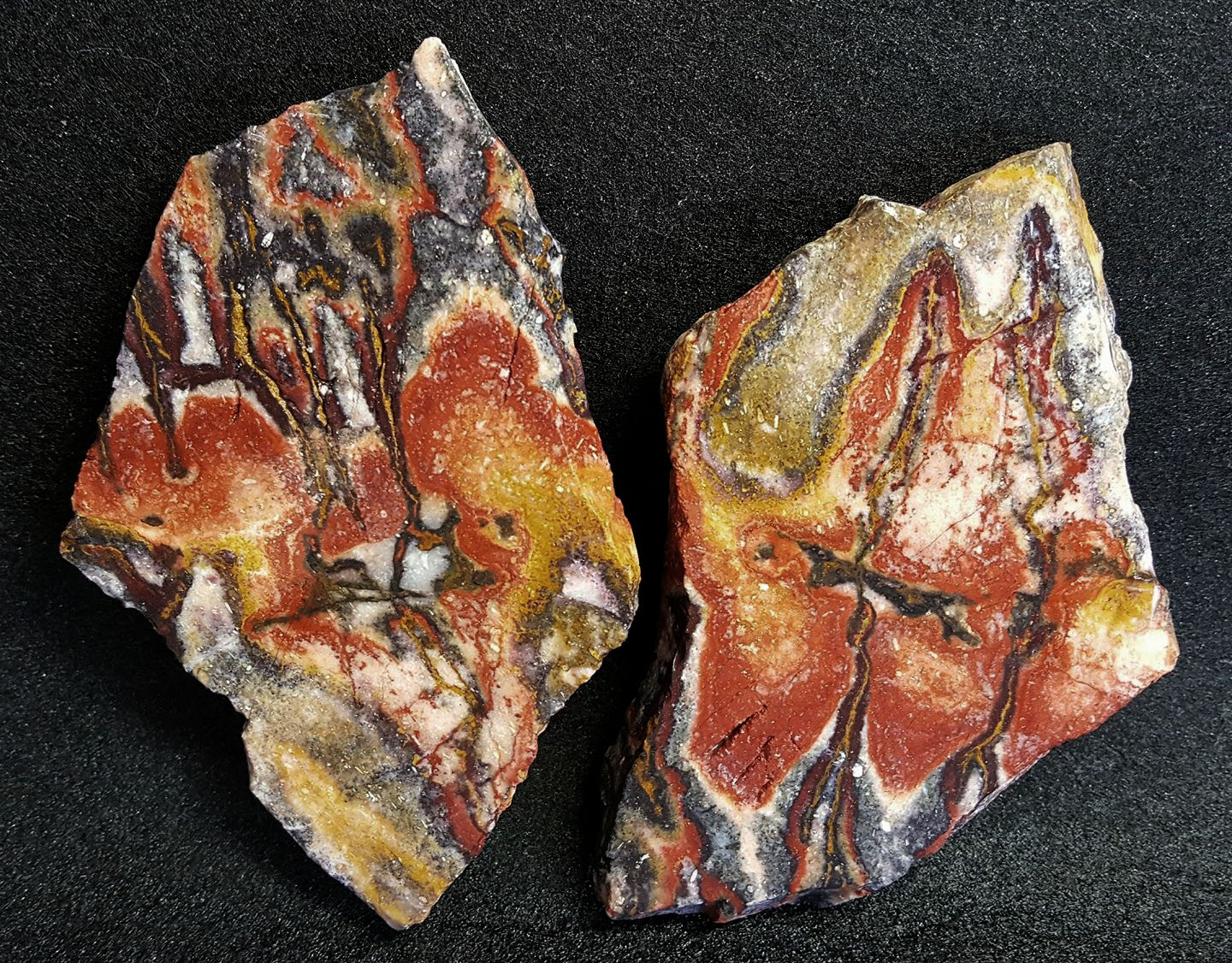 Indian Blanket jasper. We've named the setting UBBB - Uni Back, Bail, Bezel. It's all one piece except for a wire soldered onto the Bail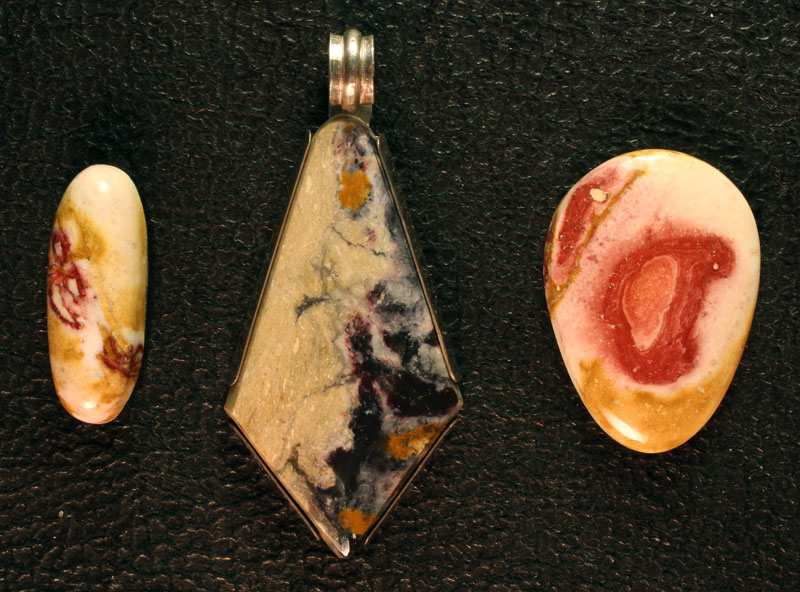 Indian Blanket jasper in sterling silver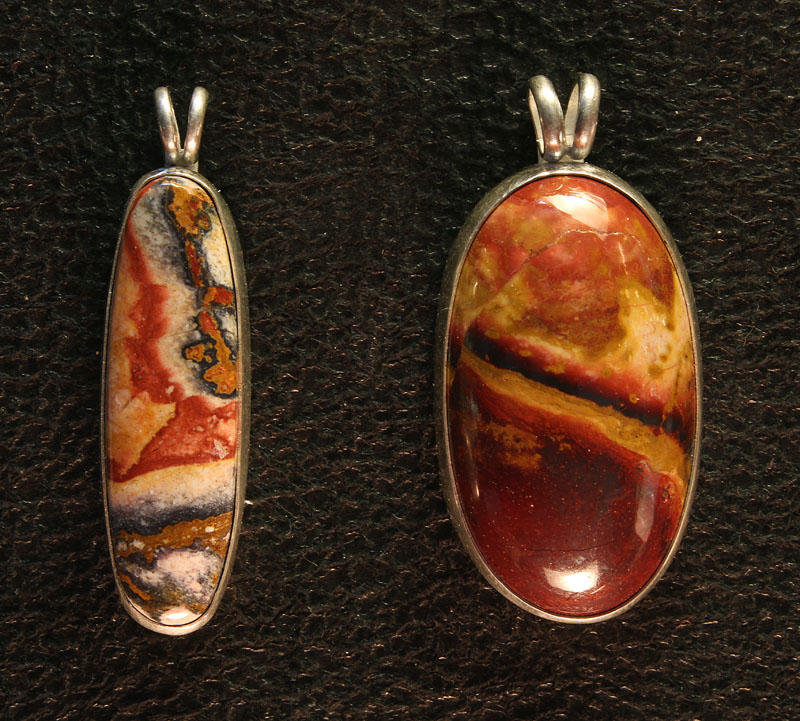 Madagascar River agate 2 sided pendant. This was from a slab in the traveling rock box. It was labeled Zayamara agate & was from
melhill1659
.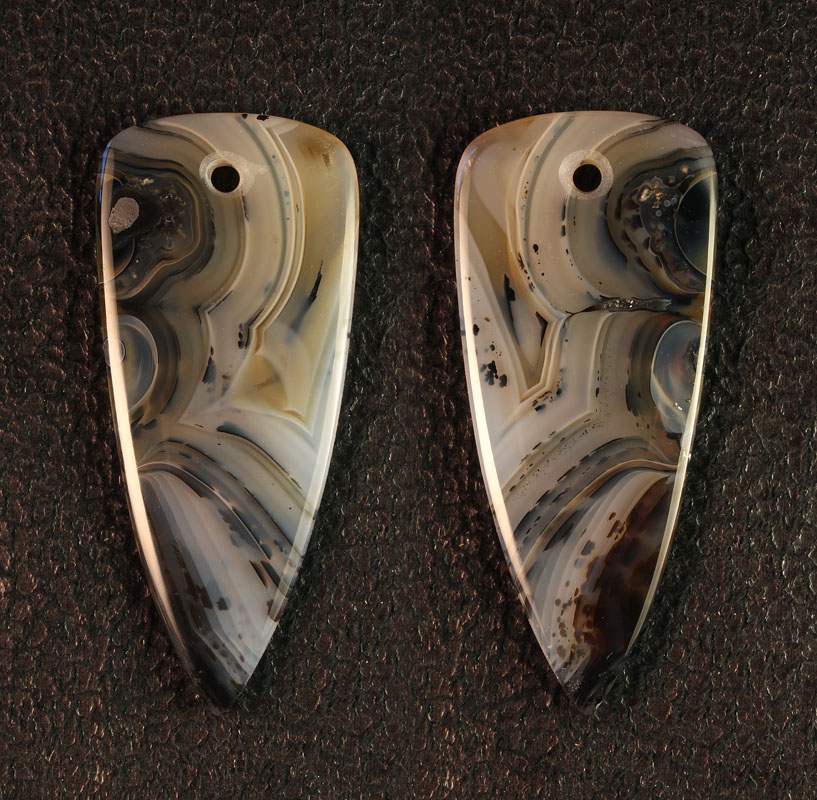 Madagascar River agate that's been ground down, tumbled & heat treated. The heat only affects the outer 1/8" or so.
I'd like to try my hand at heat treating so I can get the cabs to look as colorful & contrasty as the tumbles I bought.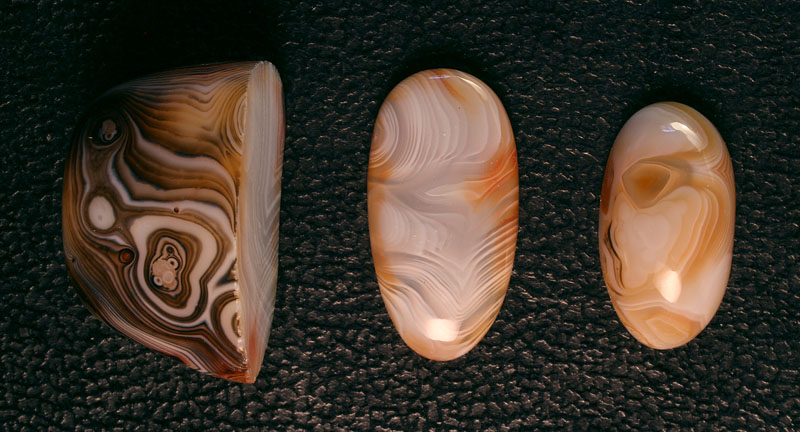 Madagascar agate. I love this stuff! I didn't tumble this. I may cut it & make a cab of that top layer.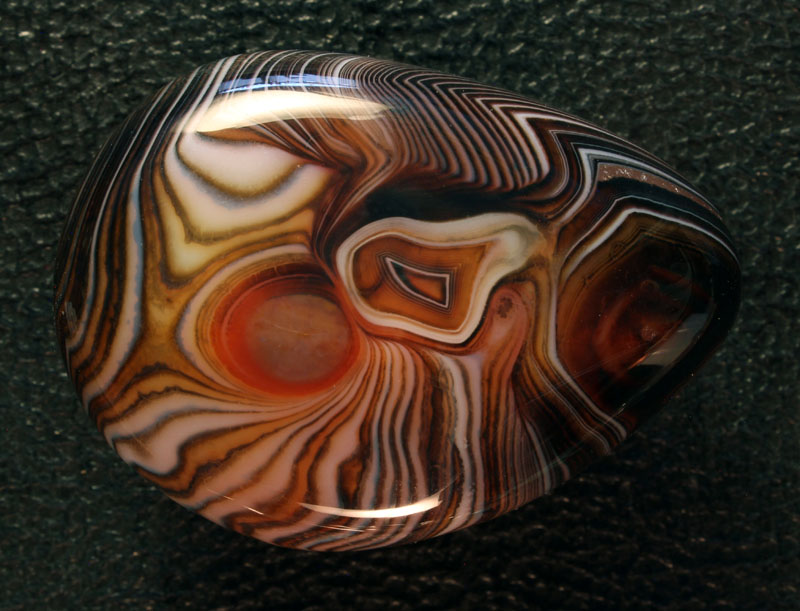 Moroccan Seam agate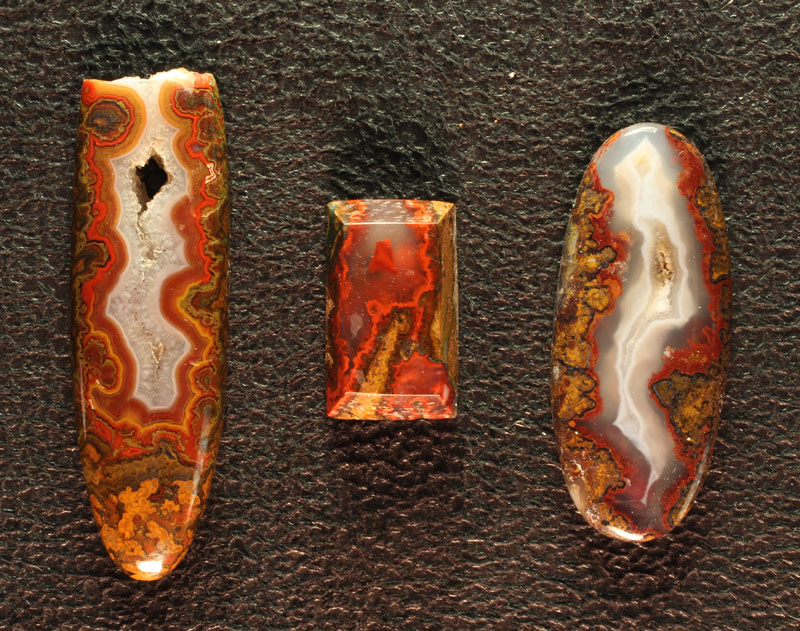 Still cutting Royston Turquoise I gathered 2 1/2 years ago at the mine in Nevada. Tallest is about 1 3/4"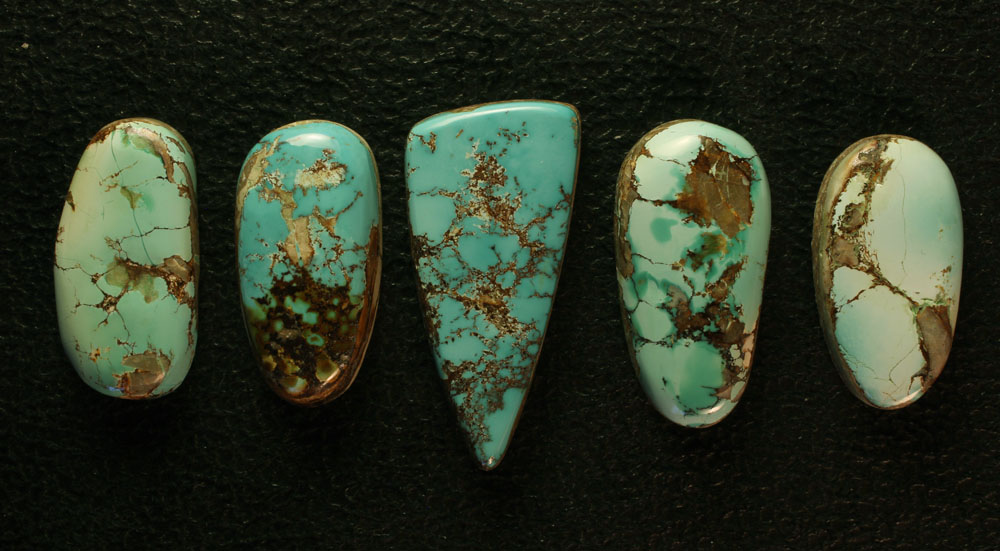 Unknown agate double sided pendant. From a $1 slabette at the rock club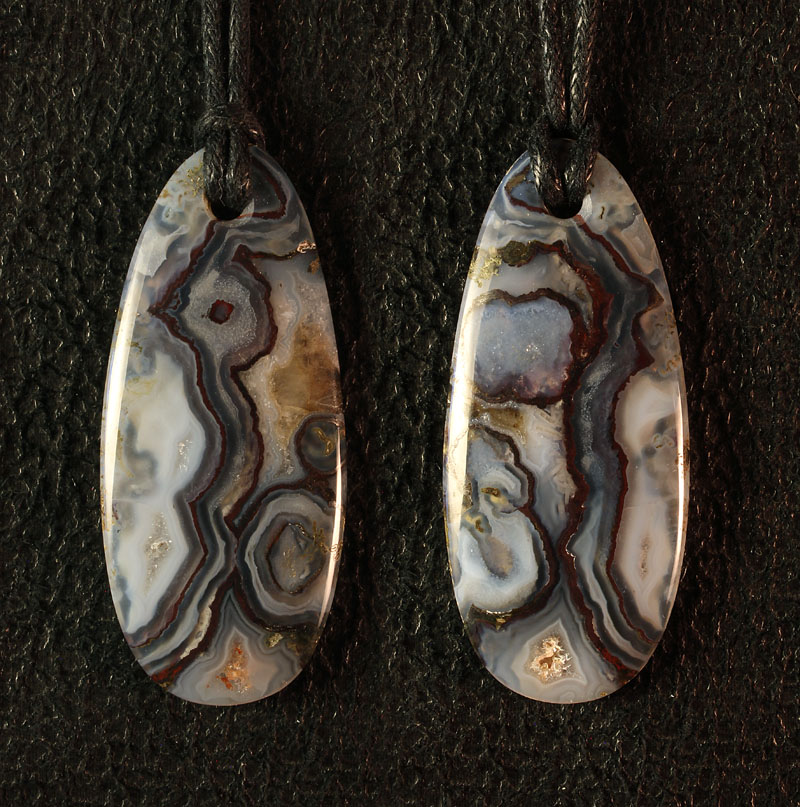 Variscite. First one is purchased slabette. The others are from a larger cab given to me. Thanks Rick! - carver2 on eBay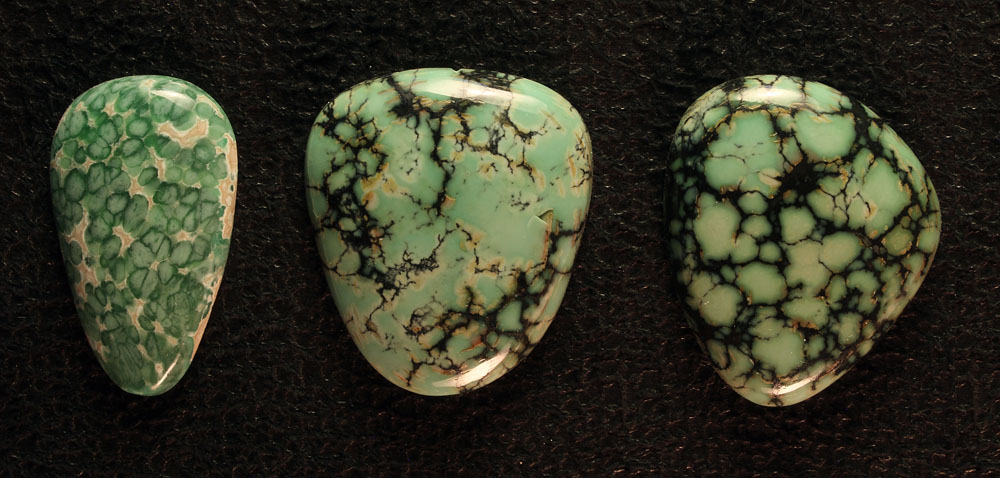 Thanks for looking.
Lynn