Post by lakeandco on Aug 16, 2010 19:54:00 GMT -5
Hi everyone! My name is DJ, 'lakeandco' is my company's name. This is my first post but I have been checking in and getting inspiration on this site for quite a while. If anyone is interested, I'm trying my hardest to make a big 24" slab saw.
Hopefully you can get some information/inspiration out of my current project as others' projects have done for me. This person's project in particular really helped in the design stage:
forum.rocktumblinghobby.com/index.cgi?board=hmequip&action=display&thread=35160
There are things to keep in mind though when you triple the blade diameter, as I have found out.
Before you get turned off by lots of text, Here she is. Very much 'under construction' but at least you get the idea of what I'm going for. Also, don't use those scissors by the blade as a size comparison. They are actually foot or so long shears!
For my business I was getting fed up with only having my tiny trim saw and decided it was time for a slab saw. I looked at the large prices of large slab saws and figured I could do a similar job for a fraction of the price.
Being macho and gung-ho about it I bought the biggest blade I could afford: 24".
I made a big sturdy frame out of 4x4's and tried mounting the blade with pillow block bearings and a threaded rod arbor.
Problem 1: the faces of the nuts that went on my 3/4" threaded rod (let's be mature here) are not perfectly perpendicular to the axis of rotation. Meaning that threaded rod won't work for the arbor of a big blade. If you have access to a machine shop, you could turn out an arbor to run in pillow blocks quite easily I imagine.
I ended up ordering a Covington arbor, all said it came to about $230 with freight/tax etc. Pricy but worth it.
I'm starting to digress here but what I've found with this project is that when dealing with such a large and powerful machine, it doesn't pay to take shortcuts or allow a little wobble here and some play there. All those little imperfections catch up to one very quickly and at best may compromise the saw's ability to cut nice slabs and at worst injure you.
Back to the saw.
Here again from the back. The threaded rod coming out the back is to hold a counterweight or springs so that I can adjust the cutting pressure.
Detail of the saw arm hinge.
Closer look at the soon-to-be vise. The vise seems like it's almost a separate project from the saw. Maybe sometime I'll make a crossfeed vise for it to make cutting slabs just ever so fun and easy!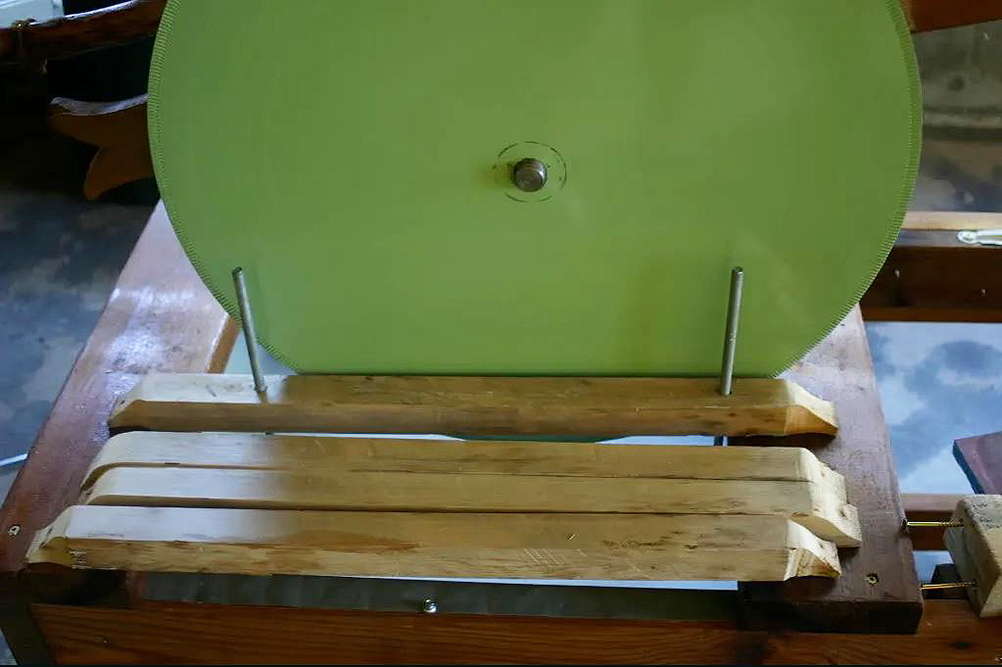 Here's that arbor I was talking about. 'Covington ar15r' I believe.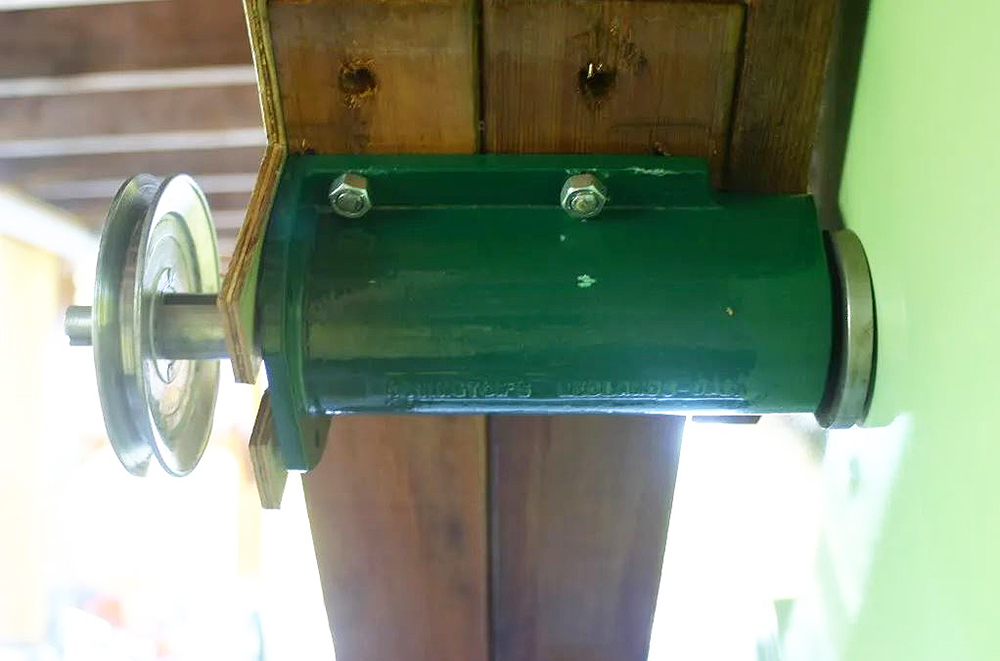 This past weekend I got most of it put together. I ran into trouble though when I was testing the motor. For some reason I thought (but not very hard) that a 1/3HP motor I had kicking around would be powerful enough. It overheats on start up. I can get it running but it gets realllllllly toasty. So now I'm trying to get my hands on a used 1-1.5hp motor.
Here's a word of wisdom, before you start building a saw, determine what motor will be needed to drive it. Then get that motor before you start and design it into your plans
.. with a bigger slab saw you may just find that you are getting into 220V and Three-phase motor land. At 1.5HP I'll be really pushing it to use a 20 amp/115V household outlet. Live and learn eh?
Also, for cooling I plan to use water and lots of it.. I've got a parts washer pump wired into the switch and i'll hose the blade from both sides.
Does anyone know if there is a technical reason why oil cools better than water. It seems to me that LOTS of water will achieve the same goal. Opinions?
More to come when I get that motor, hopefully this week. Stay tuned!