Post by 1dave on Nov 18, 2013 7:17:41 GMT -5
Casting Is well covered in Sharr Choate's book.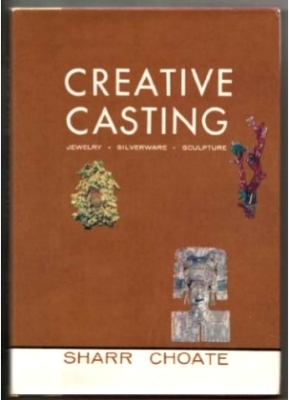 Index:
Partial Melt, Water etc. Casting, Carving Cuttlefish etc. - Here.
Centrifuge Casting
Sand Casting
Sandcasting the JB Way
Sling Casting
Steam Casting
Vacuum Casting
Buying Gold & Silver
Gold, Silver, Brass, Bronze, lead, solder, make it easy on yourself! You can make some fantastic pieces very simply.
I suggest you start with aluminum or brass because it is easy and inexpensive. When you are sure of yourself then move up to the expensive stuff.
1. Arrange scraps of metal in an interesting pattern,
heat until it just begins to melt together, and STOP!
Those partial melts may be just the thing to use in fabricating a splendid piece of jewelry!
Continue heating with various sized pieces of scrap and they will turn into spheres, again Stop.
Those spheres can be used in so many designs.
Or continue heating and the spheres will flatten out. If on a carved mold, the metal can be hand pressed
- uh, use a fire brick or wet piece of wood, not your hand - into the mold.
2. Or continue to melt your metal, then pour it
into a pail of cold water. The drops will form amazing shapes.
That can then be used in fabrication.
Dripping melted silver into water, ice, wet pine needles pine cones, or broom straws provide interesting shapes to work with! I always used a wet whisk broom. It still seems like a better idea.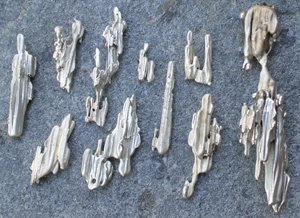 3. mold casting -
Using an old board can be a good beginning. Carve a form first, char it, refine it, melt your metal on it, then use another (wet) board to mash the hot metal flat. Try making belt buckles this way!
Cuttlefish casting -
4. Vacuum Casting -
Don't toss that empty propane tank!
Open the valve all the way and heat that tank to drive all the gas out. Do it several times, then close the valve while still HOT! When it cools down, you will be the proud owner of a vacuum casting unit!
Make your mold with a hole in the bottom the nozzle will fit in, Burn out the wax, melt metal on top of the mold, then stick the nozzle in place and open the valve. The vacuum will help suck the molten metal down into the mold.
5. Sand Casting -
6. Sling Casting -
I would never try this with gold.
7. Steam Casting -
steamcast.blogspot.com/
8. For Lost Wax Casting
you will need a centrifuge and metal wash tub to keep gold from flying everywhere!
I make my forms out of copper pipe to fill with cristobalite and my wax mold, but you will need to purchase Crucibles to melt your metal in: