Post by herchenx on Sept 16, 2015 12:25:44 GMT -5
Well Google changed their image permissions, I hope I don't have to go back and adjust all my old posts :\
SORRY about that, so here is the original post:
A few weeks ago, before school started, I took our youngest on a rock hounding trip. Originally it was going to be a fishing trip, but after talking with him he was more interested in camping than fishing, and wanted to go to the desert to look for rocks.
We packed up our truck and hit the highway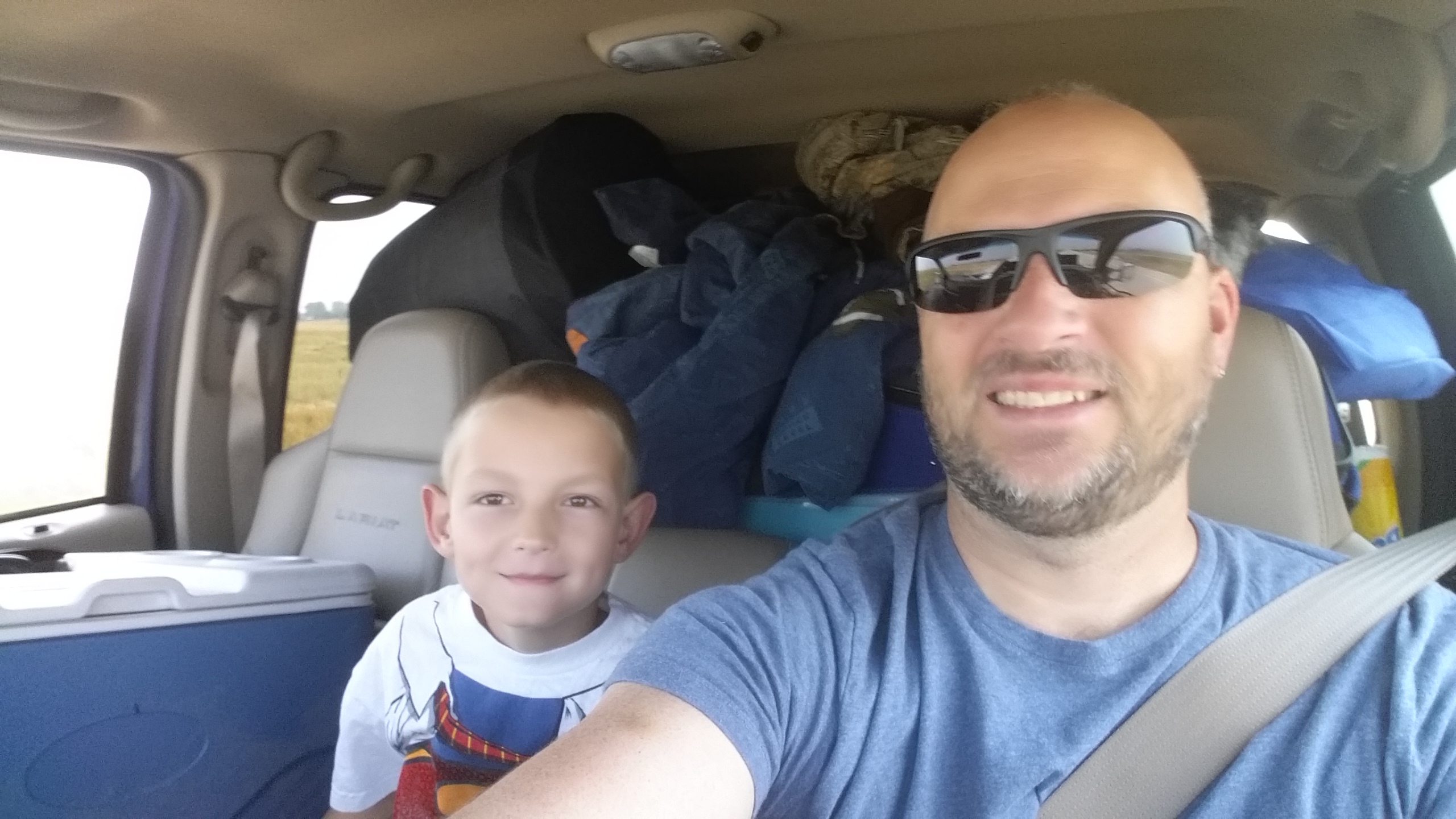 We headed straight to a spot that has produced trophy pet wood in the past, abot 4 hours from home. We had plenty of light and got out to explore. It was windy and warm but not bad. Right away I had some sort of bee land on my hand, which I brushed away, and then it immediately came back to my other hand, then my neck. I kept after it and after 5 minutes or so it went away.
My son was not so lucky. One landed on him and he squealed that it was stinging him, so I went over to see, and a second one landed on his neck and stung him, then the first got inside his shirt and stung him again.
He looked for about 5 minutes with me for wood, never cried but was on high alert for the bees. They came at him again and he got stung several more times then he was done. He retreated to the truck cab with several pieces of wood and played with his legos.
That was a disappointing start to our trip. I spent another 20 minutes or so walking around and eventually uncovered some nice pieces of petrified stump/root. Out there it is very pretty and dark, wind polished and solid.
I loaded up a large chunk, and we headed back toward the highway.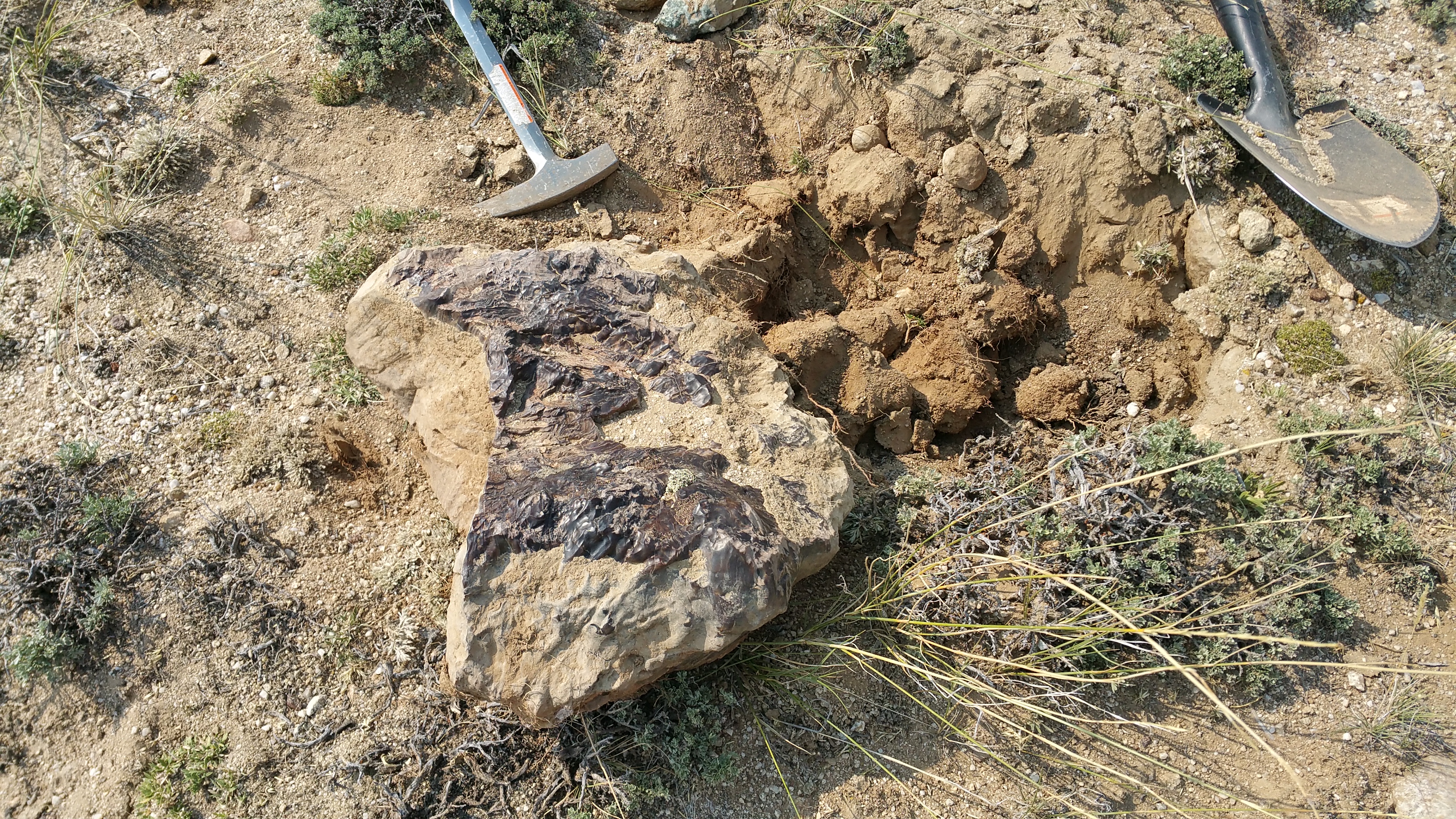 Before we left I got a few photos of the landscape. I really love it out there.

The sky had been really hazy from all the fires in the Northwest US. You can see the gray band well in that last photo, and the haze as you look toward the sun.
As we made our way back toward the highway I was surprised to see a Mule Deer Doe out in the daylight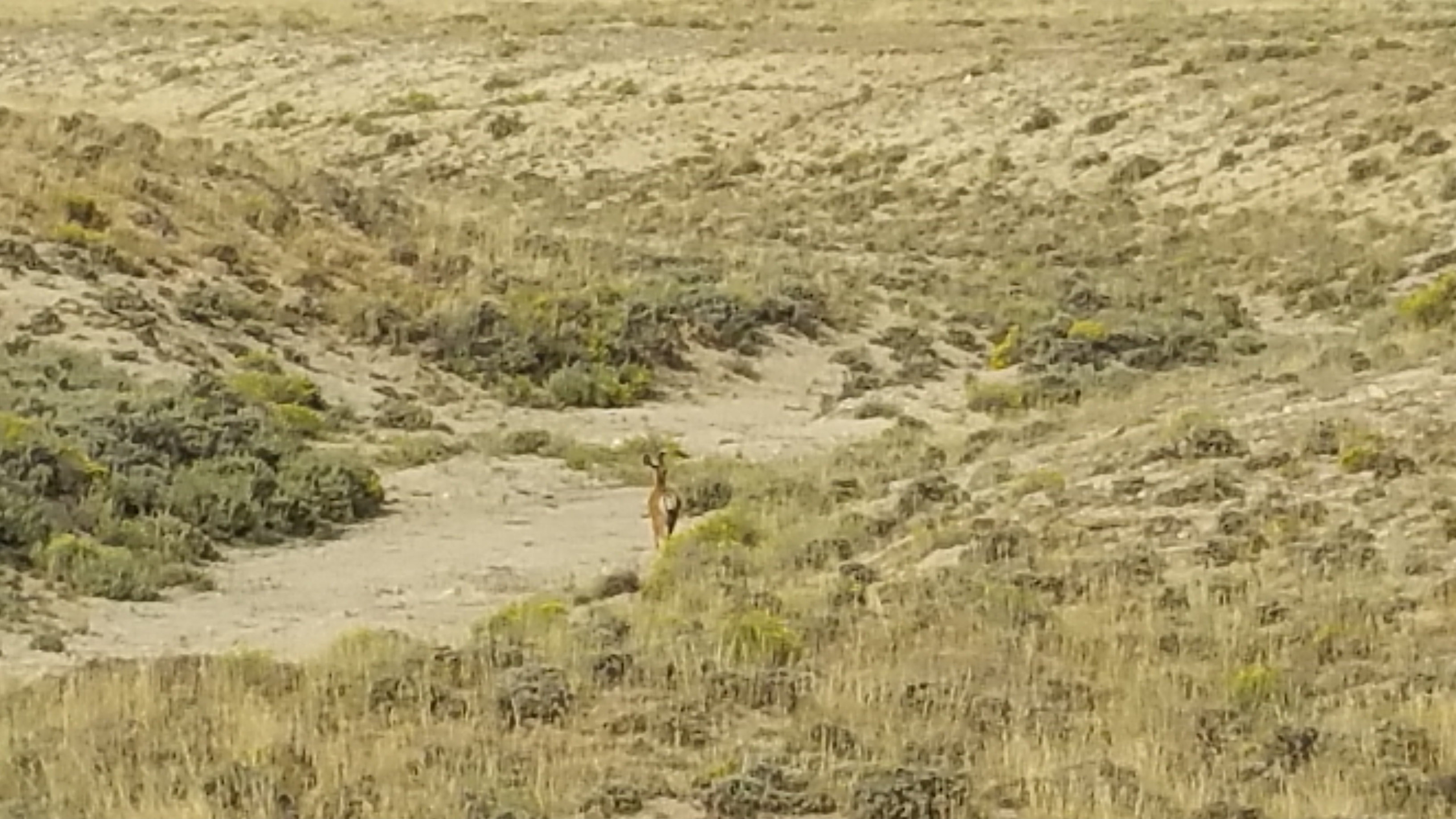 we snagged dinner back in Rawlins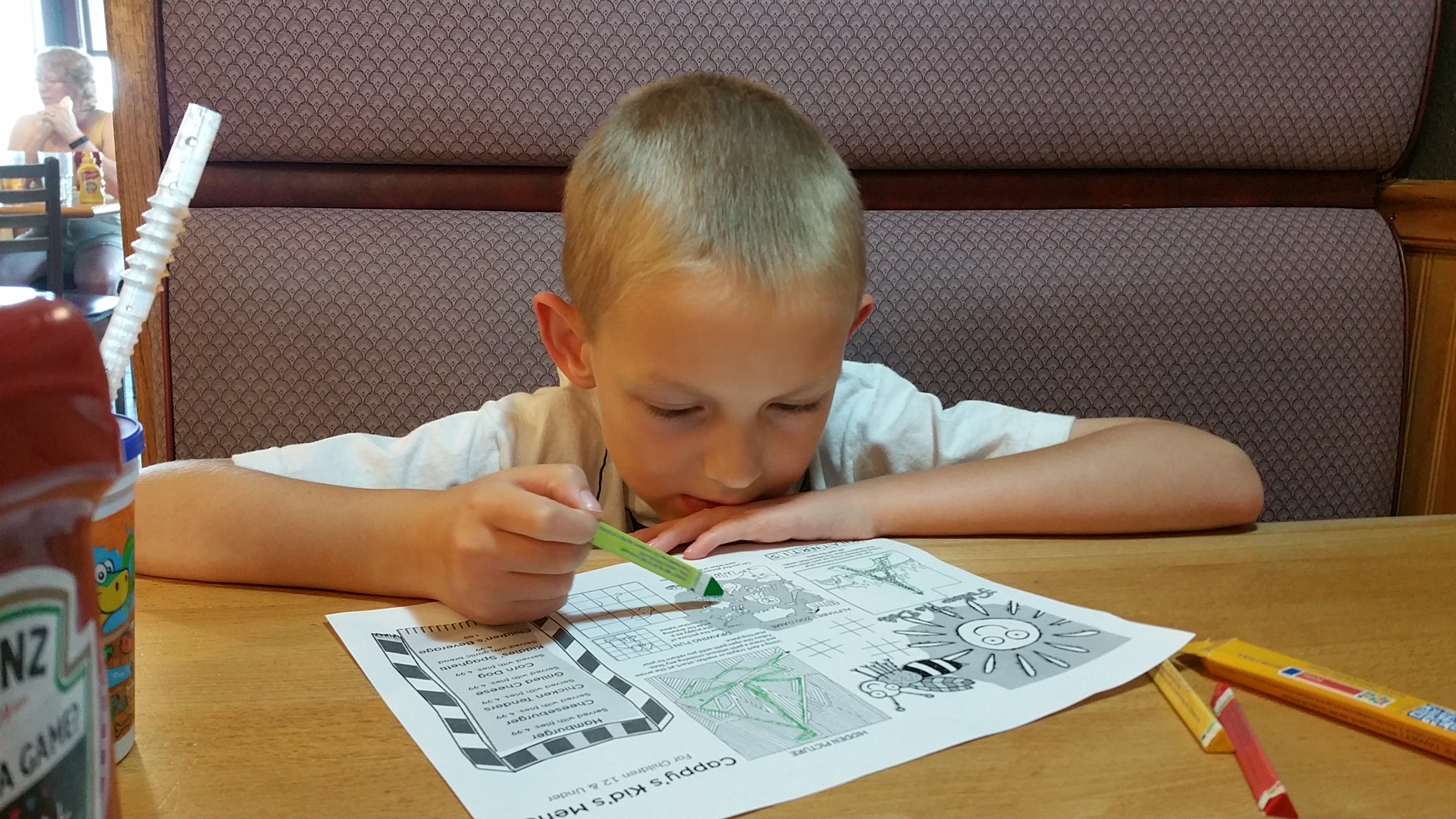 then headed toward the red sunset, which recently have been more intense, again because of all the smoke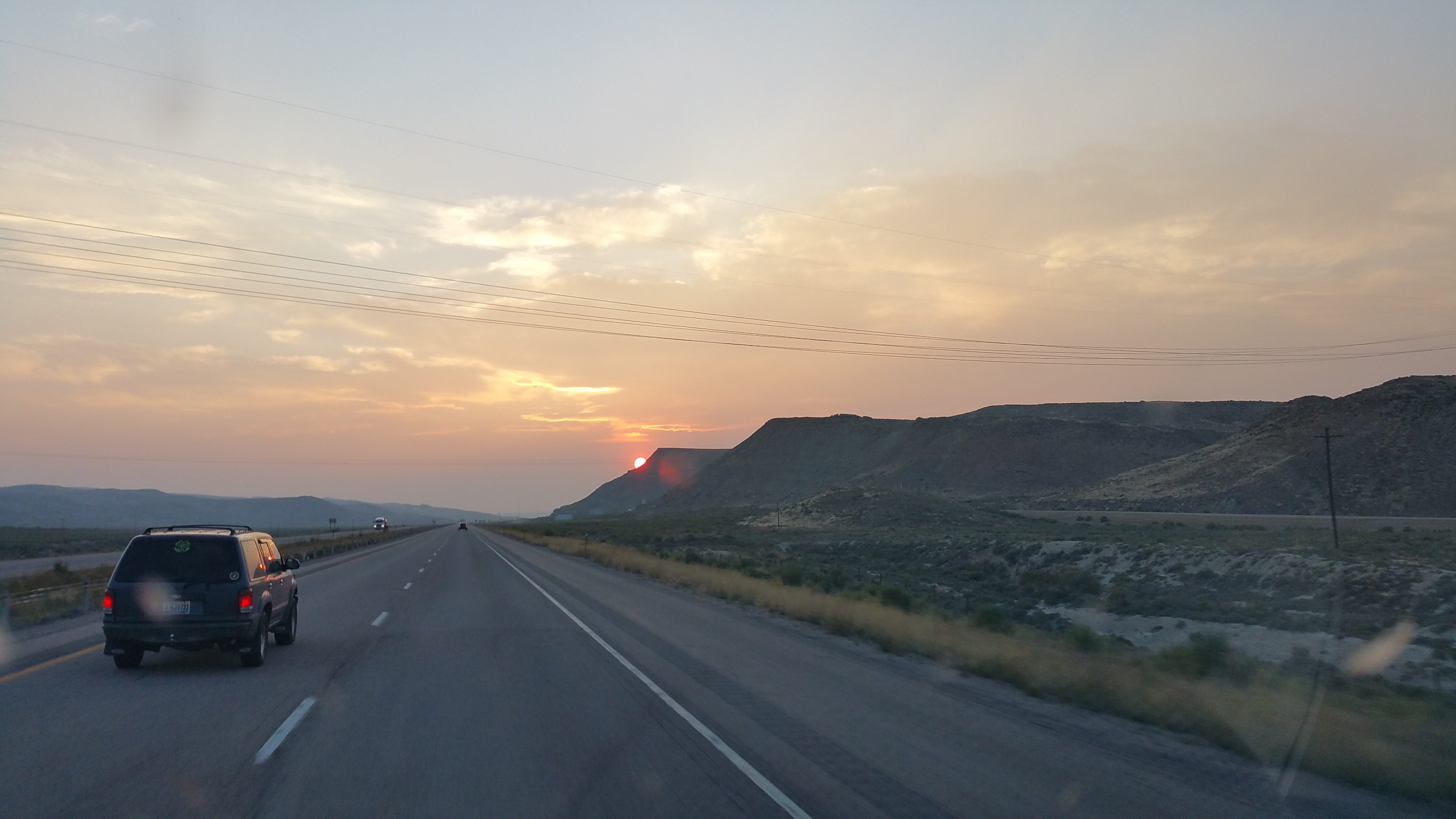 lots of bugs on the windshield there.
The boy got in some ZZZs on the drive.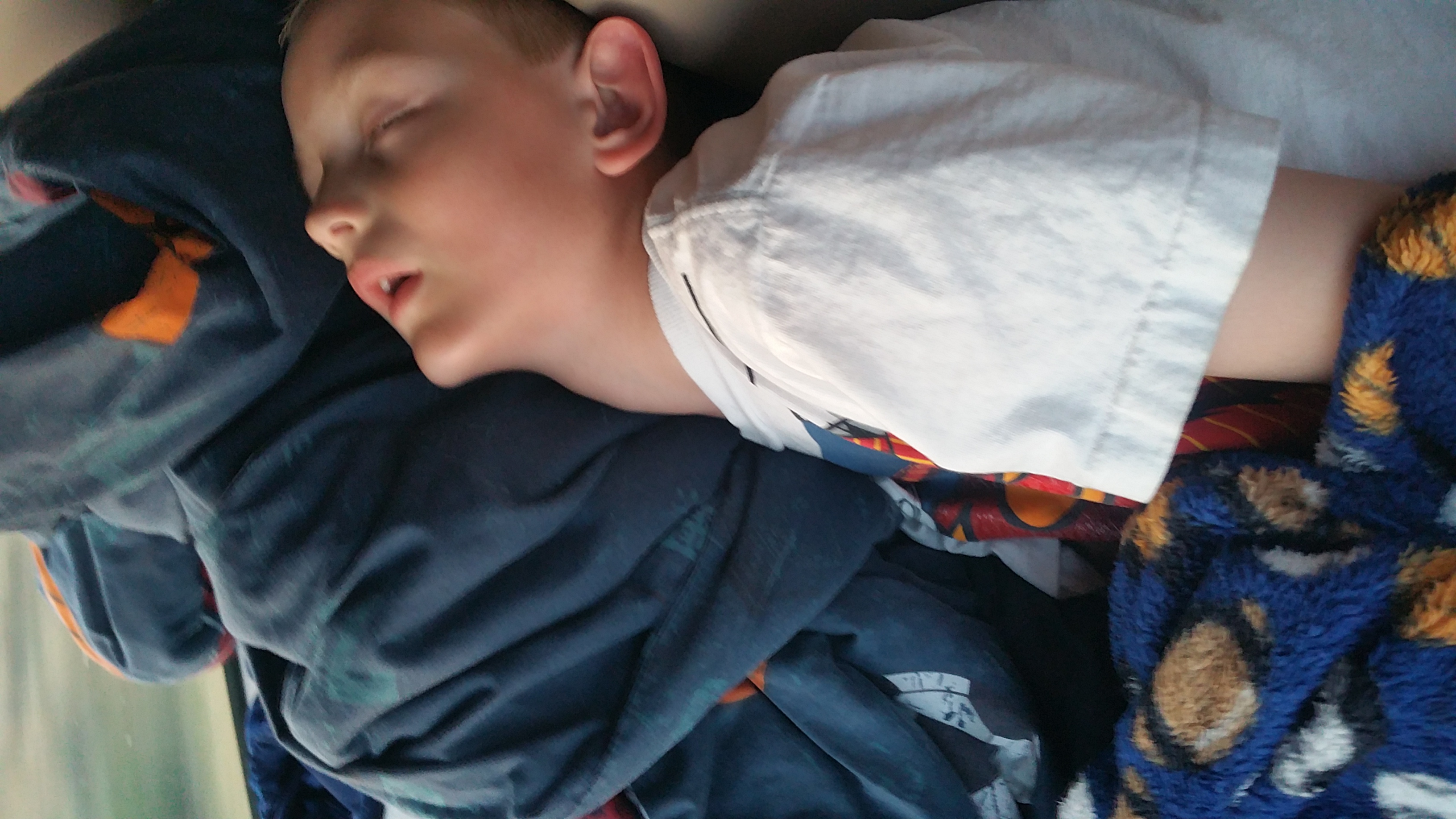 We made it into Farson, WY just before the Farson Mercantile closed. I'd been here on a trip with our older son a few years ago (Here is
that trip report
) and my younger son wanted to experience the giant ice cream cones.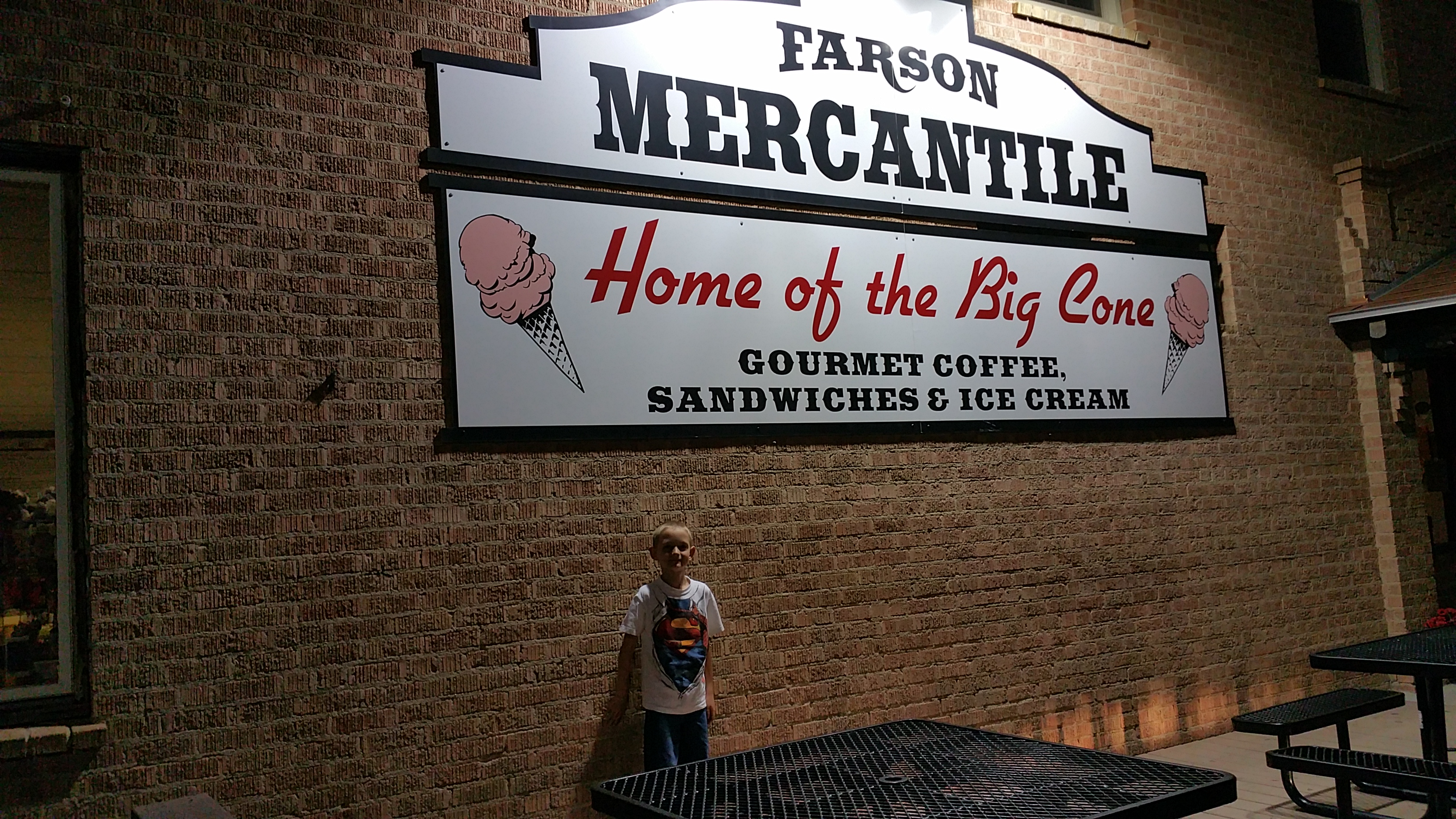 We saw later that there was a bat hanging on the brick wall just up and to the left of the sign in that photo.
I learned my lesson last time when I ordered a single scoop, so we both got the baby scoop
It was at least 2 full servings of ice cream, but Matthew didn't object and we gobbled it down before getting back on the road.
We drove about 45 minutes from Farson (it was actually fairly close but I was following directions from the Rock Hounding Wyoming book which isn't always precise) and we ended up at Big Sandy Reservoir. There were only a couple other people out there, and it was really dark out.
I emptied the back half of the cab, folded up the seats to reveal this cool platform that my truck has, which is where I put 3 inch thick foam for Matthew to sleep on. The problem we ran into was that the light in the cab attracted every flying insect for 100 miles, and the cab ended up full of flying buzzing critters. Matthew was dealing with some PTSD from the earlier runin with the stinging bees and wouldn't lie down until every bug was dead. I was outside the cab planning on sleeping in my tent-cot and didn't want to open the door and let in more bugs so I was yelling through the glass to wish him good night.
He finally felt OK to sleep, with 1000 bug carcasses lying on the floor from his rampage, so I got into bed and slept really well. There was not much wind that first night and I was very comfortable.
We awoke to a beautiful morning
This was our camp site
We took a nice long walk along the shore of the Big Sandy Reservoir, it was probably the best time of our trip
We walked far enough to start finding stromatolite described in the Wyoming book
It was pretty low grade I would say. Some was silicified, much not, but some pieces were pretty large. There was some pretty, colorful picture sandstone in spots, pretty thin but some nice color variation.
We headed back toward the truck and found a not-too-old but somewhat weathered hatchet along the way.
I gave it to Matthew, and it was hands-down his favorite treasure from the trip
We broke camp and headed to the opalized wood spot listed in the Wyoming book, not far from the reservoir.
Matthew and I started finding the blue "opal" right away, but I think it is actually chalcedony. It is identical to the smaller chips we found at Blue Forest several years ago. It has a look kind of like diesel fuel, where it is blue-ish but when you look through it you see sort of a yellow-ish tint, kind of like that "opalite" glass you see sometimes.
We didn't collect any wood, there wasn't much of any size anyway and it was more light brown and less silicified than what we found the day before. We collected a pound or 2 each of the blue chalcedony, and enjoyed the nice weather
We followed the book to an area that was supposed to have Palm, it is called "Oregon Buttes Palm Wood" in the book. It was a total dud. I found a little more (like teeny pieces) of the same beige wood we found at the "opal wood" site, and a lot of interesting weathered stromatolite out there, but zero palm.
We cooked up a little lunch while we were there.
It was actually pretty warm, but Matthew hadn't brought a long-sleeve shirt and was very wary of insects. We did see some more of the same bees that had stung him the day before but he didn't get stung again.
Somehow when I bought the hot dogs and Costco, I managed to pick up hot links instead. They were pretty spicy and he wasn't interested so he opted for a salami and cheese sandwich. I powered my way through the hot links (I am not a spicy food lover)
We searched a bit more for the palm. I found a weathered mud ball in a ravine, but there were no signs of any fossils, and as I mentioned, zero palm
I always enjoy the view. Still hazy though.
We had about half a tank of diesel, so we headed toward Rock Springs to fuel up. I got to the gas station in town and was filling up when I heard a loud hissing. For all my back country exploring and crazy off-road antics I'd had no trouble, but 5 minutes at the gas station in town delivered a large nail right into my rear passenger side tire.
We got the tire changed, and then managed to find a tire shop still open who would repair the tire so we could get back on our way.
They did an OK job and were nice guys, but it took almost 2 hours (no there was no wait) and they didn't fully air the tire up. It hasn't leaked since, but it took forever to get the tire up to pressure using a combination of gas station air pumps and about 40 minutes on my small cigarette-lighter pump.
We opted to have dinner in Rock Springs since it was late, and headed back East on I-80. I took the truck up onto Delaney Rim to the point to camp for the night.
I was able to get Matthew tucked in without any bugs, as it was much cooler and more windy up on the Rim.
Here was his sleeping set up in the truck
We awoke again the next morning well-rested and presented with a gorgeous view off the rim

It was striking how much greener it was than I have ever seen it. There was visible standing water down below in several places.
I was camping just a couple feet from the rim (far enough to be safe) - but thought I'd get a photo of the tent-cot. I really like this thing.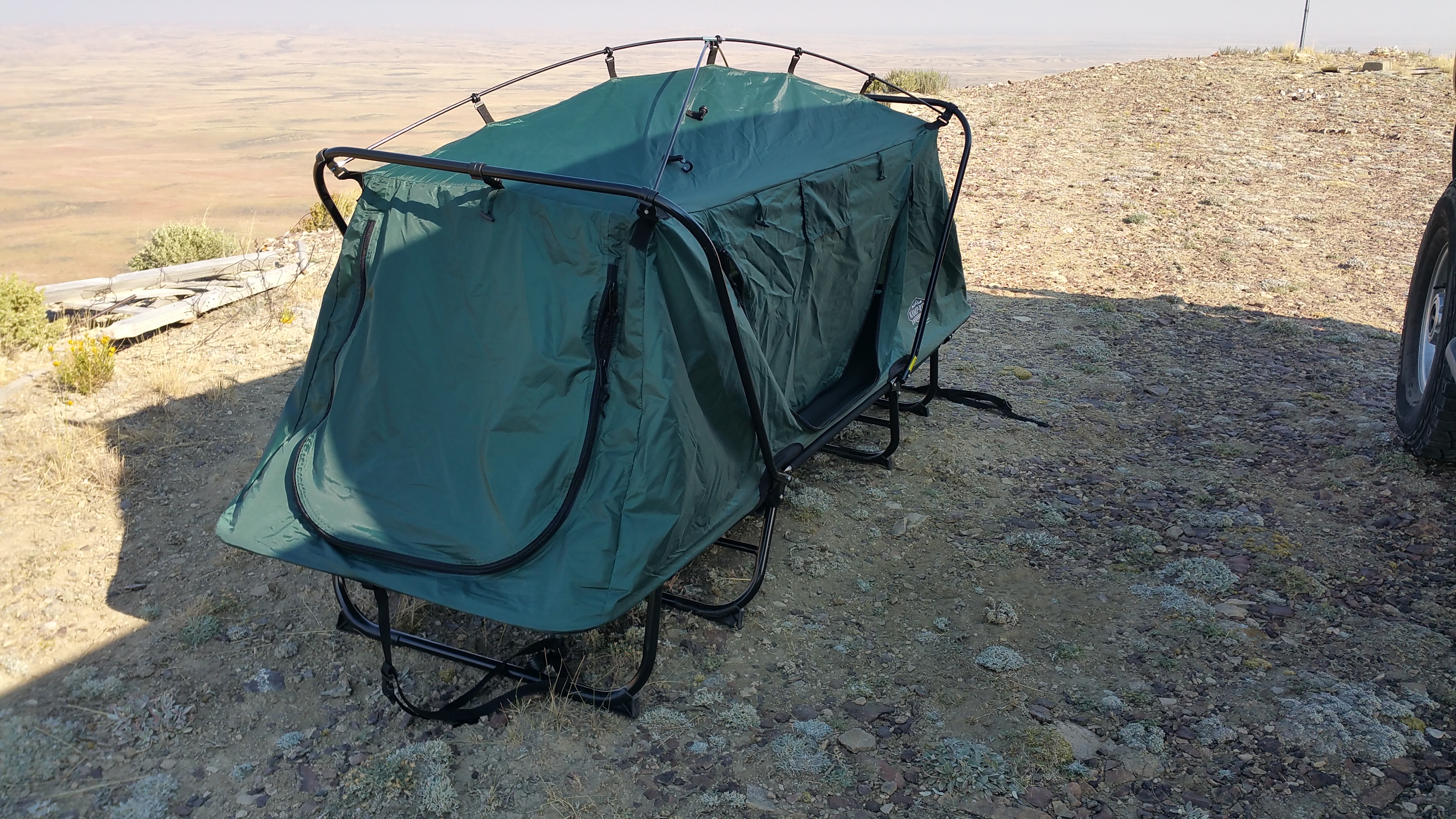 We got our breakfast and packed up, then hit the Turritella spot not far from the point.
In the midst of all the turritella I found an older Estwing rock hammer that we took home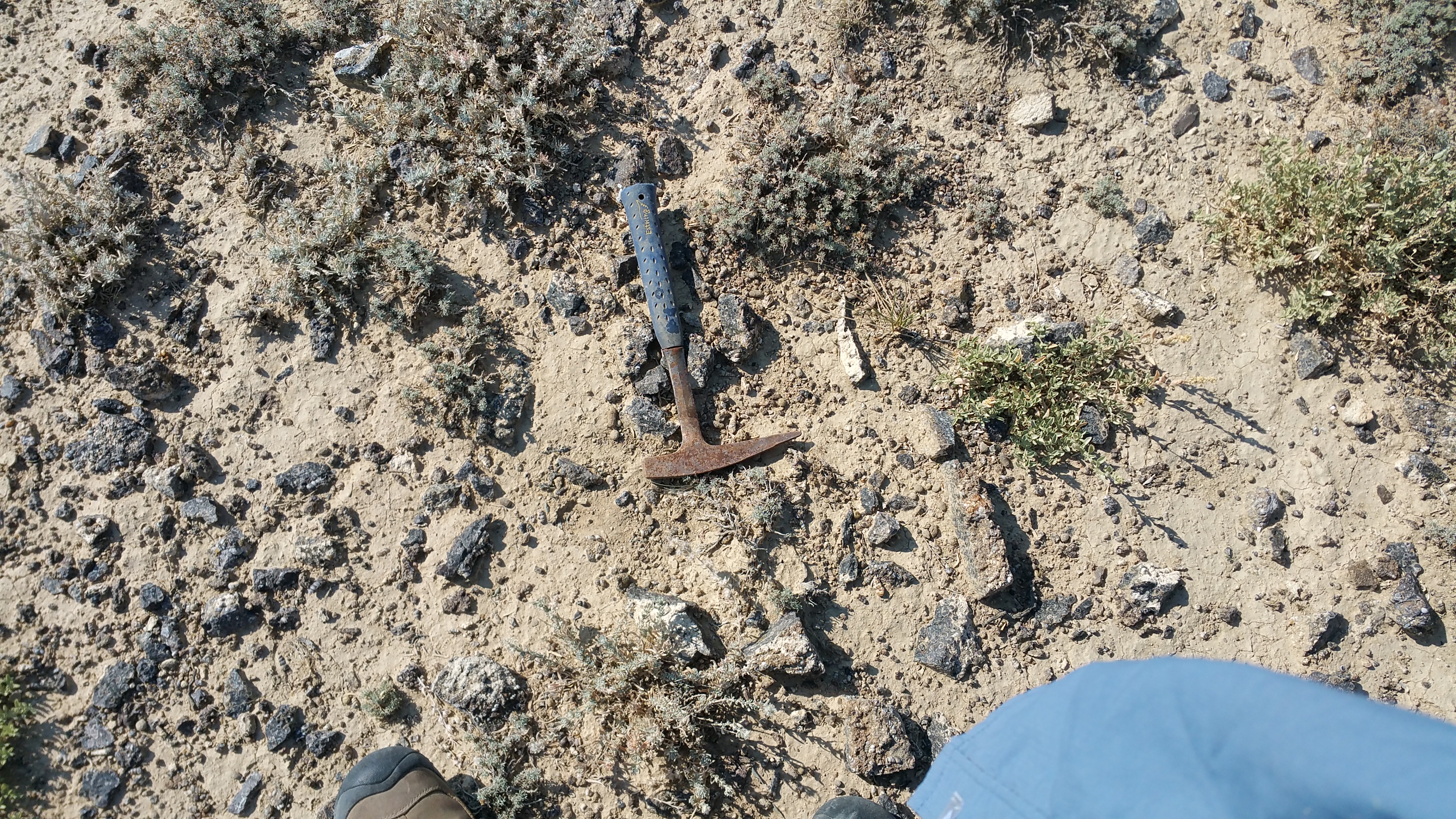 Matthew lined up his haul on the edge of the truck so I could get a photo of it with him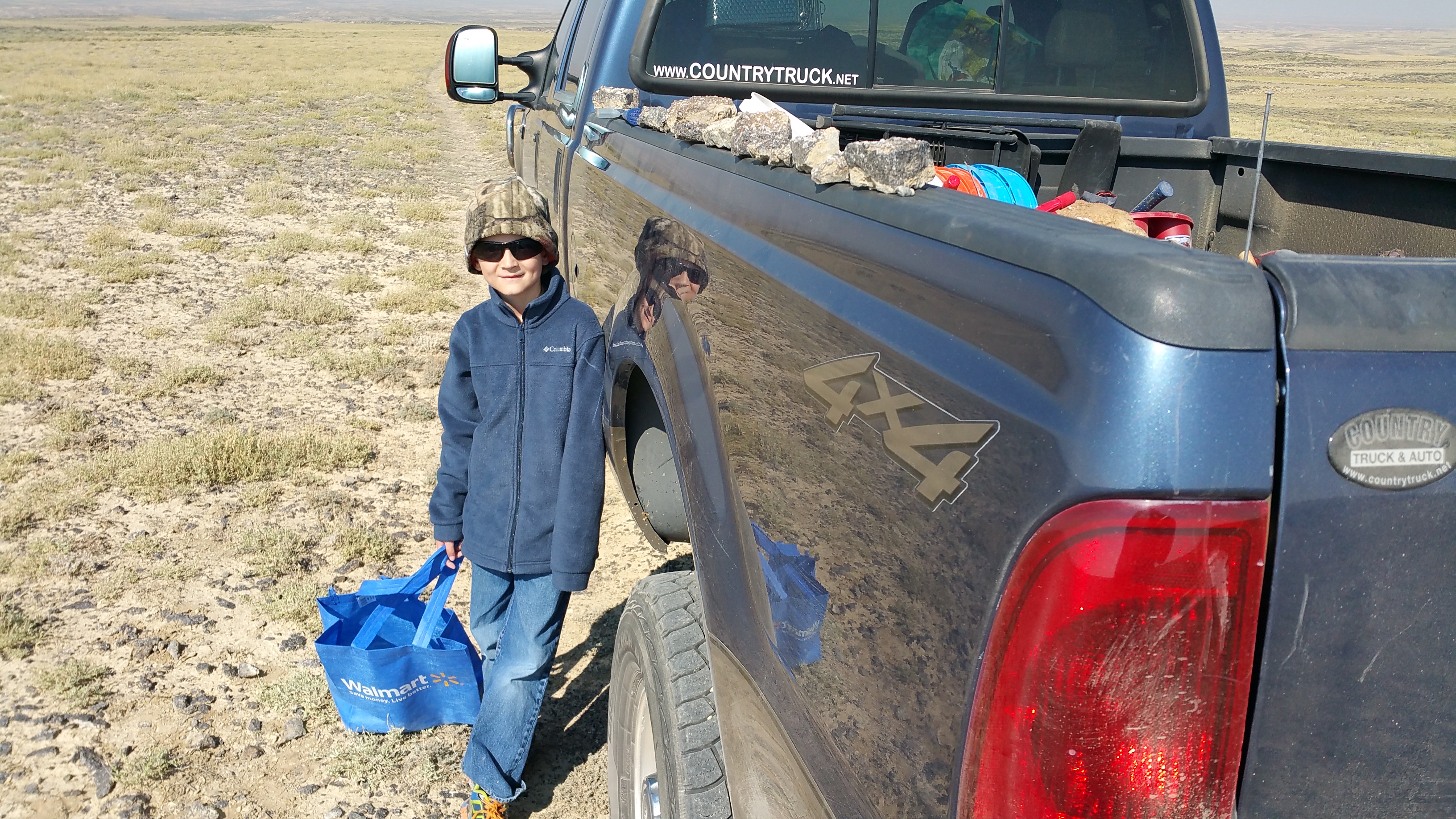 We had a good drive ahead of us so we didn't spend long searching before heading toward home. As is always the case in Wyoming there were Antelope eveerywhere, and this guy was close enough to snap a quick photo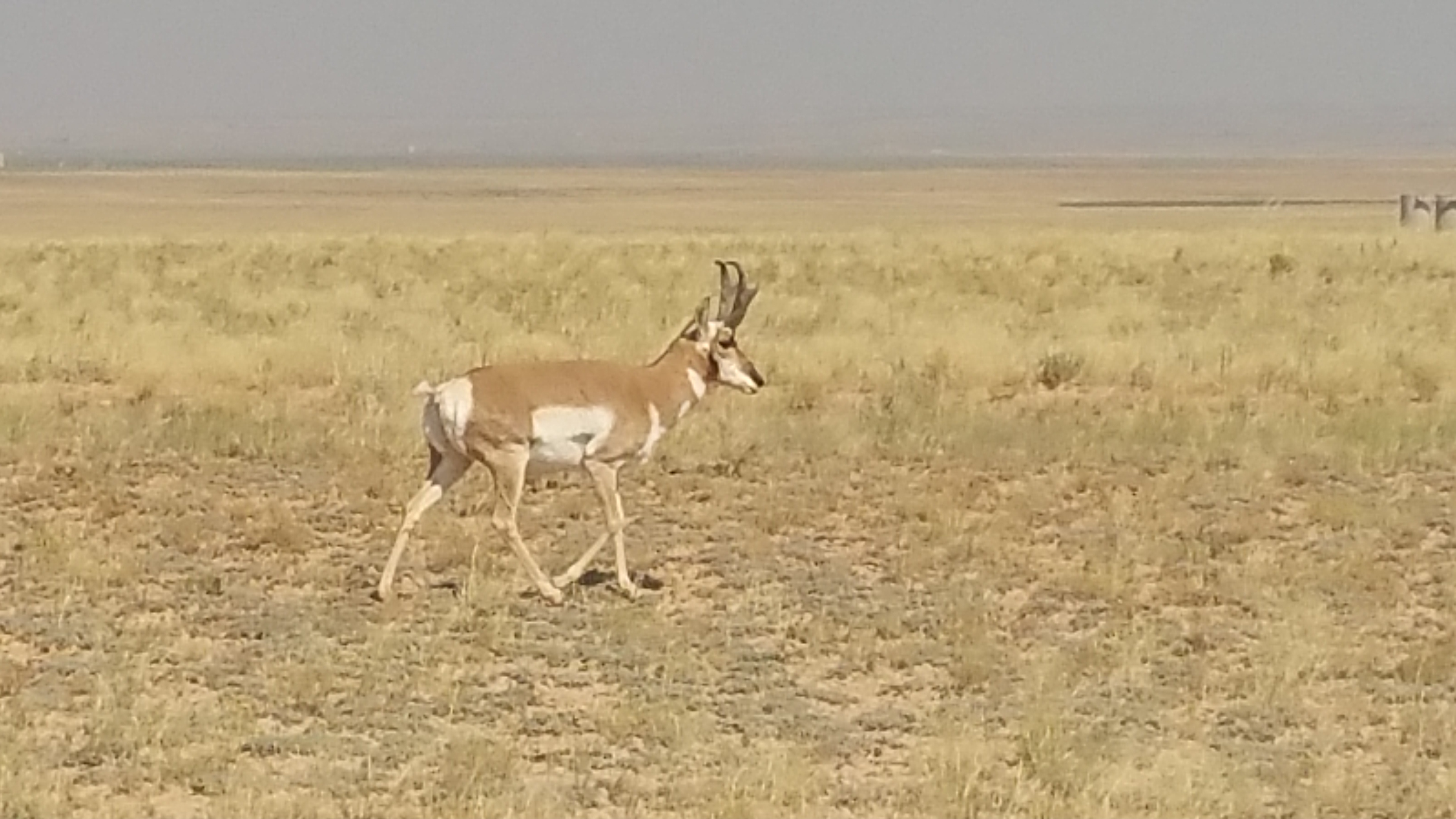 We made it home in good time. We had a lot of fun in spite of the flat tire and all the time it ate up. I'd planned on taking him to Kemmerer to pay and dig fish fossils, but we didn't have time this trip. We camped 2 nights which was good for one of my kids (it seems we end up in hotels a lot more than I'd like) and made it home safe and sound.