Post by 1dave on Sept 13, 2021 14:54:58 GMT -5
apod.nasa.gov/apod/supernova_remnants.html
The Crab Nebula is cataloged as M1, the first on Charles Messier's famous list of things which are not comets.
In fact, the Crab is now known to be a supernova remnant, an expanding cloud of debris from the explosion of a massive star. The violent birth of the Crab was witnessed by astronomers in the year 1054.
Roughly 10 light-years across today, the nebula is still expanding at a rate of over 1,000 kilometers per second.
Over the past decade,
its expansion has been documented in this stunning time-lapse movie.
In each year from 2008 to 2017, an image was produced with the same telescope and camera from a remote observatory in Austria. Combined in the time-lapse movie, the 10 images represent 32 hours of total integration time. The sharp, processed frames even reveal the dynamic energetic emission within the incredible expanding Crab. The Crab Nebula lies about 6,500 light-years away in the constellation Taurus.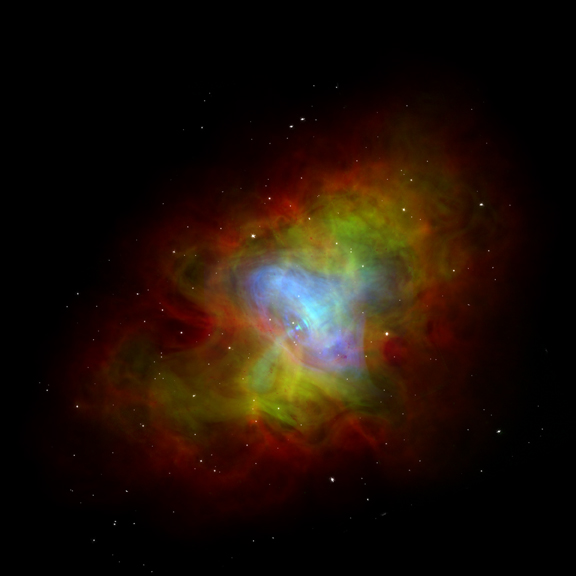 LOCATION: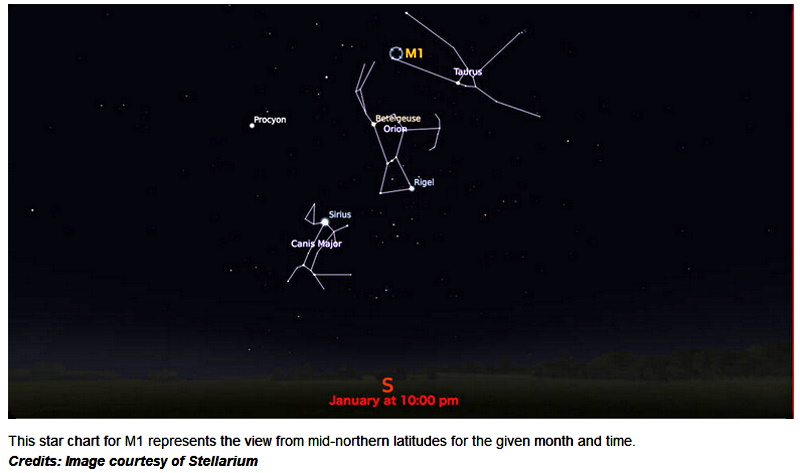 The filaments of Crab Nebula are made up from carbon, oxygen, nitrogen, iron, neon, sulfur and ionized helium and hydrogen. They are the remnants of its progenitor star's atmosphere where the typical temperature is between 11,000 and 18,000K (Kelvin). On average it's 15,000 Celsius and their densities are about 1,300 particles per cm3.
M1- Movie of the Crab Nebula!
Perhaps we should be seeing M1 like this:
A bullet spinning through space.
---
---
---
---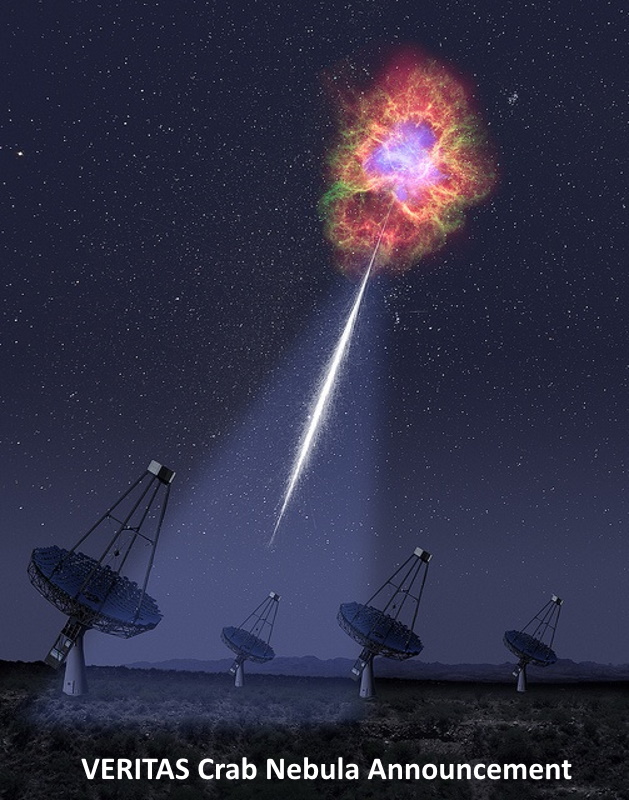 VERITAS Crab Nebula Announcement
Photo by josefrancisco.salgado on flickr
· · · Photo composite made for the VERITAS announcement in Science Magazine. Credit: José Francisco Salgado. Based on images by M SubbaRao, S Criswell, B Humensky, JF Salgado, Hubble/Spitzer/Chandra
We report the detection of pulsed gamma rays from the Crab pulsar at energies above 100 giga–electron volts (GeV) with the Very Energetic Radiation Imaging Telescope Array System (VERITAS) array of atmospheric Cherenkov telescopes.
The detection cannot be explained on the basis of current pulsar models.
The photon spectrum of pulsed emission between 100 mega–electron volts and 400 GeV is described by a broken power law that is statistically preferred over a power law with an exponential cutoff. It is unlikely that the observation can be explained by invoking curvature radiation as the origin of the observed gamma rays above 100 GeV. Our findings require that these gamma rays be produced more than 10 stellar radii from the neutron star. [
VERITAS Education Site
]
I've been researching the Crab Nebula for years (like searching for chicken teeth)
and am still finding NEW stuff.
crosb.proboards.com/post/2216/thread