Post by 1dave on Nov 26, 2021 14:29:37 GMT -5
www.periodni.com/rare_earth_elements.html
RARE EARTH ELEMENTS
Eni Generalic
Faculty of Chemistry and Technology in Split
First published: 2012/09/19
The International Union of Pure and Applied Chemistry (IUPAC) defines rare earth elements (REE) or rare earth metals as a collection of seventeen chemical elements in the periodic table, specifically the fifteen lanthanides (Note: Even though lanthanoid means 'like lanthanum' and as such should not include lanthanum it has become included through common usage.) plus scandium and yttrium (Figure 1). Scandium and yttrium are considered rare earth elements since they tend to occur in the same ore deposits as the lanthanides and exhibit similar chemical properties.

Figure 1. The Rare earth elements (metals) are often subdivided into light rare earth elements (LREE) and heavy rare earth elements (HREE).
The rare earth elements are often described as being a 'light-group rare earth element' (LREE) or 'heavy-group rare earth element' (HREE). The definition of a LREE and HREE is based on the electron configuration of each rare-earth element. The LREE are defined as lanthanum, atomic number 57 through gadolinium, atomic number 64. The LREE have in common increasing unpaired electrons, from 0 to 7. The HREE are defined as terbium, atomic number 65 through lutetium, atomic number 71, and also yttrium, atomic number 39.
All of the HREE are differ from the first eight lanthanides in that they have 'paired' electrons (a clockwise and counter-clockwise spinning election). The LREE have no paired electrons. Yttrium is included in the HREE group based on its similar ionic radius and similar chemical properties. Scandium is also trivalent; however, its other properties are not similar enough to classify it as either a LREE or HREE.
Abundance and use
Despite their name, rare earth elements (with the exception of the radioactive promethium) are relatively plentiful in the Earth's crust. The more abundant REE are each similar in crustal concentration to commonplace industrial metals such as chromium, nickel, copper, or lead (Figure 2).
Even the least abundant REE, thulium, is nearly 200 times more common than gold (Au).
However, in contrast to ordinary base and precious metals, REE have very little tendency to become concentrated in exploitable ore deposits.
Relative abundance of the chemical elements in Earth's crust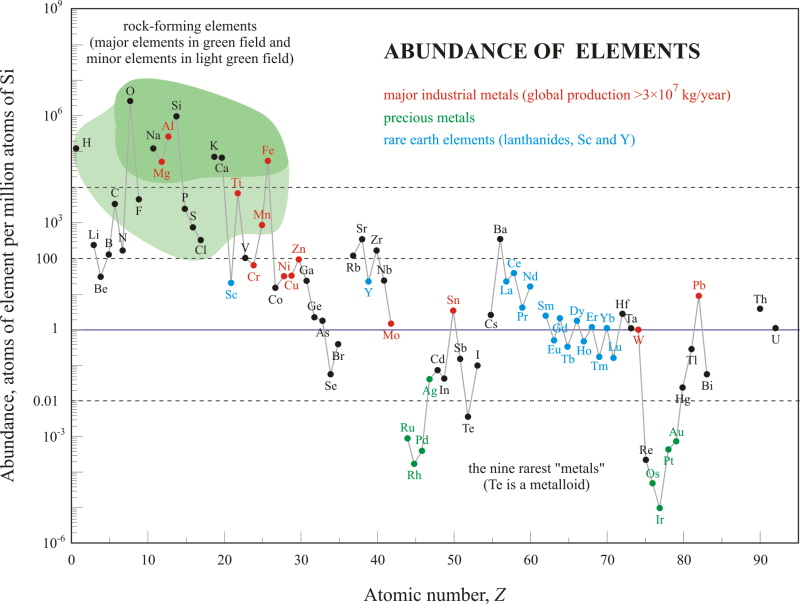 Figure 2. Relative abundance of the chemical elements in Earth's upper continental crust as a function of atomic number. Rare earth elements are labeled in blue (U.S. Geological Survey, 2005). → Download high quality image
The largest rare earth metal deposits, in the form of bastnäsite and monazite, are found in China and the United States. From 1965 through the mid-1980s, Mountain Pass in California, United States, was the dominant source of REE. Since 1985, production of REE in China has increased dramatically and now China controls more than 90 % of the global supply of rare-earth minerals.
The separation of rare-earth elements had been very difficult due to their similar chemical properties. The chemists have succeeded, for the first time, in separating rare earth elements in very small amounts and of modest purity by fractional crystallization. The method, however, was extremely laborious and time consuming. The American chemist Charles James (1880-1928) performed 15 000 recrystallizations in order to obtain good quality thulium bromate. In the beginning of 1947 the American chemist Frank Harold Spedding (1902-1984) and his colleagues at Iowa State College published a series of papers in which they had described practical methods for preparative separation of the rare earths by displacement ion-exchange chromatography. As a result, for the first time, chemists could deal with pure rare earths in substantial quantities.
The rare earth elements are essential for a diverse and expanding array of high-technology applications, which constitute an important part of the industrial economy of the 21st century. As a matter of fact, rare earth has been listed in the category of strategic elements in many countries, such as the USA and Japan. The unsaturated 4f electronic structure of rare earth elements makes them have special properties of luminescence, magnetism and electronics, which could be used to develop many new materials. Europium, for example, provides red phosphor for TVs and computer monitors and it has no known substitute. Cerium similarly rules the glass-polishing industry.
Table 1. Distribution of rare earths by end use. Product groups Fraction / %
metallurgical applications and alloys 29
electronics 18
chemical catalysts 14
rare-earth phosphors for computer monitors, lighting, radar, televisions, and X-ray-intensifying film 12
automotive catalytic converters 9
glass polishing and ceramics 6
permanent magnets 5
petroleum refining catalysts 4
other 38
The rare earth elements are often used without separation, for instance in steel to improve strength and workability, and in magnesium alloys in the production of lighter flints.
The Rare Earth Dilemma
Rare earth extraction is one of the most environmentally destructive and toxic producing of all mining practices. Excessive rare earth mining has resulted in landslides, clogged rivers, environmental pollution emergencies and even major accidents and disasters, causing great damage to people's safety and health and the ecological environment. According to statistics conducted within Baotou, where China's primary rare earth production occurs, all the rare earth enterprises in the Baotou region, Inner Mongolia, produce approximately ten million tons of wastewater every year and most of that waste water is discharged without being effectively treated. In addition, each ton of rare earths produces 2000 tons of mine tailings, which often contain radioactive thorium.
In an effort to reduce dependence on foreign imported oil and natural gas, many countries are turning more and more to green technologies, all of which require an abundance of REEs. Neodymium, one of the most common rare earths, is a key part of magnets used in hyper-efficient motors and generators. Around two tons of neodymium is needed for each wind turbine. Lanthanum is a major ingredient for hybrid car batteries (each Prius uses up to 15 kg), while terbium is vital for low-energy light bulbs and cerium is used in catalytic converters. The fact that REEs are needed for green technologies is shrouded in irony because of the great potential environmental implications of mining and processing them.
China, which possesses one-third of the world's rare-earth reserves and provides more than 90 percent of the world's supplies, has seen environmental damage from the mining and processing and depletion of the resource. Because of this, the government of China implemented a number of measures to improve the sustainable development of the industry. The implement of new standards cut exports of rare earths for the first half of 2011 by 35 percent, following a 72 percent reduction for the second half of year before. China says it's being stingy for environmental reasons, not economic leverage, but the cutbacks have nonetheless caused major price spikes.