Post by 1dave on Jan 15, 2022 13:31:00 GMT -5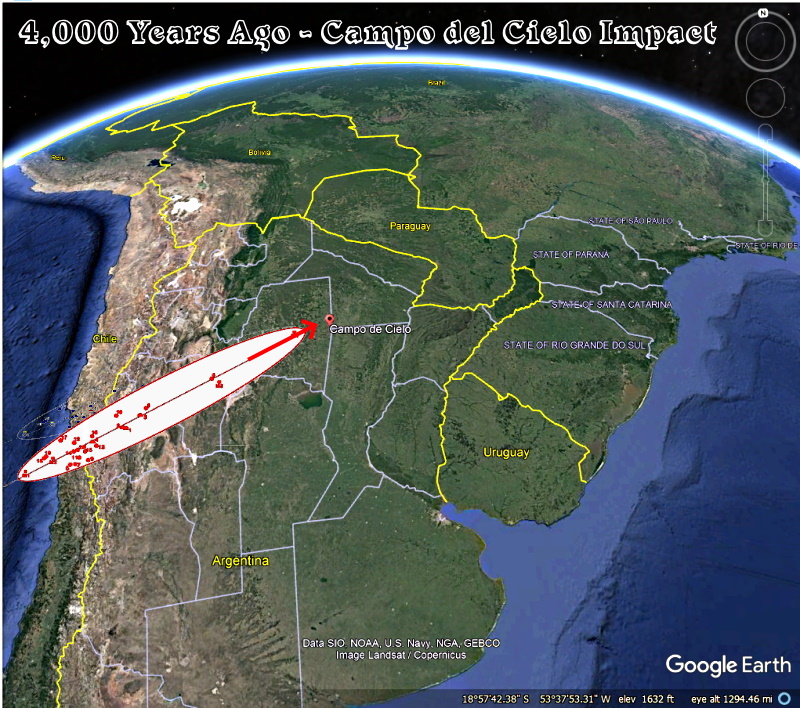 onlinelibrary.wiley.com/doi/epdf/10.1111/j.1945-5100.2011.01202.x
Comparison of four meteorite penetration funnels in the Campo del Cielo crater field
Comparison of four meteorite penetration funnels in the Campo del Cielo crater field,Argentina Mario A. VESCONI1, Shawn P. WRIGHT2, Mauro SPAGNUOLO3, Robert JACOB4,Carlos CERRUTTI1, Luciana GARCIA1, Evangelina FERNANDEZ1, and William A. CASSIDY5*1Asociacio ́n Chaquen ̃a de Astronomı ́a, O.N.G.P.J. 2555, Resistencia, Chaco, Argentina2 Institute of Meteoritics, University of New Mexico, Albuquerque, New Mexico 87106, USA3 Laboratorio de Tectonica Andina, Universidad de Buenos Aires, Buenos Aires, Argentina4 Department of Geology, Bucknell University, Lewisburg, Pennsylvania 17837, USA5Department of Geology & Planetary Science, University of Pittsburgh, Pittsburgh, Pennsylvania 15146, USA*Corresponding author. E-mail:
[email protected]
paper is dedicated to the memory of Adolfo Gustin, a valued friend and former colleague who is no longer with us.(Received 21 December 2010; revision accepted 27 January 2011)
Abstract
–
More craters may be discovered in the future, but as it is currently known,
the Campo del Cielo crater field is 18 km long by 4 km at its widest point.
Such a distribution of craters suggests that the parent meteoroid entered and traversed the atmosphere at a
very low angle
relative to horizontal. The crater field contains at least 20 small craters produced by the larger fragments of the parent meteoroid.
Four of these are explosion analog craters
and
the rest are penetration funnels.
During four field seasons, we have constructed topographic and magnetic maps of four of the penetration funnels as found, and then dug trenches across them to learn their original structures and recover meteorites preserved within them.Structures of these penetration funnels indicate very low angles of impact, i.e., 9–16°relative to horizontal. This supports the idea that the parent meteoroid traversed the atmosphere at a low angle. Data given here for the four penetration funnels include projectile masses, lengths,widths, depths, and estimates of impact angles and azimuths. One of the penetration funnels described here (No. 6) can almost be classified as an explosion analog crater
The Campo del Cielo meteorite field consists, at least, of 20 meteorite craters with an age of about 4000 years. The area is composed of sandy-clay sediments of Quaternary-Recent age. The impactor was an Iron-Nickel Apollo-type asteroid (meteorite type IA) and plenty of meteorite specimens survived the impact. Impactor's diameter is estimated about 10 meters (Lieberman et al. 2002). The impactor came from the SW and entered into the Earth's atmosphere in a low angle of about 9º. As a consequence, the asteroid broke in many pieces before creating the craters. Even a tentative solar orbit was calculated for the impactor (Renard and Cassidy 1971).

The first meteorite specimens were discovered during the time of the Spanish colonization. Craters and meteorite fragments are widespread in an oval area of 18.5 x 3 kilometers (SW=NE), thus Campo del Cielo is one of the largest meteorite's crater fields known in the world (Cassidy 1967, 1968, 1971, Cassidy and Renard 1996, Cassidy et al. 1965). The craters show raised rims and overturned strata at the rim. Most of the craters of Campo del Cielo strewn field (in fact 16 of them) are penetration funnels and not explosion craters. Only the craters numbered 1 to 4 are probably explosion craters.

These four craters differ from the others in that they are
1) deeper and/or have greater original depth/diameter ratios,
2) are more circular as opposed to the elongated nature of the other sixteen,
3) do not have large magnetic anomalies associated and,
4) have meteorite fragments of the disrupted impacted asteroid within the ejecta blanket, (Wright et al. 2006, Wright et al. 2007).

The following is a review of the most important craters of the Campo del Cielo area:

Crater 1: This crater is named "Hoyo de la Cañada". It lies near the center of the strewn field. It is elliptical in shape and its major dimension is 105 meters from rim to rim. A shallow gully found in the rim gives it its name. The crater is presently 2 meters deep at its deepest.

Crater 2: Named "Hoyo Rubin de Celis" after the explorer Miguel Rubin de Celis who led an expedition to the area in 1783. It has a diameter of 70 meters and is the deepest crater (5 meters) and probably the least eroded. An extensive radial trench through the crater and its rim showed many features common to impact craters of its size, like upthrust of the rim by about 0.5 meters and inversion of the stratigraphy outside of the rim. Drilling at the center showed the presence of "clay breccias" at depths of 15 meters bellow the present floor.

Crater 3: It is called "Laguna Negra" because of the lake that filled it. It is the largest impact crater of the strewn field with a diameter of 115 meters. It is quite shallow, only 2 meters deep at its center. It is no doubt an explosion crater and not a penetration funnel as most of the other craters in the same strewn field.

Crater 4: Crater 4 is about 85 meters in diameter and 1.5 meters deep.

Crater 5: Crater 5 is shallow and with an ill-defined rim. It is about 45 meters in diameter.

Crater 6a and 6b: These twin craters share a common East-West rim. The larger, 6a, has a diameter of 35 meters, while the smaller is 20 meters across.

Crater 7: Crater 7 is elliptical in outline with rim-to-rim dimensions of 96 x 74 meters.

Crater 8: Also an elliptical penetration funnel, it has dimensions of 46 x 28 meters.

Crater 9: Inside this crater, a penetration funnel again, called "La Perdida" several meteorite pieces were discovered weighing in total about 5,200 kilograms.

Crater 10: It is called "Gómez", (diameter about 25 m) and it is a penetration funnel and not an explosion crater. Inside it a huge meteorite specimen called "Chaco", of 37,400 kg. was found in 1980. It is so far the second heaviest meteorite ever found in the World.

Crater 13: It a small crater and its rims are not very well defined. It is a penetration funnel and not an explosion crater. An huge meteorite specimen with a weight of 14,850 kg. was found inside this crater (Wright et al. 2006).

Crater 17: Again it is a penetration funnel and not an explosion crater. A large meteorite specimen with a weight of 7,850 Kg. was found in this crater.

The craters of Campo del Cielo represent a unique site in the World and their study will continue from many decades.