Post by 1dave on Jul 2, 2022 12:51:26 GMT -5
stateparks.utah.gov/parks/quail-creek/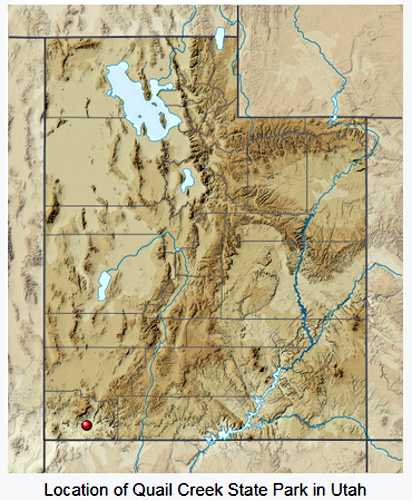 By: R. F. Biek
The first thing most visitors to Quail Creek State Park notice, apart from the improbably blue and refreshing waters of the reservoir itself, are the brightly colored, layered rocks of the surrounding cliffs. In fact, Quail Creek State Park lies astride one of the most remarkable geologic features in southwestern Utah. The park lies cradled in the eroded core of the Virgin anticline, a long upwarp of folded rock that trends northeast through south-central Washington County. The fold is breached by erosion along its crest, creating a window into the geologic past.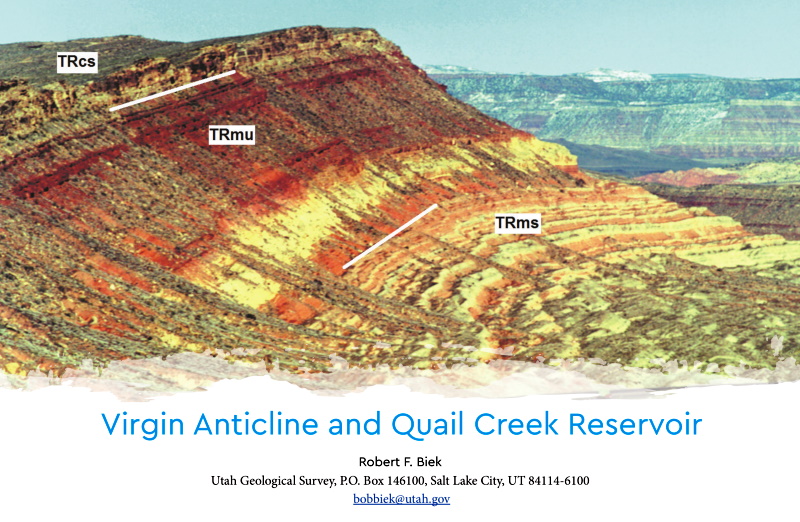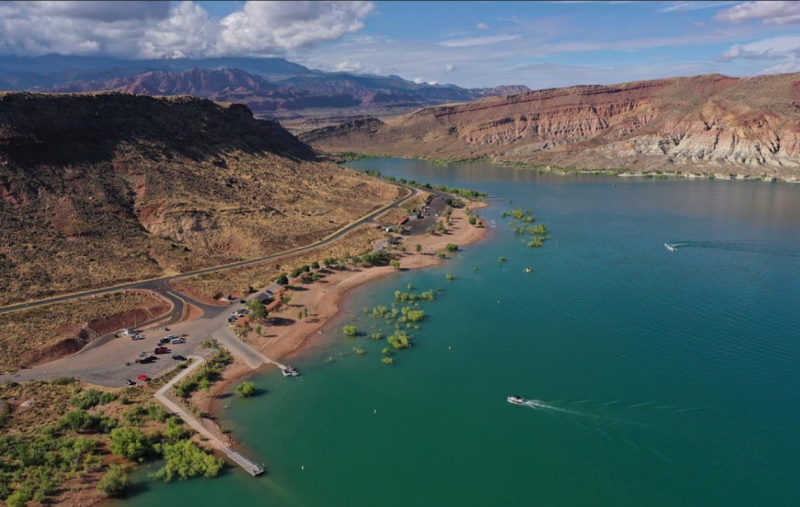 Welcome to Quail Creek State Park!

Boasting some of the warmest waters in the state and a mild winter climate, Quail Creek lures boaters and anglers year-round. Camp. Hike. Explore.

Quail Creek reservoir was completed in 1985 to provide irrigation and culinary water to the St. George area. Most of the water in the reservoir does not come from Quail Creek but is diverted from the Virgin River and transported through a buried pipeline.

Two dams form the reservoir. The main dam is an earth-fill embankment dam. The south dam is a roller compacted concrete dam, constructed to replace the original earth-fill dam that failed in the early hours of New Year's Day 1989.

The maximum depth of Quail Creek can reach 120 feet, so it is cold enough to sustain the stocked rainbow trout, bullhead catfish, and crappie. Largemouth bass, which is also stocked, and bluegill thrive in the warmer, upper layers of the reservoir.

Opened to the public as a state park in 1986.

Park Elevation: 3,300 feet

Surface Water Acreage: 600
The name came from the considerable population of quail that lived along its upper drainage in the 19th and early 20th century. They did not survive one particularly hard winter.
res.cloudinary.com/crosbj/image/upload/v1656774471/dcjbfaidgivdqkcap8fz.pdf
blob:https://giw.utahgeology.org/575e13e8-4791-4f5e-8c9d-ac89f9fb7ca9
Introduction
Looking at the landscape without a geologic map is like traveling in a foreign country without speaking the language. One can see many fascinating things, and perhaps even understand and interpret a few, but much of the deeper understanding inevitably lies shrouded in mystery. Without knowing French, for example, one can only guess at what is on the menu or what those standing next to you are saying (but it's something important, you're sure!). Even reading a foreign newspaper is an exercise in futility.
It is no different with geology. Without a geologic map in hand, reading and understanding the landscape - particularly its immensely long and varied geologic history, its resources, and its hazards - can only be done at a superficial level.