Post by 150FromFundy on Feb 3, 2010 21:42:43 GMT -5
Why Bother Drilling?
My first pendants were made with the typical glue on bell caps and leaf bails. I had to endure the humiliation of some of them failing at the most inopportune time. I noticed a few RTH members were using drilled findings and tried my hand at it. After a little more input from RTH members, I came up with an approach that works for me. Now I drill all my pendants and no longer endure humiliation, at least when it comes to my pendants.
This is my attempt at a comprehensive tutorial that will hopefully encourage a few more RTH members to give drilling a try. None of these ideas are original. If it sounds familiar, I probably stole it from you!
The Finding You Need To Find
The finding that we will be attaching to the pendant is called an "eye-up". This finding has an eye ready for a jump ring and a knurled pin that will penetrate into the pendant about 3mm. The combination of the knurled pin, the roughed out drill hole and the right glue will give you the most secure finding mount available. These particular gold plated eye-up findings are available from the Rock Shed at 12 for $2.00. That's about $0.17 each.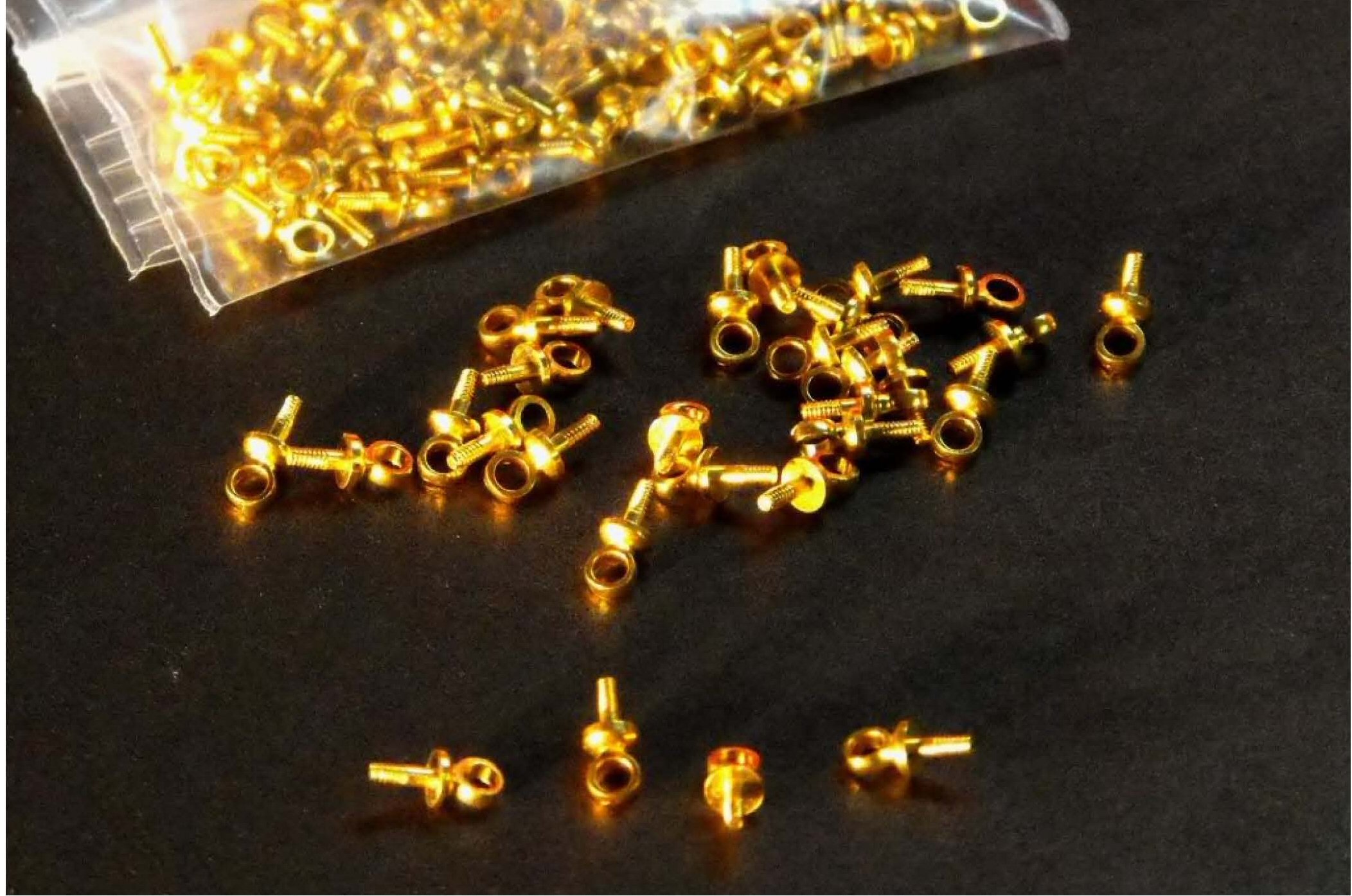 The Diamond Drill Strings and Burring Tool
These are the drill strings and a burring tool. The burring tool is the shorter bit that is essentially a diamond-encrusted ball. The burring tool is used to start the drill hole by forming a small dimple in the pendant. The small dimple will ensure that the diamond drill string does not "skate" across the pendant and inadvertently engrave the surface. These are 1.5mm drill strings and are forgiving to start out with. I would like to reduce the diameter to a 1.0mm drill string as I get a little better. These particular drill strings are available from the Rock Shed at 5 for $14 plus the burring tool. That's about $2.80 each.
The Clamps
These are hobby clamps necessary to secure your work. You want a stainless steel clamp that will resist rust, as it will be submerged. You want soft cushioned jaws that will grip the pendant without slipping or marring the surface. You want an assortment of clamps to secure a variety of pendant shapes and sizes. These particular hobby clamps made by Irwin are available at the Home Depot for $1.50 to $4.50 depending on the size.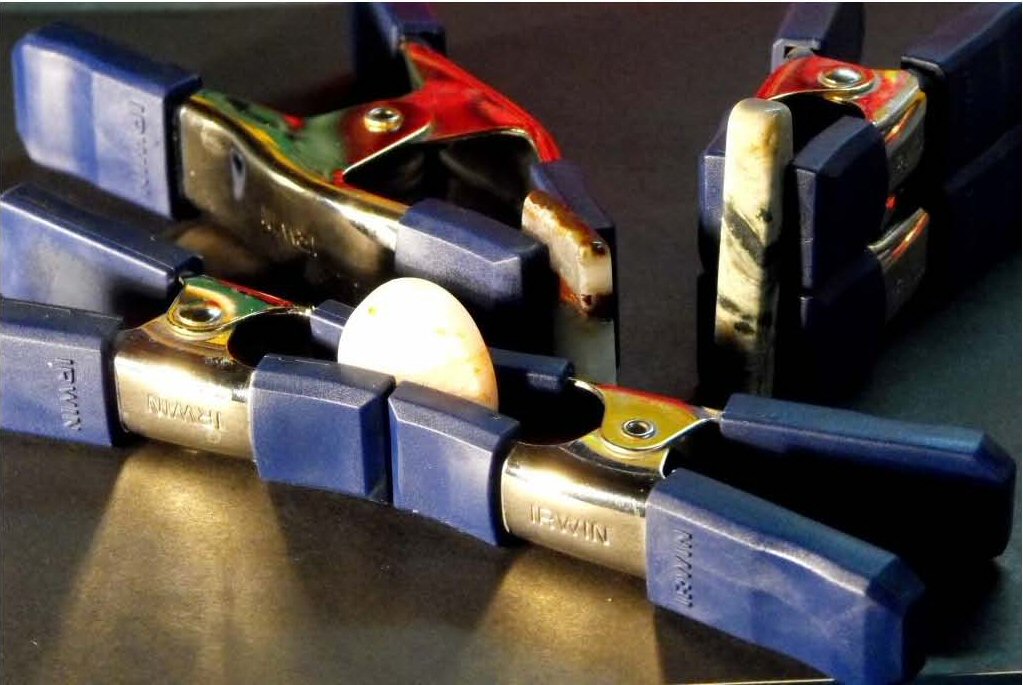 The Drill
This is a variable speed rotary tool for the drilling. It may be necessary for you to but some additional collets to grip the 1.5mm diamond drill string depending on the rotary tool that you have. Your standard collets may not grip anything that small. I have to apply a few wraps of aluminium foil to increase the drill string shaft diameter in order to grip. Less than ideal, but it will work in a pinch. There will likely be some debate over the best RPM for drilling. The answer to that probably depends on what you are drilling. I currently max my rotary tool out at 30,000 RPM when I drill.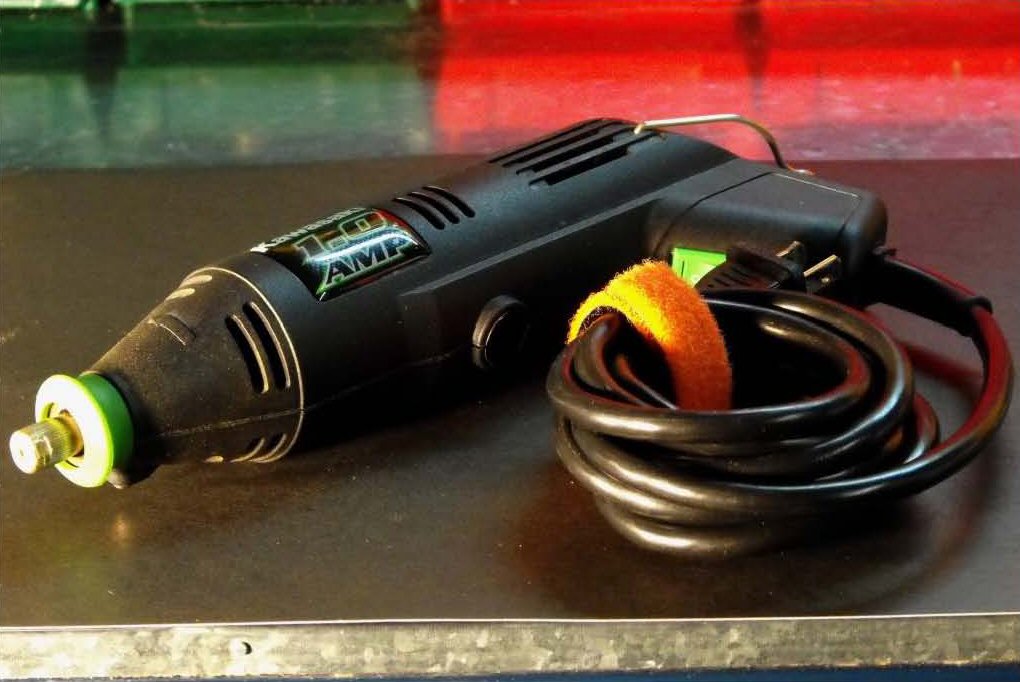 The Preforms
These are some typical finished preforms ready to become pendants. Note that the drill hole location has been clearly marked on each with a permanent marker. This is also critical because you don't want to be guessing when the rotary tool is spinning at 30,000 RPM and the water surface is bending light. Anyone who has ever tried to spear a fish is a shallow brook will understand diffraction.
The Bath
Your pendant must be submerged in water for drilling. I use a clear plastic flat-bottomed dish (Zip Lock) and shine my halogen light rack through the side for extra light. The watering can is to add or remove water from the plastic dish. You will have to adjust the water level to suit your pendant. Generally, you want the pendant to be fully submerged by ¼" to ½". More than that, you risk a shower or electrocution. If the collet touches the water surface, you will get a face full. Trust me on this one!
Here's a closer look at the submerged pendant. The water starts out clean, but you won't be able to see the bottom of the dish after a number of drills. This is why you need to mark the pendant at the drill location.
Assume the Position
Your arms are your drill press. I rest my elbows on the workbench and my wrists on the side of the plastic dish. This will take the caffeine twitch out of your trembling hands. Use warm to hot water in the plastic dish. There's no need to add arthritis knuckles and shivers to the work. You will surprise yourself at how steady you can be when properly braced. Chances are, you will be successful with this approach. If you are doing very precise work on very small pieces, a drill press will likely be required.
The Pulse
You must pulse the drill. That is, you must drill for one second, raise the drill for two seconds, and then repeat. When drilling, apply as little pressure as possible. When raising the drill, ensure that the drill lifts enough that water may flow into the hole. You should see a little "puff of smoke" from the hole as you pulse the drill string. Like me, your drill should be at rest longer than it is at work to ensure proper cooling.
How Slow Do You Go
The rate of drilling is contingent upon the material being drilled. Assuming your pendant has a Moh's hardness of 7, you may expect the drill to advance at a rate of about 1mm per minute. For mounting an "eye-up" with a 3mm long post on a pendant, that's about 3 minutes per pendant. To drill through a "standard" 1/4" slab (6.35mm), between 6 and 7 minutes should be required.
Make yourself a depth gage by sticking an "eye-up" on a toothpick. This can be submerged in the water bath to check the hole depth easily. There's no need to drill deeper than necessary, but you must drill enough that the "eye-up" fits flush to the pendant.
How to Extend Drill Life
In spite of your best efforts to lightly pulse the drill and allow adequate cooling time, the tip will wear and stop drilling in time. Too much friction causes the diamond grit to wear off the tip. The metal melts (a little) and forms a "rounded blob" on the tip. At this point, you may be inclined to discard the drill string and start a new one. Don't! There is still life in that drill string.
Take an old drill string and use it as a file to gently file the "rounded blob" and expose some fresh diamond grit on the tip. Slowly rotate the collet by hand and go around the tip a few times. You should get a few more holes out of the refurbished drill string. When it stops drilling again, repeat the filing again. You can do this a number of times until the drill string is truly toast. This will extend your drill string life, which reduces your drilling costs.
Almost Done
Now that you have drilled your preforms, it's simple a case of gluing the "eye-up" in place and waiting for the glue to dry. I use Household Goop because it is thick and affordable compared to many glues. Use a toothpick to ensure that you poke glue to the bottom of the drilled hole and fill the drilled hole completely with glue. Wipe off any excess. Set the "eye-up" in place and allow drying for 24 hours. I use "electricians putty" available from any hardware store to hold everything in place. It will not dry out and can be used over and over.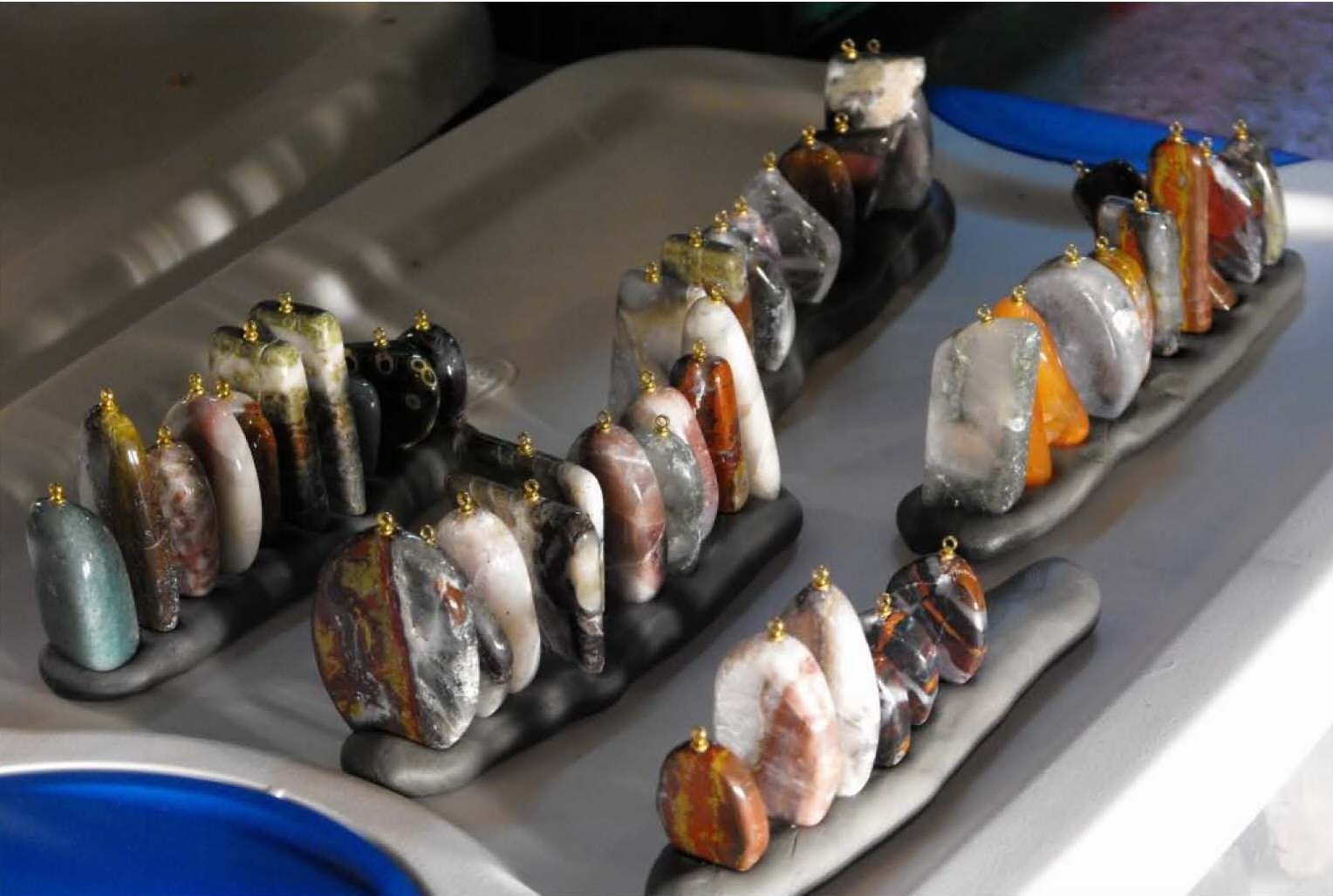 Attach a jump ring. Now you're done.
Good luck!
Darryl.