Post by zarguy on Jan 14, 2011 14:53:25 GMT -5
Of course, $150 didn't include the diamond wheels.
This is posted in the buy/sell section as a reply to another thread, but I thought it belonged here too.
I built a new cabbing machine from a shaft that Mike (spicerm) sent me. Thanks, Mike. I've been using it for several months & am finally posting some pix.
I started with a platform built of plywood & 2 x 4s. It sits on a wheeled cart. I mounted a 1/3 HP, 1725 RPM motor that I picked up at a pawn shop for $20. The risers are blocks of hardwood - Maple.

I made trays & hoods out of Sintra - a 1/4" PVC sheet used to print & mount signs. I got a bunch of reject signs from a local sign shop. They were happy for me to take them off their hands. I cut out the pieces on a table saw & glued them together with medium thick superglue. I did a test of 3 different glues & this one worked best. So well, that I couldn't break the bond without breaking the plastic. The trays are held down by 8 screws into the threaded inserts - the kind that have 4 prongs to bite into the wood so I didn't have to deal with a bolt and a nut under the platform. Sorry, no picture of them.

Mike made me a 46" x 1" shaft with the ends drilled & tapped. This length with this many wheels gives me 2" of space between each wheel. Eat your heart out Genie owners! I still manage to nick my knuckles, though. I may cut down the shaft by 2" so nothing protrudes out the ends of the hoods. I'll have to re-tap the right hand threads. I bought cheap Chinese diamond hard wheels & Nova type soft wheels. The spacers between wheels are lengths of PVC tubing. It was hard to determine the sizes of the spacers since the inner hub of the wheels isn't as wide as the outside of the wheel & that dimension differs between hard & soft wheels & between brands. I assembled the wheels, spacers, bearings, pulley in order & tightened down the bolts on each end, then I tightened the set screws on the bearings.
I bought 2 pillow block bearings. 4 bolts through the bearings & riser blocks into threaded inserts holds it down.

Here it is with hoods installed. They just sit inside the trays. I glued cotton belt material from a karate belt in front of each wheel under the front lip to spread the water evenly over each wheel. It also helps cut down on stray spray. The material has to drag on the wheel, or you still get water spraying you. I added extra belt to the sides of each hood to keep water from spraying from the side of the end wheels. Instead of a complex system of tubes & shutoff valves for each wheel, I just have a single hose running from my water supply (a 5 gallon bucket suspended higher than the machine). I move the tubing from one wheel to the next. It takes about 2 seconds. It's so much easier than shutting off a valve & turning on another one. This was in the garage & I was going to hook the water supply up to the hot water under my sink, but I just moved this indoors. It's so cold in the garage that I wasn't doing any cabbing on cold days.

Here's an oblique view of the machine. I've added foam pipe insulation as padding to the front edges of the trays, but I forgot them when I took these pictures.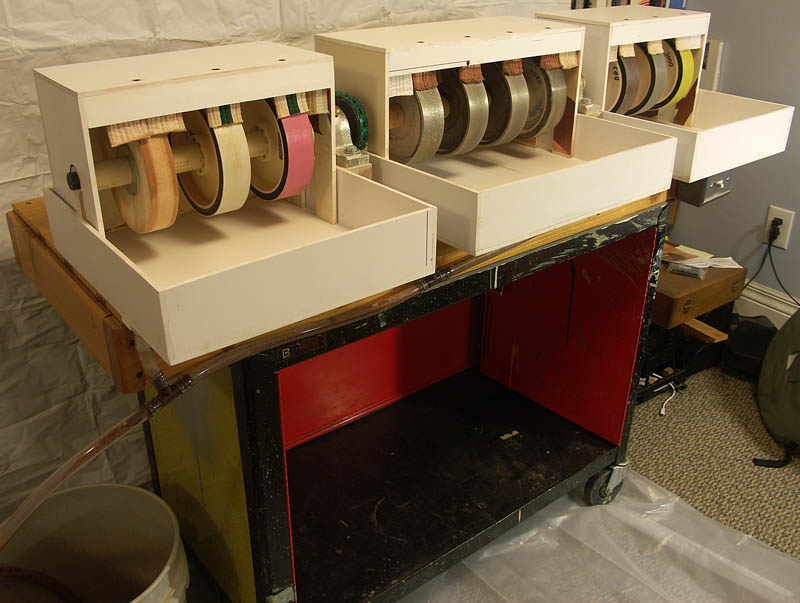 Here's a closeup.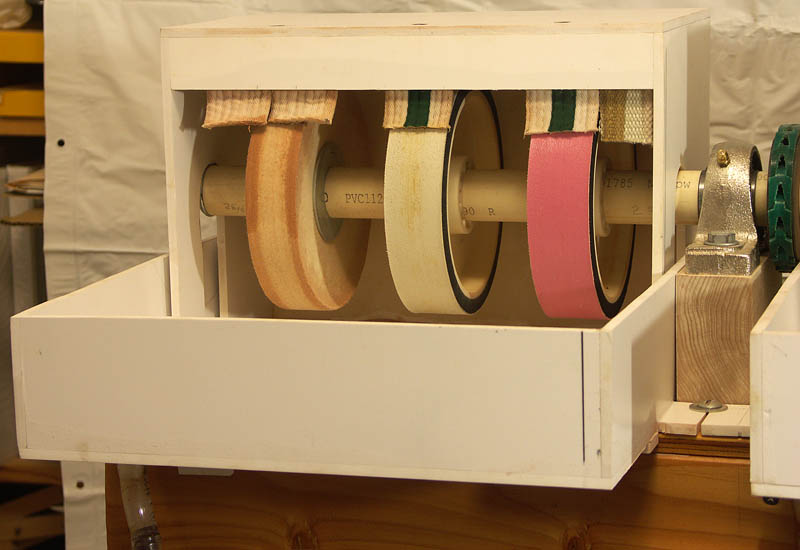 I'm running 3 hard wheels - 80, 220, & 360, 6 soft wheels - 300, 600, 1200, 3000, 8000, 14000 & a hard felt wheel on the left end for polishing. Sometimes 14000 is good enough & I don't need to do any further polishing. The Chinese 280 soft wheel only lasted about 6 weeks before it couldn't even remove the scratches from the 360. I refurbished it with 300 diamond powder. I highly recommend refurbing your own wheels. It'll probably last a year or more. & I do a lot of cabs! There are several threads here about refurbishing your Nova wheels. Here's the original -
forum.rocktumblinghobby.com/index.cgi?board=tips&action=display&thread=27289
Excluding the wheels, I have only about $150 into this machine. It's a sweet machine. I don't have to switch belts or have more than one machine. I went with 6" wheels because I like to do tight inside curves on some of my cabs. Otherwise, I'd have made an 8" machine. I could adapt it to 8" with taller risers & new hoods.
Right now I'm using a desk lamp on top of the center hood, but bought some 12V LED strip lights will see how those work in illuminating the cab.
If you have any Qs, post them here or PM me.
Lynn