Post by holajonathan on Oct 8, 2021 14:40:51 GMT -5
Nothing great here, but a little Friday morning fun. The best is the rainbow "onxy" compliments of
stephan
. Fast and easy to cab. Polished well for a soft rock.
These four cabs were polished through 14,000 diamond. No final AO polish yet.

Mexican "laguna" lace oddball
-- from a colorful but horribly fractured slab. I cut out the most solid part and cabbed it. Goofy shape; pretty colors.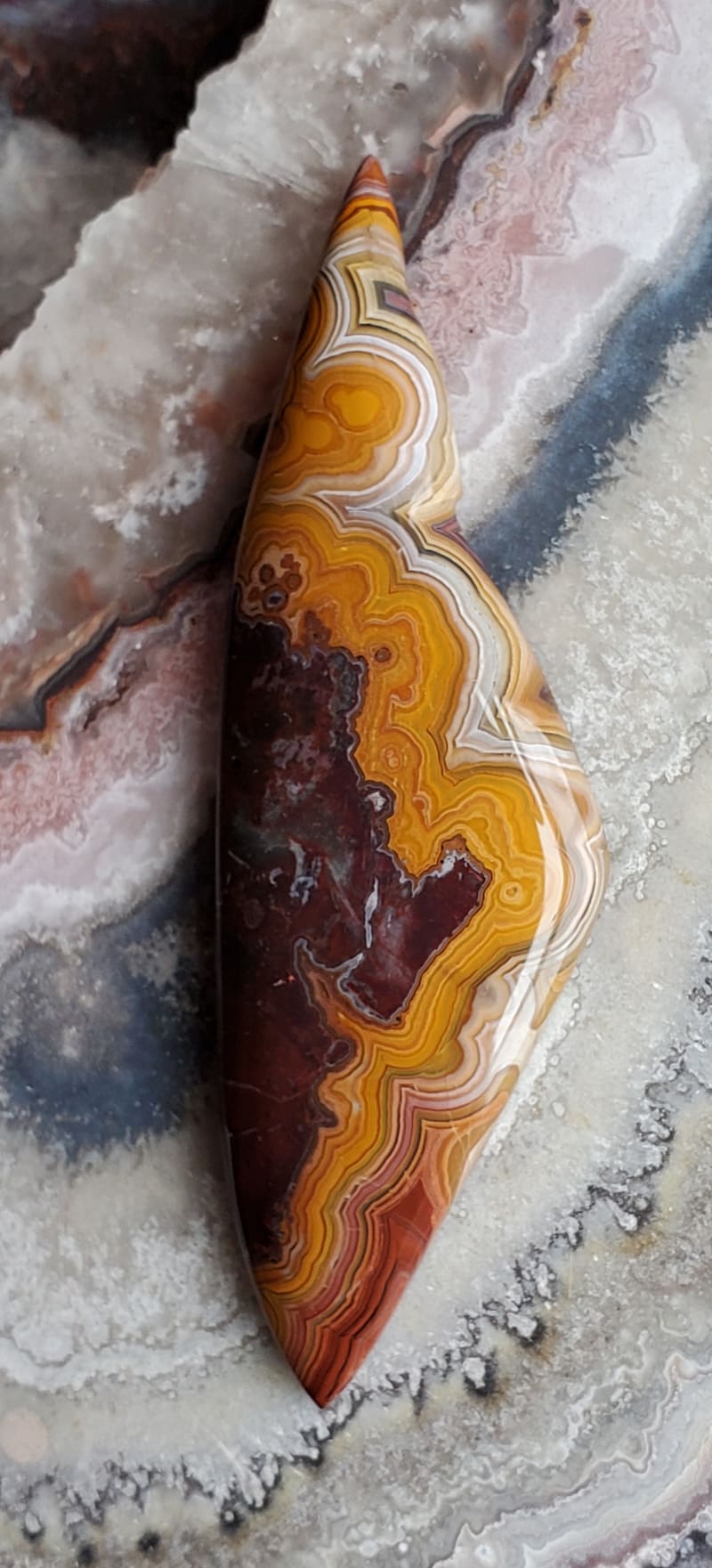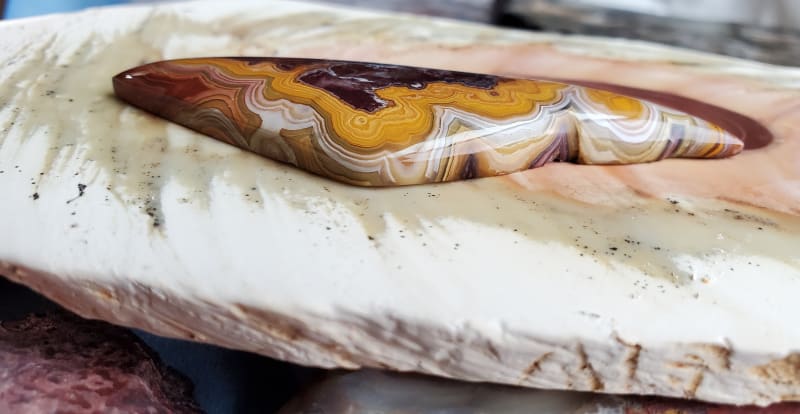 Kaleidoscope jasper
The rant (skip if not interested in the quality of this material)
Don't buy this stuff. The Oregon kind. A family business. I should have listened.
Strike 1:
Not as colorful as photos.
Strike 2:
Heavily fractured and uneven hardness in an unpredictable, maddening sort of way. Sometimes green is hard... other times soft. Same with yellow. The only (mostly) solid colors are orange/brown/red tones -- like the cabs below. They still managed to pit and undercut.
Strike 3:
Untruthful information from seller. I exchanged at least 10 messages with the seller (a family member) before buying. She assured me that this newer material did not have problems with uneven hardness or fractures. The rocks are amazing, I was told, super high grade, hard as nails, dripping with chalcedony, from her "personal collection." I asked all the right questions, got the answers I was looking for, but those answers simply were not true...
The sad truth:
There is not a good rock in the super expensive flat rate box of primo "personal collection" material. (I paid extra for "the best mined this year.") What I received is worth, at most, $1 a pound. They are all basically the same drab colors once you get through the surface layer. Nevertheless, in an act of delusional hubris, this mining family has identified and named something like 20 sub-types of their jasper, based on supposedly common themes in colors and patterns (most super rare, i.e., expensive.) They have developed an amazing amount of marketing gimmicks and machinations to peddle poor quality, drab rocks as $10-$20 per pound kaleidoscope-amazingness. Did I mention that I purchased from her "personal collection"?
In conclusion: unrealistic photos, bad to cab, not very pretty, expensive, unsavory seller. AVOID.
I've seen amazing photos of kaleidoscope jasper -- almost always wet rough or wet slabs. Very few photos of great cabs. Never seen an amazing polished slab. I wonder why?
If you want some colorful jasper, get some Gary Green or Dead Camel. Both are somewhat similar, better quality (despite having their own quirks), and cost a lot less.
End of rant.
The Cabs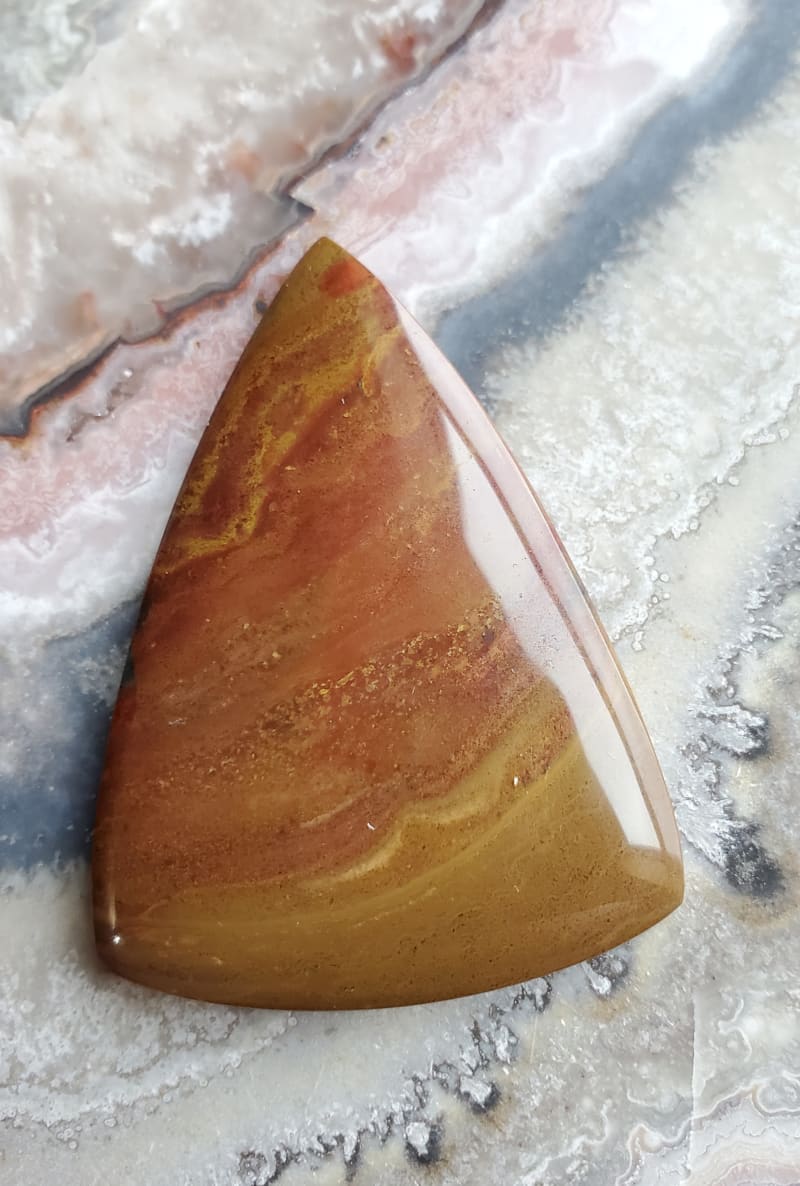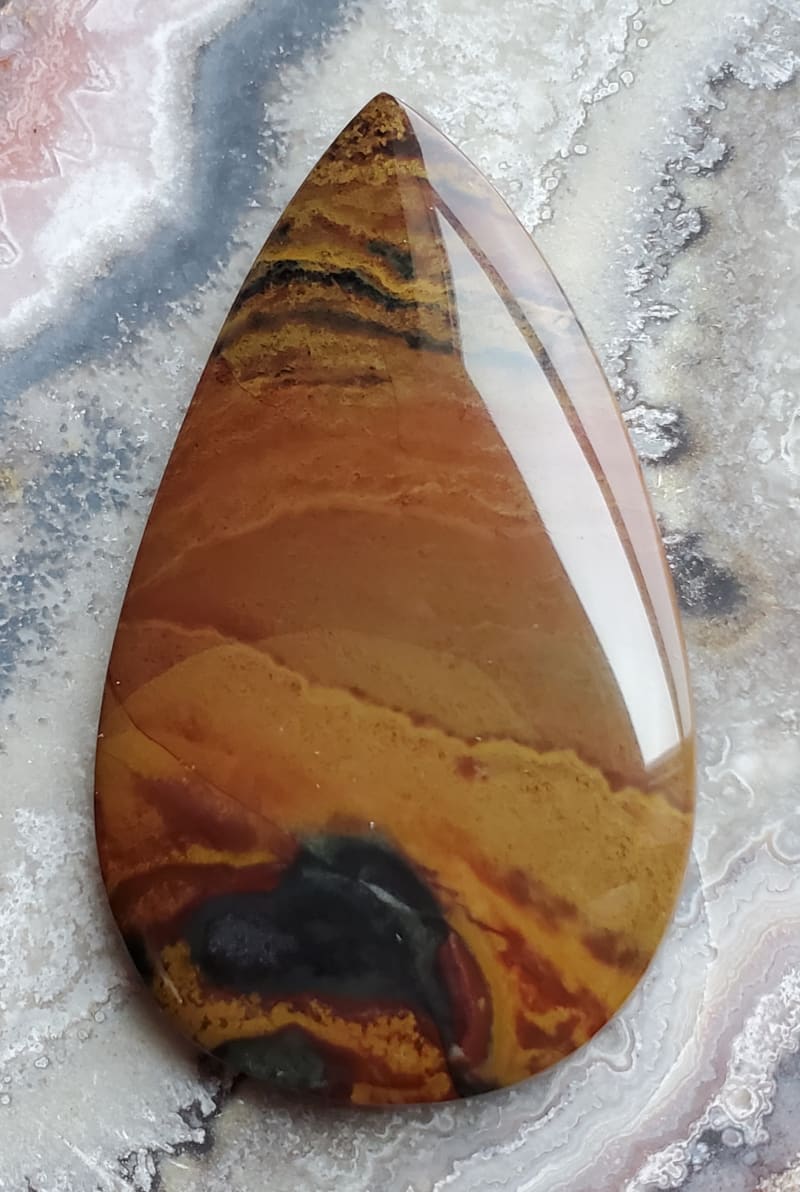 Photos do not look terrible, but I tried really hard to get some decent cabs from this material. I carefully slabbed the rough trying to avoid fractures. I marked preforms on the most solid parts of the best slabs, even if those spots had boring colors / patterns. While cabbing, I used a light touch, and kept grinding the dome lower and lower looking for solid material. I spent a few hours on these very mediocre cabs with a flawed finish.
Shown here with glare to highlight pitting and undercutting. Would hate to see what the rocks look like that didn't make it into her "personal collection."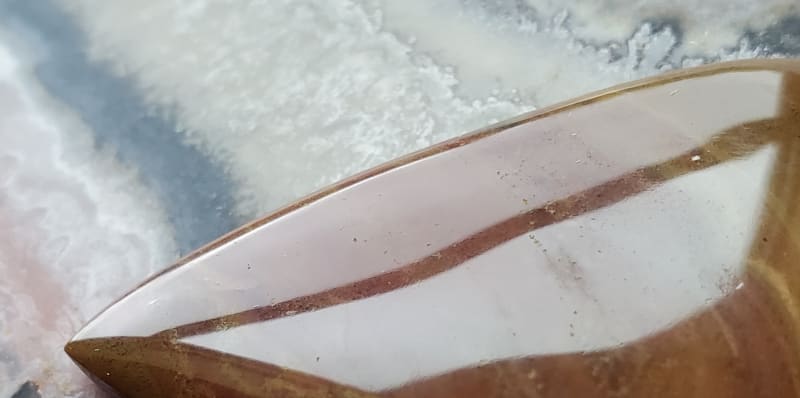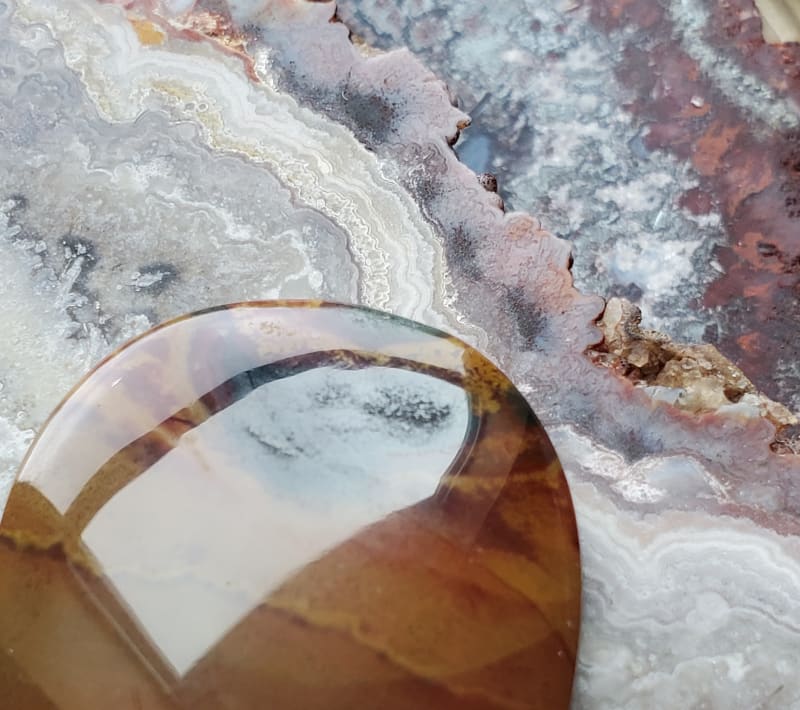 Rainbow "onxy" (calcite?) -- Ending on a happier note. Thanks

stephan

!!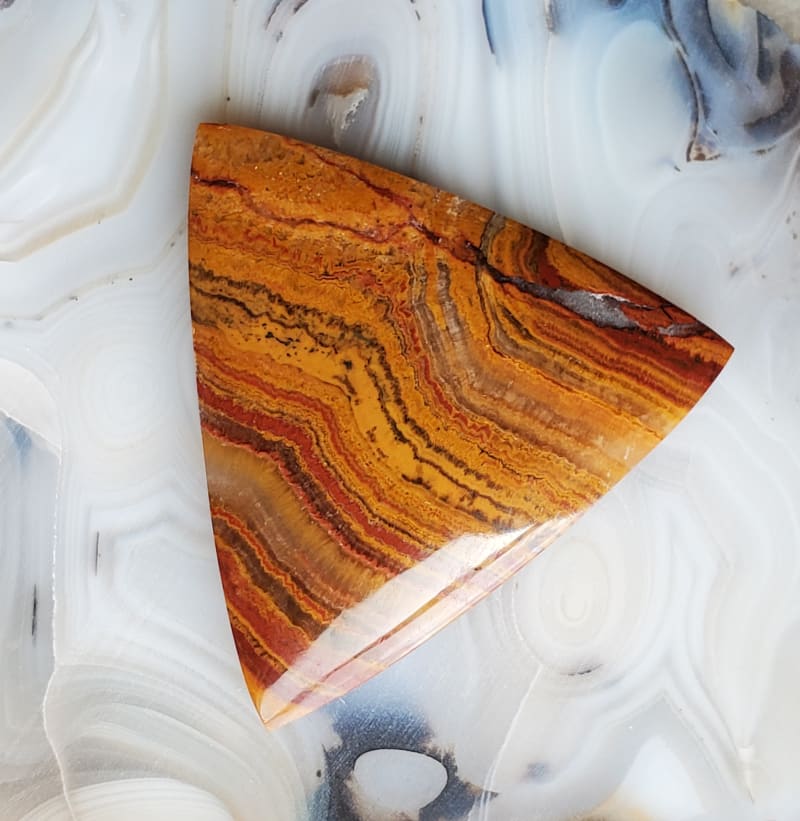 Just like the real thing